Five years since his last exhibition, contemporary British artist Chris Moon will unveil new work at Hoxton Gallery during Frieze week. The exhibition includes site specific paintings responding directly to the unusual architectural design of this eclectic gallery.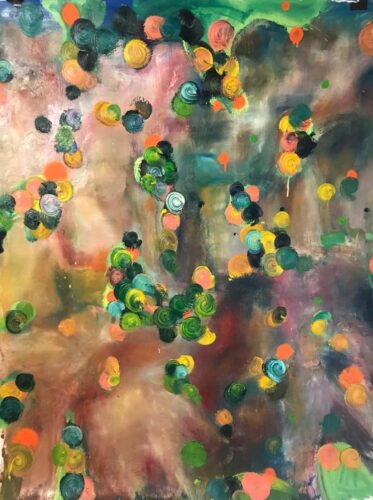 Moon rose to prominence with sold out shows in London and New York between 2011 and 2016, since then he has taken considerable space to re-examine his practice and critically examine his own work. He returns, triumphantly, with incredible new figurative paintings for The Hoxton Gallery.
The Joy of Being Scene
On the surface the exhibition title, The Joy of Being Scene, may seem to refer to the enjoyment an artist gets from exhibiting work, however in this instance that joy is intensified and born from a burning desire to connect with others. The title also refers to the self-conscious happiness conjured by being a part of something, a member of a 'scene', and alludes to the loneliness and isolation Moon currently experiences when feeling like an outsider.
Isolation and Loneliness
The paintings created this year are deliberate investigations into isolation and loneliness, a lonely nostalgia for a past life of partying emerges to the fore, perhaps particularly relatable in the context of the irreversible social impact of covid.
Moon utilises an unusual mix of source material for these works. He has returned to previous paintings of reclining individuals in London Fields during hot summers, along with similar from parks in New York. Alongside this, he has begun to draw on new source materials because of lockdown including 60s- and 70s-men's magazines and social media pictures – in many ways his current practice actualises the experience of a lonely voyeur lost in their own imagination.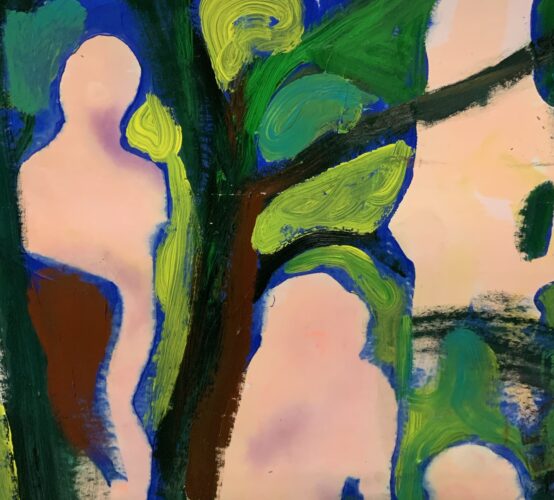 The large-scale wrap around 10m canvas becomes almost religious, depicting reclining women from vintage men's magazines, desexualised, like classical art historical nudes. At the same time, the use of neon paint is essential as a kind of ode to nightlife and sleepless cities that always offer a place of refuge.
Our anxieties and sense of extreme isolation, especially felt during the lockdowns, manifests before our eyes in these works.
Chris Moon. The Joy of Being Scene. 15-21 October, Hoxton Gallery, 17 Marlow Workshops, Arnold Circus, E2 7JN. Daily from 11am-6pm.
@moonstudio.london | @hoxtongallery