A series of paintings by acclaimed Gibraltarian artist Christian Hook has been hailed as a landmark step for art and science in a new documentary which airs on Sky Arts later this month.
Experimenting with thermal imaging cameras, monitoring brain activity, and discussing concepts from synaesthesia to entropy, Hook builds a collection of portraits which he describes as a vehicle through which he has been able to show his findings and 'paint the invisible'.
For this remarkable project, Christian enlisted the help of a number of scientists specialising in theoretical physics, physiology, sensory perception and more. Together they explored and broke down a series of ideas and discovered that artists and scientists have more in common than they thought. With their collaboration, Christian has embarked on his greatest challenge yet – Painting the Invisible.
This new collection from Christian Hook redefines the concept of portraiture, reflecting his search for new ways to express the essence of his subject by communicating what is unseen as well as what is seen.
"I was on the beach looking at the night sky and had a small epiphany…" Christian Hook
Knowing that what he saw was millions of light-years away set Christian thinking about time and space and the connections between them. The intriguing idea that what we see differs from what is real made him wonder about ways in which to uncover other layers of reality with a combination of science and imaginative interpretation. The result is a truly extraordinary series of paintings, examining the relationship, history and emotional connections of a loving couple and attempting to convey these invisible attributes in their portraits.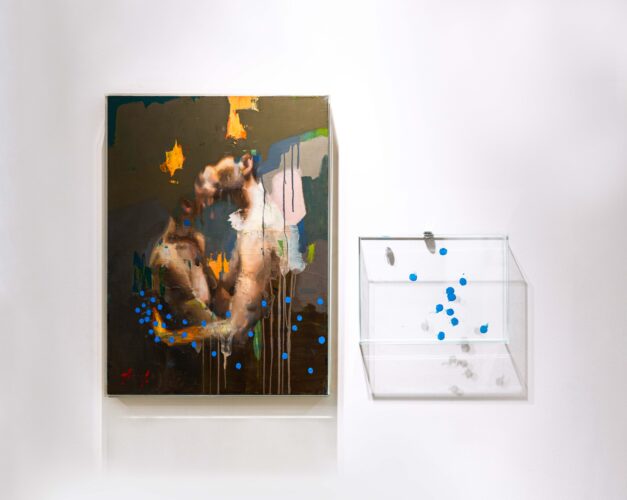 After reading The Order of Time by theoretical physicist Carlo Rovelli, Christian was struck by the beauty and poetry of the science. When they met, artist and scientist discovered they shared the belief that science, poetry and philosophy are all valid ways in which to both look at reality, and to see beyond what is visible. Carlo described how the universe is made up of interactions and relationships between atoms so reality is not made by objects, but by the way objects interact with one another, and the blurring that occurs between the imaginary constructs of past and future.
In a fascinating meeting with physicist, oceanographer and broadcaster Dr. Helen Czerski, Christian learned that every temperature has a colour which can be seen with thermal imaging. As all energy is released as heat, viewing a subject through a thermal imaging camera reveals the difference in temperature when two human beings touch one another. If a person removes their hand from another person's arm, the handprint will remain due to the heat and energy that this gesture has generated.
Synaesthesia is a condition which affects as many as one in 300 of us – including David Hockney and, it is thought, Van Gogh. Although there are many different variants, the best known are seeing words, numbers, sounds or feelings as colours. Fascinated by this idea, Christian invited synesthete Carolyn CC Hart to his studio to describe what she saw that he did not, and to help him recreate those invisible colours and patterns generated by the connections between his sitters.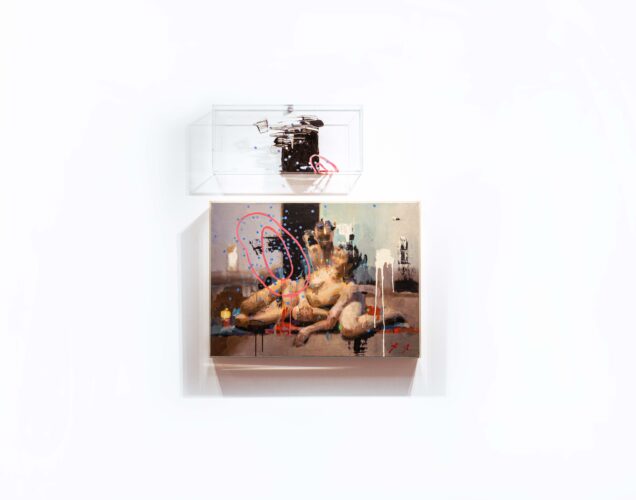 When one of his sitters shed tears during a conversation, Christian decided to investigate another way to look at our emotional life. He visited Dutch scientist Maurice Mikkers who, like Christian, is drawn to the artistic possibilities presented by human physiology and combined his study of science with the art of what he saw through the microscope. He discovered there is a hidden landscape in every tear drop and the individual who sheds the tear creates a unique personal artwork.
Christian's final collaborator was Aldo Faisal, Professor of AI & Neuroscience at Imperial College London who has been developing insights into the brain by monitoring its electrical activity in response to connections between couples when they dance or kiss. The intriguing data revealed that the waves and patterns generated on a screen was in constant flux but sometimes would meet and create a matching pattern.
Hook has always explored his subjects from a unique perspective, guided by his fascination with history, philosophy, and theoretical physics. In this series he has mirrored the intentions of the first modernist artists of the early 20th century, challenging the conventions of traditional representation and using new materials and techniques to develop new theories about art, its role in the contemporary world, and the function of the artist.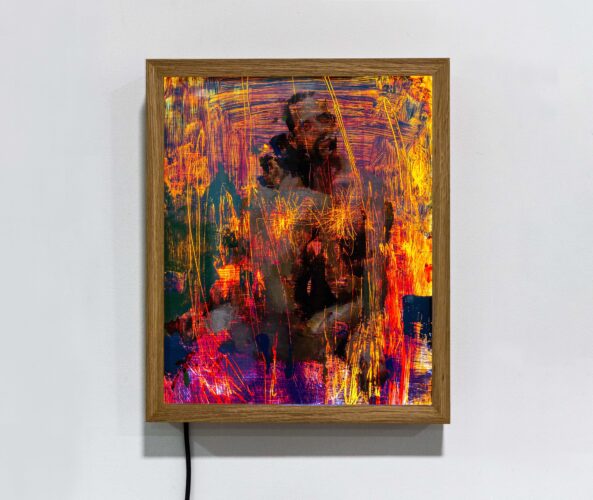 Helen Swaby CEO at Clarendon Fine Art says: "Christian is a brilliant communicator and charismatic broadcaster and has travelled the world to find subjects that capture the zeitgeist. In this collection I think we are seeing the genesis of a new movement in which art and science work together to take us beyond realism."
While he has impressed art historians and critics and become a huge draw for serious collectors and investors, Hook has also captured the public's imagination with a series of entertaining films for Sky Arts who named him as Portrait Artist of the Year in 2014; his celebrated sitters include the Duchess of York Sarah Ferguson, Alan Cumming, Kristin Scott Thomas, Fabrice Muamba, Amir Khan, Sir Ian McKellen, and countless others.
Art historian Philip Mould has praised Hook's work both on canvas and on screen: "Christian's arrival into mainstream modern portraiture, notably through the medium of television, has been startling and head-turning. He has fused three main ingredients for a successful portrait: likeness, empathy, and artistic modernism. "
The impetus behind the Painting the Invisible project came when Hook was on a beach looking at the night sky, considering the fact that only around 5% of the universe is visible to the naked human eye. "The other 95% is made up of matter and energy that we cannot see, detect, or comprehend, yet we know it is there because of the influence it exerts on what we actually perceive visually" he tells us. In this body of work, he wanted to explore the unseen 95% and find a way to identify and represent a fraction of this deeper, abstract reality within his paintings.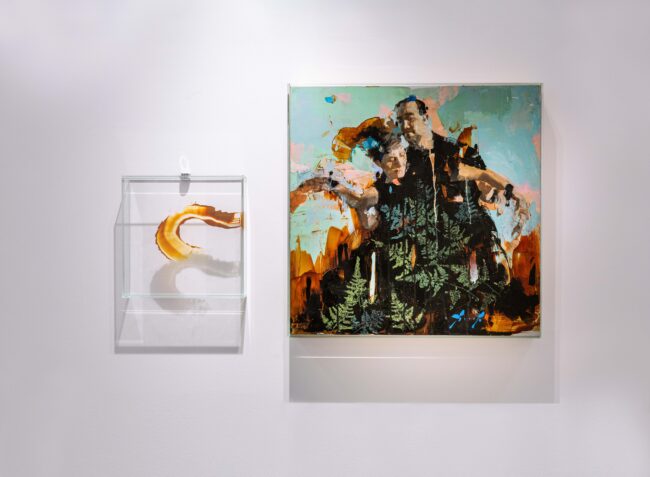 "I think this is my most important work because it comes as a result of my own imagination merging with the findings of the scientists to unravel the unknown and to open a new door for me as an artist." Christian Hook
Hook's paintings have been acquired by important permanent collections including several national galleries. Sir John Leighton, Director-General of the National Galleries of Scotland, selected his portrait of actor Alan Cumming from over 100,000 pieces in the collection for his list of '100 masterpieces', alongside works from Rembrandt, Picasso and Matisse, confirming his place as a major figure in 21st century art history.
Clarendon Fine Art
https://www.clarendonfineart.com/
020 7499 0947
46 Dover Street, London, W1S 4FF