Nettie Wakefield (b.1987) is a British artist based in London. She spent summers at the Charles Cecil studios in Florence before completing a foundation year at Chelsea College of Art, a BA in Art History at Leeds University and her Masters degree in Drawing at Wimbledon College of Art, graduating September 2013.
Wakefield has been exhibiting in London since early 2013. She was selected as 1 of 75 out of 3,000 shortlisted for the prestigious Jerwood Drawing Prize 2013 which was shown at Jerwood Visual Arts Space 2013, before touring to venues across the UK in 2014.
Wakefield had her debut solo show at the Rook and Raven Gallery in Fitzrovia, February 2014, where she exhibited her Reverse Portrait series which she then gained recognition for. In June 2014 she donated work charity auction organised by Christies alongside Tracey Emin, The Chapman brothers and Jonathan Yeo to raise money for The Old Vic. The auction was supported by a pop-up exhibition in London's Soho.
Wakefield also showcased her work at Banksy's bemusement park, 'Dismaland', in 2015. Alongside artists such as Banksy himself, Damien Hirst and 55 other artists by doing a live demonstration of her Reverse Portrait series.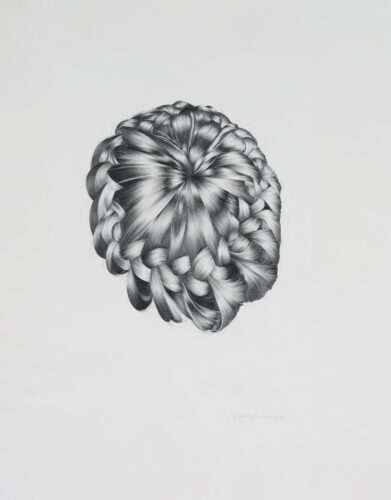 Wakefield has been shortlisted for The John Ruskin Prize 2015 with supporting exhibitions in February and again in May 2016. During Frieze week 2017. Wakefield had a one woman, one night only show of hand drawn found objects at the Groucho club in London's Soho. The exhibition was about seeing the beauty in ordinary objects, toying with image and wordplay.
Wakefield has been in a number of group shows and fairs such as The Art Carboot, Art Below and British Art Weekend in November 2017, a tightly concentrated selection of art made by British artists, or artists working in Britain from the 1960's to the present day. The selection consists of around fifty museum quality works on paper and editions, paintings, photography and sculpture by some of the most iconic and respected names in modern and contemporary art, alongside artists such as Sir Peter Blake. In between working on private commissions, Wakefield showed with Context art fair With LA based Corey Helford gallery in both New York and Miami 2017.
Wakefield later teamed up with KODAK and Jigsaw under the hashtag #KodakWoman to promote women working within the creative industries
Wakefield has been exhibiting between London and Los Angeles and Had her third solo show, 'Brandy' at the Jason Vass Gallery in Downtown LA.
In November 2020, Wakefield's social distancing series 'Lost in Time and Space' was shortlisted for the Circle Foundation themed contest, 'Art in the time of Coronavirus & Social Distancing' and was awarded an online exhibition alongside other shortlisted artists.
In December 2021, Smith & Partner hosted a charity event for Cancer Research, promoting the work of talented young emerging artists. Established as a top art investment business, e-commerce art platform, and wholesale fine arts supplier for galleries all over the world, Smith & Partner love supporting and crafting the careers of exciting young talent.
Smith & Partner's unique art platform offers artwork and a personalised service for novice and experienced art collectors, art lovers, and individuals looking for the perfect artwork to decorate their home.
Smith & Partner's sister company is a publishing house and a wholesale fine arts supplier that specialises in limited edition prints from Picasso, Monet to Warhol, selling to galleries all over the world. Their goal is to connect galleries with artists; giving artists a platform to sell their work and helping galleries find up-and-coming, established and blue-chip artists.
Smith & Partner are currently working with artist Nettie Wakefield whom we have asked questions about what inspires her.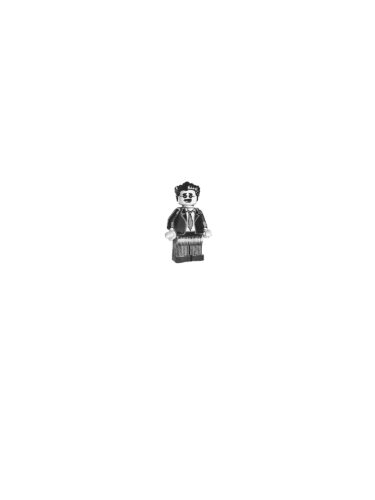 MiS: What fascinates you in the art world? Any artists that inspire you or you look up to? Are there any objects specifically that capture your attention?
NW: I get my inspiration mainly from my subjects. If I find something aesthetically interesting for whatever reason, I have a bit of a compulsion to draw it. I get this quite a lot with old masters' paintings and used to draw a lot in the National Gallery. Having said that, Gavin Turk has always been a huge influence for me. I loved his bronze bin bags and rough sleepers. I even drew a bin bag as an homage to them.  I'm interested in contrast and light. I have no interest in drawing a subject which is just one tone. I suppose that's why hair appeals to me so much. Drawing shiny hair is very satisfying for me.
MiS: Do you consider yourself a pop artist?
NW: No, I don't think I would say so, it's strange as I often get put in the 'street art' category after being involved in Banksy's Dismaland. I was in a show over the summer called BEYOND THE STREETS in the Hamptons in NY which was incredible, it was curated by Kim Stephens and Evan Pricco who is the editor in chief at Juxtapoz magazine. I was so happy to be a part of it and so gutted I couldn't go and see it in the flesh!
MiS: What projects are you most proud or why?
NW: My Brandy doll. Who I created in 2016 with the help of another LA artist called Randall Harrington, whom I met at Dismaland, he taught me the ways of bronze!
Demonstrating the plasticity of contemporary society – from aesthetic to moral – Brandy is the rendering of a cultural and sculptural metamorphosis.
Under five feet tall when fully inflated, Brandy is fashioned to be permanently young, small, and ever available. She won't answer back (though you can pretend she does if that's your thing) and she has attained the alchemic pursuit of immortality. Even her plastic molecules will one day become part of the ocean's food chain.
Her expiry date is not in her molecular structure but in our societal approach to it. She will be used, perhaps many times, but one day she will cease to be enough.
A new Brandy will be required and desired. She will find herself back on the shelf, deflated and crumpled. Brandy is a personal exploration of the idea that everything has a use by date. In an age of rampant social media use and Tinder – where modern love is commodified and traded more easily than stocks and shares – it's the female sex who still find themselves on the back foot, ever more obsessed with the quest for material perfection and agelessness.
The sale of sex dolls is increasing as they become more realistic. Just as pornography drove the development of the internet, so the demand for more sophisticated sex dolls is part of the incentive for developing robotics. Scientists are building life-like robots that can fulfil sexual desire without the need for vulnerability, empathy, or indeed, any humanity at all. The latest
dolls have Siri. But Brandy isn't the biggest casualty of our search for inhuman perfection. We are. Our need to modify our own bodies and conform to the ever-changing definition of perfection runs in parallel, so the notion of self becomes ever more distant as we move towards conforming to the cardboard cut-out virtual ideal. But how does changing the surface of something impact what is underneath?
These are transitory and uncertain times. Cast in bronze, Brandy has permanence. Hung on a wall she retains her status as an object of value. The same Brandy in another context has a different persona. Discarded and broken, even in her solid, sculptural guise, she subverts the age-old idea of the male gaze, breaking parameters of tradition and signifying the undercurrent of social change taking place.
MiS: Can you explain your popular Reverse series? Why do you think people would be interested in the back of someone's head that is appealing?
NW: My ethos behind this series is about mystery, intrigue and about challenging the assumptions and preconceived ideas of the viewer, what we project onto that head. Can you really be sure that one of the feminine looking ones with a ponytail or plait isn't a man?  While giving a little hint of identity with a scarf or an earring, we make a judgment based on that information. It began when I was doing my master's degree and I was under a lot of pressure to come up with a project.  I was sitting in a lecture, half listening, when I started to draw the girl in front of me. She had an intricate hairstyle, and I couldn't see her face. I realised that the mystery of that made it interesting. I tend to veer towards working in a series. In fact, looking back, I've always done every idea in a series. Hmmm.
MiS: In the future bodies of works: what future projects have you got? Can you reveal anything?
NW: I have produced a clothing collaboration with a brand called POAN (Peoples of All Nations) for SS22. I cannot wait for these to come out. This includes all my 'trash' watercolours on linen shirts for men and women, cropped jackets, a little bralette and a playsuit, it has a real 90s Versace aesthetic.
I have a couple of group shows coming up in 2022 at Soho Revue curated by India Rose James, one of them is CHOOSE LOVE around Valentine's Day and the other with Art on a postcard which is a charity raising money to combat Hep C, so both for a brilliant cause.
I am also working on a collection with Maddox Gallery, and I've heard a print or two from my series at Jealous Gallery have gone to the new Hilton Hotel, The Gantry in Stratford.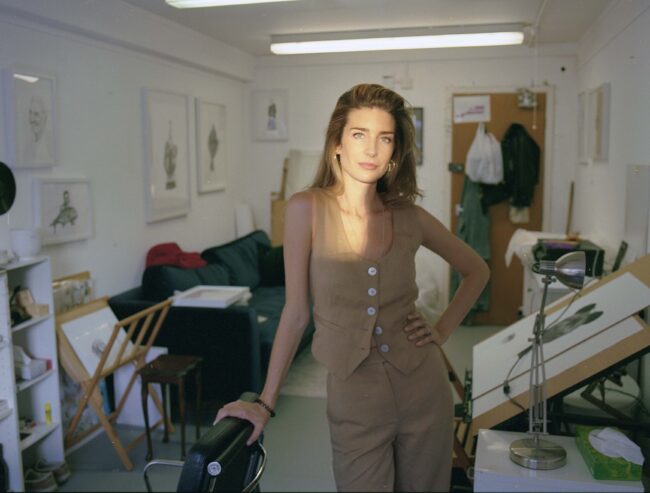 SMITH & PARTNER ART