Young British artist Harry Rüdham, winner of a Cass Art award for one of his paintings, is unveiling a solo exhibition "Lubberland" at Grove Square Galleries, London 17 February – 2 April 2022. Lubberland will showcase 16 of his paintings exploring the themes of an idyllic world and human connection.
At 25 years old, Rüdham has studied at Central Saint Martin's London and the Universität De Kunst in Berlin before returning to the UK to develop multiple overlappings of pure cotton paper from India, creating sculpture-like paintings. Inspired by Dante's Divine Comedy and the nudist bathers in Berlin, Harry Rüdham's work is a unique melding of colours, shapes, and textures.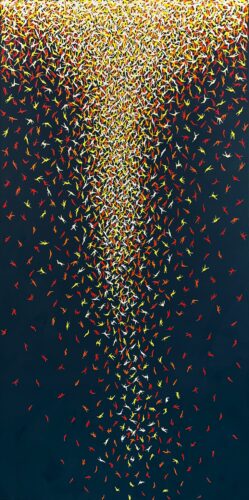 MiS: How did you first become inspired to create art and how did you start your journey?
HR: I never grew up in a particularly 'arty' household, but I can always remember making or sketching being something I had to do. Especially when I was in school, whether it was an outlet, escapism or really a way to process what was around me. Now that I've been painting for so long and become so submerged in the 'artworld' I don't think I could stop. Let alone want to stop creating art.
MiS: Who are your favourite artists, writers and poets and how have they inspired your work?
HR: I've especially enjoyed re-reading Dante's Inferno and mainly dated works that seem to challenge the customs of the time they were written. I've found this as an especially inspiriting way to create an abstract painting that can be interpreted beyond its conception.
MiS: During your studies at the Universität De Kunst in Berlin, you lived opposite the Bauhaus Museum. Which artists inspired you the most with their work?
HR: Albers Joseph, Anni
MiS: I know you are influenced by Hieronymus Bosch whose "Garden of Earthly Delights" piece references the last judgement and the end of the world. This work has inspired recent popular films such as Netflix's Don't Look Up and Leonardo DiCaprio's Climate Change Documentary Before the Flood. How do you think your artwork touches on these themes of myth, human redemption, and the human soul's journey to heaven and hell?
HR: I'd say that it's not necessarily about looking at society in such damned way as 'The Last Judgement' or 'Don't Look Up'. Instead, I believe the work for Lubberland focuses more on our connectivity as a positive in the sense that as we are more connected, we can hopefully prevent these 'impending dooms'
*Rüdham's work has featured in numerous group exhibitions in the UK and Germany including the Venco Gallery Edition iii Exhibition, Berlin (2018) and Young Contemporaries, London (2019) which he also curated. In 2020 Rüdham was the subject of a solo online exhibition with Julia Campbell Carter, and he initiated the residency, 'Sit Down, Have a Corona' in order to support artists during the global pandemic.
https://www.grovesquaregalleries.com/artists/36-harry-rudham/works/