Assel Sargaskayeva is a distinctive blend of artistic creativity and scientific acumen.
She is a renowned contemporary artist, celebrated for her work featured in private collections worldwide. She also excelled as a top executive in banking and international finance, earning a B.Sc. with First-Class Honors from City University Cass Business School.
Her artistic journey ignited at a tender age, nurtured alongside her studies in math and science. However, her profound passion for contemporary art flourished during her time in the UK. Undergoing professional art tutoring, she impressively mastered academic drawing and painting in under four years, transforming her hobby into a professional vocation.
For over fifteen years, Assel has actively embraced her creative side, with a recent focus on graphic works over the past three years, presenting a captivating series of artworks that delve deep into established themes.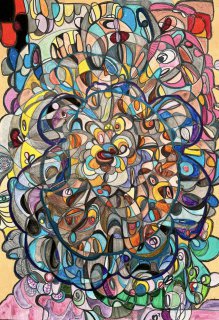 "Each of the exhibition themes of the Silk Road is consonant with my mission – to talk about the importance of balance in relations between men and women, as well as to reveal the value of Kazakhstan's culture abroad. My series of exhibition projects explores the problem of a woman's happy existence and the freedom of her creativity. All that unites them is the East, my homeland." Assel Sargaskayeva
Enchanted exhibition has been unveiled on 17th-19th November at V.O Curations, Main Gallery in Mayfair.
TS: For your 1st UK solo exhibition "Enchanted", you are focusing on magic and the image of a woman. Witchcraft has historically been viewed negatively and they burned or killed suspected witches in the UK and USA – how has this history shaped your views and your work?
AS: Undoubtedly, the UK has witnessed significant negative historical events, and discussing them is crucial. This conversation gains global relevance, considering the ongoing challenges faced by women due to male cruelty in various parts of the world. Reflecting on history is essential for drawing meaningful conclusions.
In my artistic endeavors, I prioritize painting with emotions, believing this approach is integral to the essence of art. Witnessing how these emotions become embedded in specific contexts is truly fascinating. My curator contends that this embodies "high art," resonating with the Pulse of the time. "Enchanted" stands as both a humanitarian and artistic project, intertwining an exhibition with a sociocultural analysis of the London public. I approach my projects with a commitment to philosophy, delving deep into specific topics to offer meaningful insights to my audience.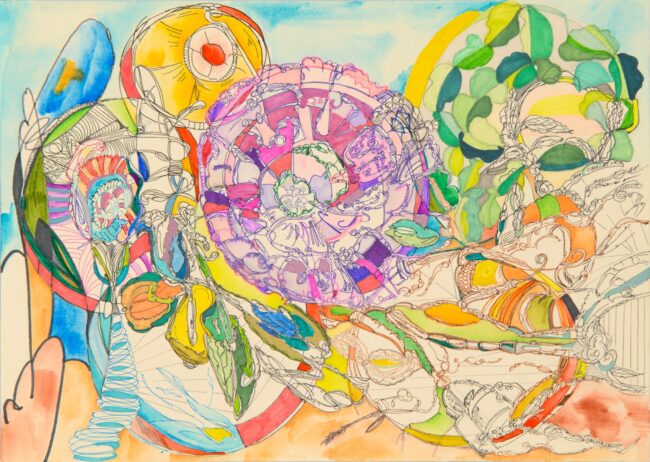 TS: In art, women are often portrayed for their beauty. How do you feel your artwork shows women's strength?
AS: The concept of beauty is a constant focus in my research. I delve into whether beauty empowers women or, conversely, works against them. My artistic creations portray the resilience of women from diverse aesthetic angles, acknowledging the beauty found even in the unsettling. Aesthetics, intertwined with artistic consciousness, undergoes evolution, making the question of beauty highly contentious. A woman's beauty extends beyond external visuals, encompassing a blend of character and temperament, among other qualities.  *Paintings for reference on this topic: Dewi Ayu (Beauty is a Wound), Self-Portrait. There is a short description on my Instagram page.
TS: You mentioned you use signs and symbols in your artwork to express your emotions. What are these symbols and what are they derived from?
AS: I immerse myself in numerous scientific books about this subject. Throughout history, people have held a deep belief in the concealed significance of symbols and signs, employing them in rituals and as amulets. I particularly enjoy incorporating covert symbols into the majority of my artworks. In my painting, "Sacred Turkistan: A Journey of Colors and Symbols," you'll encounter hidden sun symbols and traces of ancient Tengri elements, ready to reveal themselves at every step of your journey.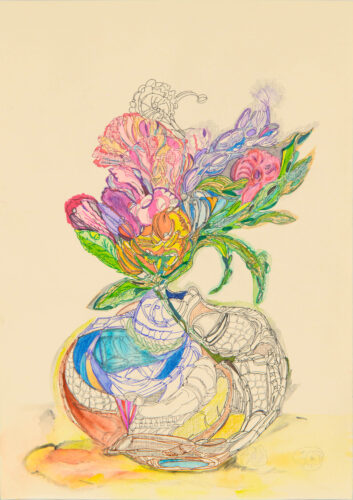 TS: You did a painting based on the new Netflix Wednesday series starring Jenna Ortega. How has Wednesday inspired you and what about the show really sparked your artistic interest?
AS: While in the series Wednesday is portrayed in a dark light, I envision her as an array of vibrant violet colors. To me, violet is a color associated with hidden power, and this young woman embodies just that. She is clever, confident, and empowering, despite her young age. She is not afraid to stand out, to be 'weird' even among her fellow students who possess unique capabilities like hers. Her strength of character and fearlessness make her a shining example of how to embrace one's individuality and harness it to achieve greatness.
TS: What is your process when creating an art piece?
 AS: Honestly, it's quite spontaneous. For instance, after finishing a book, I could feel compelled to pen down my reflections—whether it's the captivating paintings like in the case of paintings Dewi Ayu (Beauty is a Wound), Memory of a Dream, or Omertà. Meeting inspiring individuals, like Edyta or Sana, prompts me to introspect and capture their essence through my perspective. Even watching thought-provoking series or podcasts about Tupac Shakur, Wednesday Addams, sparks reflections that I want to preserve. In a sense, all my artworks are pieces of my diary.
 TS: As an artist, are there any artists that you look up to or admire and why?
AS: For the longest time, my sole artistic inspiration was Salvador Dali. However, with the arrival of my second child, I discovered that the works of Frida Kahlo now deeply resonate with and inspire me.
TS: What top 3 moments in your life have shaped your art career and why?
AS: Initially, I never envisioned a career in art; it was simply my hobby. The shift began with my inclination toward keeping diaries, and I eventually realized that depicting a person or circumstances was more accessible than writing about them. Secondly, I adopted a three-year hobby plan. Lastly, it was my son who encouraged me to fearlessly spread my wings, prompting the transition from hobbyist to pursuing art more seriously.