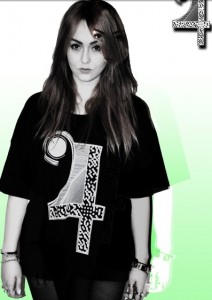 Angelina Ioannides-Beer has started her own independent label, The Trip Control. The Trip Control began while she was at University, where she graduated last year with a fabulous degree in Illustration. She produces screen printed, unisex tees, which she designs and screens print herself. She enjoys other aspects of art too and she likes being versatile so she likes photographing and editing lookbooks herself, as well as drawing. She has designed and printed a few fabric designs which she decorates her stall with. She also decorates her stall with hangings and photographs because she loves things to feel personal and layered.
She carries the personal feeling on into her garments with hand screen printed labels. She currently has two collections, and ideas for a third. She is big on drawing so all her designs are hand drawn, the second includes some collage from my own photography. They have both been heavily influenced by symbolism. Her first project was inspired by the subject of Hermeticism and Alchemy, the second on planetary symbols and shaping the universe.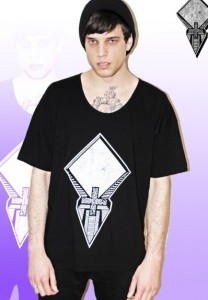 What inspired you to start?
I did an internship in 2011 for a brand that has a concessions in TopShop, which fortunately meant I had a few designs sold in TopShop and online. This is when I started designing printed tees. Once I left I realised that I had a passion for merging fashion and illustration to create printed garments. After this experience my work at uni changed and my projects started being based on starting my own brand. Now I have left university I am determined to carry on, push it further and make it into a successful career.
What is the biggest obstacle of staring your business?
It has been very daunting going out into the real world after university, and as a broke ex-student its pretty hard (I really miss those loans), especially after being use to the amazing print studio and facilities at University Of Westminster.
For a while I had to screen print at home which was pretty difficult with lack of space and very expensive, but fortunately I landed myself an internship at Print Club London and Millers Junction which meant I was able to use their print facilities as well as learn more about the print process from awesome artists and printers.
What fashion means to you?
Fashion is exciting because it's so diverse. There's not just one right thing about it because there are so many different trends and styles going on which you can be inspired by. The most exciting thing about having your own brand is creating something new which is completely directed by your own thoughts. I don't want to give my brand a specific style or aim it at a particular trend because my garments are versatile and inspired by different genres. You shouldn't stick to specific labels (that's boring). Graphic design and Tattoo artists are other sorts of work that motivate me to do what I do.
Why you chose Brick Lane market?
My first market stall was in Camden Lock which wasn't very successful. It's impossible to find any independent designers there, and it's upsetting to see so many mass produced products take over market stalls. I applied for a stall at Brick Lane and that turned in to my next location. Since my first Sunday there, Sundays have turned into my favourite day of the week. I plan to stay here for the foreseeable future.
Do you sell any where else?
As well as having an online store I also have garments selling in Lik + Neon which is also in Brick Lane. My twitter will tell you which sundays I will be having a stall.
Social links:
Twitter
Online shop
Tumblr
Facebook
LookBooks