Actor Erick Hayden has starred in several television and film productions since his first step into the acting world. I first came across his work in director Andrew Jones' films, when he starred as a character in the popular Robert franchise. I found his portrayal in film to be engaging, authentic and arresting.
Hayden has featured in BBC's Doctor Who (2020), and feature films Alcatraz, The Toymaker and Utah Cabin Murders (to name just a few).
His career in the world of entertainment seems to be going from strength to strength, and as someone who has enjoyed following his path, I was interested to ask the actor about his past, inspirations and hopes for the future. He kindly agreed to an interview. Here is our exchange…
xxx
Can you begin by telling readers a little about yourself and how you first became involved in acting?
I actually got started acting later in life due to a distinct lack of self-confidence. I remember trying out for one play in high school and failing to get it and then not even contemplating trying to do another one. When I went to university, I oddly enough was at Wichita State University for a year where a couple of the now bigger players in the Alaska theater community were attending at the time.
I was just so unsure of myself, and not even considering pursuing the arts at the time, that didn't even find out until later. Quite crazy when you think of it, but that's the fun of life for you! I actually started acting when I was 27 after I began writing for a local paper doing theatre and film reviews. Reading the paper one day I notice and audition for a wild Kabuki/Noh stylized production of Medea at the University of Alaska-Anchorage. I just thought to myself, hey, I could do that. I went for the audition and got the role of Jason. The rest is my kooky puzzle of humdrum history.
Did you always know you wanted to be an actor?
Hell, and no. I always knew I loved the film medium and later in life fell in love with theatre as well. But like I said before, my confidence kept me from even considering it as an option. There were times I used to wish I started earlier, but not anymore. I've come to appreciate that the life skills I picked up in life when not being an actor actually really helped make me a better actor once I started pursuing the art.
Has your experience of being in the acting world been vastly different to what you expected?
Meh. I wouldn't say so. I mean, yes, there are always things that surprise you. But once I moved over the UK with the intention of pursuing a professional career, I pretty much knew what I was going to be in for and haven't been disappointed. It is a difficult world on many levels, but there are lots of ways to also reduce the odds in your favor.
"For people like me who are primarily introverted, it's quite hard to feel comfortable pushing yourself out there…"
What has been – so far – the biggest challenge for you as an actor?
Learning how to market myself. The business side of acting is something they don't really teach you in school. Really, it should be mandatory that you have a minor in marketing because it is a huge part of what you have to do to get roles. And for people like me who are primarily introverted, it's quite hard to feel comfortable pushing yourself out there on social media, at screenings and other events where you have to meet people and make new contacts.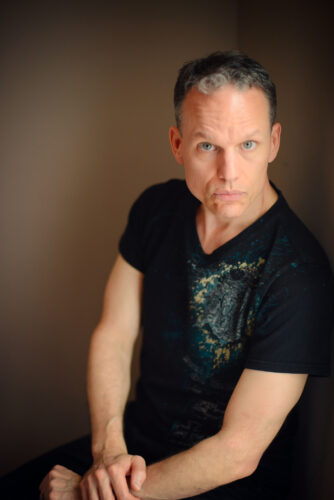 You have starred in a couple of titles by the horror director Andrew Jones – what was it like working with him?
I love Andrew and his team. He's so laid back and gives you a lot of freedom to try things out as an actor. He even let me rework the script on both The Toymaker and Utah Cabin Murders. So few directors are collaborative like that. But for him it was absolutely accepted and encouraged. I remember how thankful I was for that.
I'm still very proud of how much of the big monologue I have when I was talking to Francesco Tribuzio was written by me. He also made me feel right at home so I could always be able to do the things I need to get ready for a scene. I remember doing pull-ups, jumping jacks, and all kinds of exercises when getting my heart rate up to do the torture scene in the Toymaker. And every one was very understanding and appreciative that I was making the effort rather than finding it weird, which some people do. So yes, I love Andrew and the freedom he gives me to get the job done.
Do you like horror as a genre?
Absolutely! I would watch more, but my wife has nightmares when watching them, so I tend not to see as much as I use to. But I grew up loving the Nightmare on Elm Street series, Friday the 13th, Halloween, Exorcist. I love all the classics. I got such a kick when I found out that the cathedral in Guildford was used during the filming of the Omen (1977).
Out of the films you have worked on so far, is there a particular one you are most proud of – if so, why?
The big name projects are ones I'm proud of, but I have to go back to the Toymaker. Because of the reasons I talked about before. I loved being able to collaborate so intricately not only as an actor but as a writer.
What have you been working on most recently?
I just finished a long run performing in Secret Cinema's production of Stranger Things. It was probably the most exhausting show I have ever done. I once played the lead in The Ballad of Soapy Smith by Michael Weller, a three and a half hour show where I was on stage most of the play. And this was much worse. Immersive theatre is the most taxing form of theatre in the world today. Every actor is essentially a lead actor. Everyone is on stage non-stop for 3-4 hours every night. We even had two shows on Saturdays. It was mind bogglingly exhausting. But it was also very fulfilling as an artist. We had a brilliant ensemble that was a dream to work with. They were everything an actor hopes to work against and with when performing. I can't say enough about how amazing this crew was.
"Immersive theatre is the most taxing form of theatre in the world today"
What are your upcoming plans/projects?
Well, with the joys and uncertainties that our newest pal Covid-19 is bringing us, I'm taking the time to work on my YouTube channel Eccentric Nature until the industry gets green lit to start working again.
What kinds of films do you enjoy watching yourself?
My wife and I love Disney films. Personally I love good comedies. But more than that, I like good drama, adventure & thriller films that know how to work in a sense of humor. The world is so bogged down by soul sucking political machinations and the constant, force-fed, drama thanks to the media. I just get so tired of watching drama that is overly serious just for the sake of making more drama when they don't need it. Balance is key in my personal life and viewing life. There's always room for humor even in serious movies.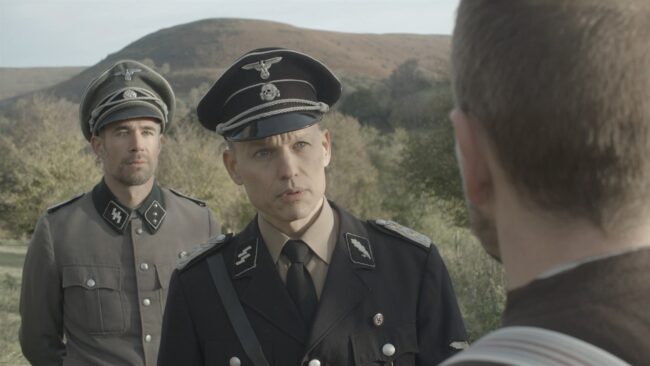 Does the current political climate have any influence or effect on you and if so, how?
Oh man…I used to watch war films and dramas a lot more, but thanks to the drudgery of our current world political idiocy, I have less of a stomach for those films that show me what I already know. War is insipid and so is senseless backstabbing and political intrigue. I don't need more of that in my life.
With the Coronavirus Covid-19 sweeping across the world, what are your thoughts? Are you worried? Have you made any provisions for this situation?
Ostensibly, no. I'm not terribly worried. It is very much a stress factor right now as it is affecting all of us. But as a disease, the world has seen much worse. This will run its course and been done much faster than the old bubonic plague and other scary diseases like it. We are not stock piling and are trying to stay in more, which for an introvert like me, isn't that hard.
What do you do to unwind? What are your hobbies?
I do read a lot, do puzzles, movies & videos, walks, dancing, and play a couple gaming apps on my phone as well as board games. I actually used to teach swing dance, so I love being able to get out and do that whenever I can.
Where can people find out more about you and your work?
Thanks so much for your time, Erick! Best wishes for your future projects.
Many thanks! I really enjoyed doing this! Thanks for having me do it.