Ellenor McIntosh is local inventor and COO of Twipes, who has just been listed in the Forbes 30 Under 30. Twipes is the world's first truly flushable water dispersible wet wipes. Breaking back to its original matter in just three hours, these plastic-free, paraben-free and alcohol-free wet wipes have won accolades such as the Diana Award and the Mayor's Entrepreneur Award. After enjoying B2B success, they are launching to consumers shortly!
xxx
G: What problem did you set out to fix in this world?
E: Over 14% of the £12 billion wet wipes market is purchased for use in the bathroom, yet "flushable"wipes are just marketing gimmicks that clog drainage systems, costing us millions each year and are lining our riverbeds and destroying ecosystems in our seas. This is because they take a ​minimum​of 100 days to break down in water (generic wet wipes take ​100 years​!), releasing harmful microplastics as they do.
Wet wipes are a huge part of people's hygiene and baby care, so an outright ban doesn't look like it's on the horizon. Twipes came to the conclusion that ​we can save the planet by getting people to change their products, not necessarily their habits.
G: How did you find your 'Why"? ​
E: Because when it comes to saving the environment, the time for action was yesterday. Now more than ever we need new technology to support our population and our way of living.
G: How did you convert your passion into a business?
E: Twipes was co founded by myself and Alborz Bozorgi, met on the Islington campus of CITY University. The idea for Twipes was formed in a pub when a friend complained about wet wipes blocking their pipes. The idea of a water dispersible wet wipe intrigued me so I got to work in the lab. When I had the formula right, I teamed up with Al to handle the business side. Together we formed Twipes!
Allia has been incredibly helpful in nurturing our business as part of their 'Future 20.' The ​Future 20​ is an incubator programme for ​20​ of the most innovative startups who are working to address the most pressing global and local challenges. They provided us free office space in Hackney which is where our business is based. To be able to save money as a startup on this was really valuable, alongside all the resources and mentoring. Plus, they gave us the opportunity to present to several investors.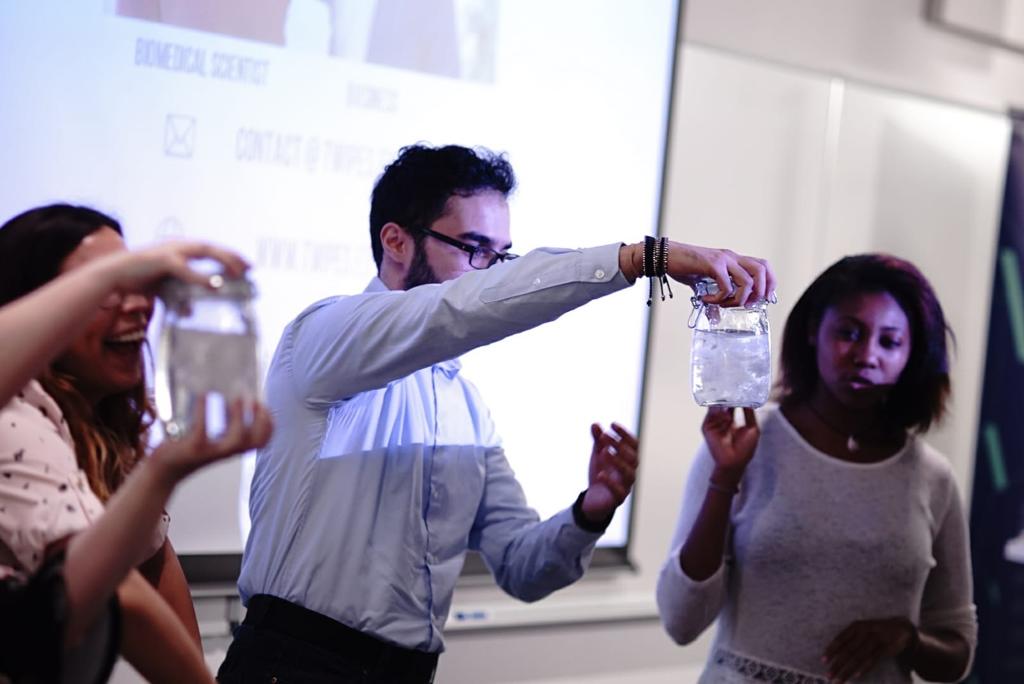 G: How long did it take until you start making a living out of it?
E: Things really took off after winning the Mayor's Entrepreneur Award in 2017. We've always enjoyed b2b clients.
G: What were the biggest obstacles launching the company and how did you overcome them?
E: The biggest challenge about launching a company is that there is nowhere to hide! The whole thing is your responsibility, there is nowhere to run, nowhere to hide. The way we take control of this is to know ​exactly​ what we're doing, day to day. Being thorough with every brush stroke makes for a better picture when you step back.
G: Why do you think people fell in love with your company?​
E: I think sincerity is a really difficult thing to fake. We like to think we bring our sincerity and passion about the planet to every aspect of our business, from the social media to our pitches. The world is opening its eyes more and more to planet pollution, and like our clients we care greatly about the future of our society. Not only that, but I am incredibly proud of my patented technology. I believe it truly is the best answer to traditional wet wipes and I think our customers see that too.
G: How your company/brand is winning over the hearts and minds of the local community? 
E: At Allia's Future Business Centre in East London we have really loved connecting other local businesses that are a part of the Future 20.
One thing we really enjoyed recently was being invited to Hackney Town Hall when the Mayor of Oslo came to talk at an annual event called ​City Challenges, City Solutions​where businesses from Oslo and Hackney in return discussed what cities and businesses will look like in the future as they move towards the green economy. The Mayor was a great public speaker, really inspiring. It was also a pleasure to talk to people on the Hackney Council about our company, they were really encouraging.
G: What 3 pieces of advice would you give to the people who want to create something, but not sure how or where to start ?
Don't be afraid to ask for help. You cannot do it alone, so if you don't know how to do something, reach out to someone who does. The worst they'll say is no. Use your network around you.
Be prepared to do it all. Even if you call yourself a CEO, you will do it all. From hiring and firing to packaging your product. Be prepared for hard work.
Don't be afraid. Don't be afraid to takes risks. Don't be afraid to make mistakes. Understand that the business you are starting, the thing you creating -it's yours.
G: ​Have you had any mentors or role models that have influenced you?
E: Emma Mee, the programme manager of Future 20 has been an incredible mentor to Twipes. Her guidance and advice for the challenges and how to go forward has been an anchor. And it's been great to have her celebrate our successes too!
G: Who/what are your favorite CEOs/Businesses in Shoreditch or East London?
E: We may be a little biased here at Twipes, as we have a friend who runs a great bar in Hackney! It's called the ABQ bar and it's brilliant for any fans of Breaking Bad. Seb Lyall, the founder of Lollipop is amazing at creating immersive experiences. Things are really difficult for the creative and hospitality business owners right now, and we wish him the best in the coming months.
G: Where do you see your company in a few years' time and what are your thoughts on the future of your industry how is it changing?
E: Once we have launched to consumers and our subscription service is running smoothly, I'd like to go back into research and development. I'd love to create some water dispensable sanitary products and nappies. Those are both more challenging designs that wet wipes, but I'm motivated to diminish our reliance on single-use plastics and clear up our sewers and seas!