A herd of 100 life-sized elephant statues have moved through India and are now trekking across London. This is only the beginning of their 13,000-mile migration across the globe.
Nonprofits CoExistence and Elephant Family began this project to promote wildlife conservation and raise funds to save elephants their natural habitats.
The project began on October 30, 2020, in India. On April 1, the elephants arrived in the UK and are currently traveling across popular green spaces in London.
Over five years, a team of 70 artists and conservationists sculpted the elephants. The indigenous Adivasi community in Tamil Nadu, southern India, uniquely designed the elephants after the familiar real-life versions they coexist with, according to the CoExistence website.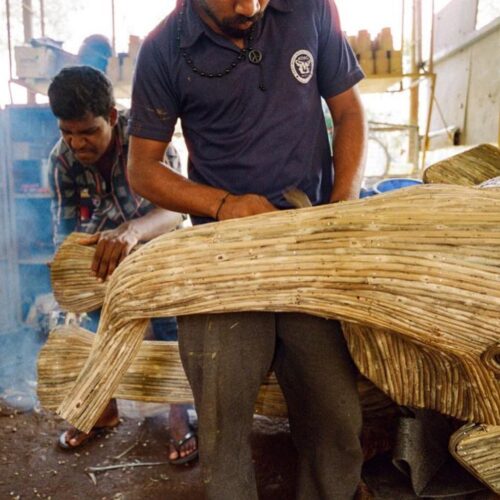 The sculptures are made from an invasive weed in India called lantana camara. This plant has toxins that make it poisonous to eat and stops other wildlife from growing. Each elephant sculpture ranges from 5 to 15 ft tall and weighs 100 to 350 kg.
An organization called IBI International Logistics is in charge of navigating the herds. According to CoExistence, their work is voluntary, and they refuse to take any compensation. 
Currently, there are 70 elephants in Green Park, two herds in St. James's Park, and one herd in Berkeley Square, according to the CoExistence Instagram.
On May 15, a flock of 37 endangered and extinct birds flew alongside the herds. A group called WildEastUK, dedicated to increasing biodiversity and sustainable farming, created the birds. They are made from steel, clay, and bronze.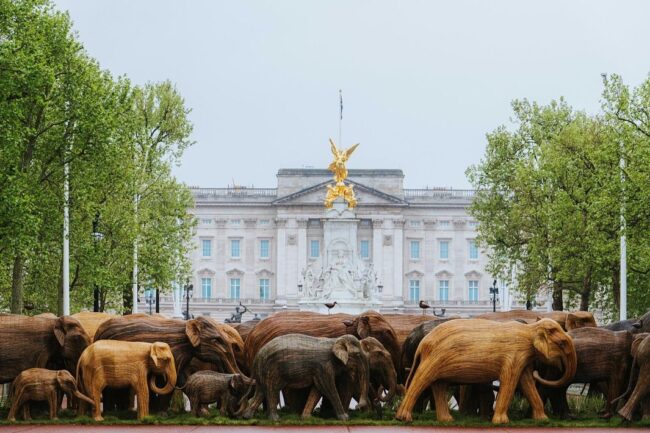 Some events have been held to promote the migration. For example, The Duchess of Cornwall joined the elephants on June 22 during storytime for local school children.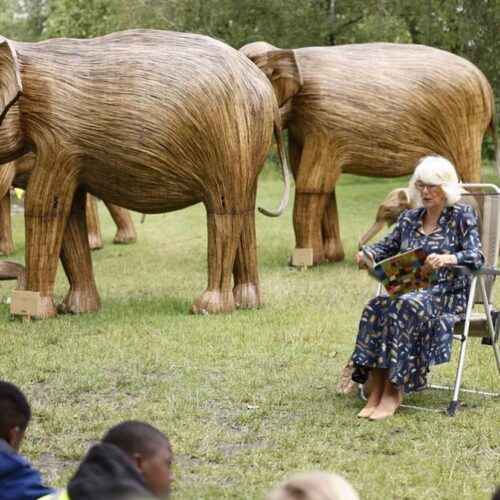 In addition to bringing attention to conservation, the sculptures are available for purchase. All of the proceeds are given to the Elephant Family to promote technology and infrastructure that allows animals and humans to live in harmony.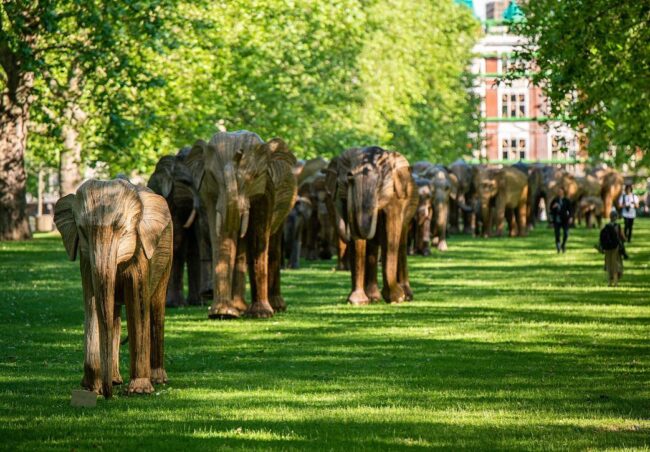 The project is also looking for volunteers to look after the elephants while they are on display and answer questions from observers.
After the UK, the elephants will be spreading across the United States. To stay updated on the herds' migrations, follow their journey on the CoExistence Instagram.
All photos from CoExistence.