1. look mum no hands!

5,409 likes

49 Old Street, London, EC1V 9HX
We like riding our bikes and drinking coffee. We had an idea about combining stuff we like to make something special. We found a great space in a great location, cleaned it up and called it 'look mum no hands!' We show films and cycle sport on our big projector screen. We have a workshop and two great mechanics who fix bikes. We have people who are really into making good food and coffee. We sell BEER!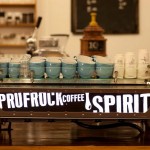 2. Prufrock Coffee
1,698 likes

23 – 25 Leather Lane, London, EC1N 7TE
For truly groundbreaking brews, head to Prufrock, where halogen beam heaters and Japanese pour-over filters are used to create some of the best-tasting coffees in the city. Prufrock Coffee came about to satisfy our personal urge to make nice coffee and show people how delicious it can be.
3. Jaguar Shoes – The Old Shoreditch Station

1,451 likes

1 Kingsland Road London, E2 8AA
The Old Shoreditch Station is home to our café bar where we focus on great coffee during the daytimes and on whiskeys, wines and specialty beers in the night-times. Constituting two rooms, it started its life as a small café ancillary to our store no-one, but in recent years it has grown in size and stature, hosting smaller scale exhibits, product launches, intimate gigs.
[sam_ad id="6″ codes="true"]
4. Shoreditch Grind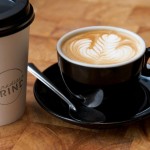 1,091 likes

213 Old Street, London, EC1V 9NR
The Shoreditch Grind is a new, ultra high quality espresso bar on London's Old Street Roundabout. We were born out of Melbourne's unique coffee culture, where the roast of a bean is discussed, debated and celebrated in the same way as a good wine vintage. We aim to be at the forefront of the rise of a new wave of quality artisanal independent coffee houses driven by our love and your expectation of a better cup of coffee.
5. Nude Espresso 

851 likes

26 Hanbury Street London, E1 6QR, The Spitalfields Market?
Obtaining the finest coffee is a labour of love. We scour the World hand selecting only the fittest, ripest green beans for our London roastery, wholesale coffee and online coffee shop. We grade them by eye and sort them before putting them through their paces at our London based roastery. Only then can they be tasted, blended and packaged, creating the perfect ingredient for a sublime sensory experience.
6. Full Stop

744 likes

202, Brick Lane, London, E1 6SA
What was once a really good little antique shop is now an even better café. It has been designed to look like a sitting room from another decade, complete with 1960's kitchen cupboards, blue Formica table tops, couches, wall lamps and old photographs. We keep it simple serving a few pastries and cakes to go with your coffee and in the evening stay open late serving alcohol, a treat in London where a café rarely stays open past 6pm.
7. Ozone Coffee Roasters London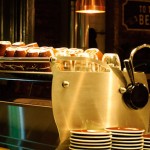 665 likes

11 Leonard Street, London, EC2A 4AQ
Our vision is to consistently aspire to coffee excellence in all facets and achieve international recognition as a leading artisan coffee company. We do this by rewarding and inspiring our team, and implementing robust systems and processes that duly guarantee the ultimate coffee experience for all our clients. We're humble about our achievements but aspire to be the best. We invite you to join us on our journey as we live, roast, taste and talk coffee.
[sam_ad id="1″ codes="true"]
8. Bird & Ballard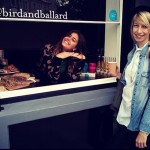 335 likes

84-86 Great Eastern Street, London, EC2A 3JL
A stunning old bank building, based on the junction of Great Eastern Street and Old Street in the heart of Shoreditch. Known for years as an art led bar, in recent times the building had fallen into decay whilst awaiting the development of the land into a hotel. After a full refurbishment and bringing out some of the original bank features, Bird & Ballard Coffee House will be opening stage one on October 8th, more details to follow
9. Kahaila Café 

331 likes

135 Brick Lane, London, E1 6SB
We are a coffee shop with a conscience, we want to make sure that all our products are ethically sourced and where possible, locally sourced, while still delivering a high level of service and product quality. Kahaila is a space where community can happen. We want to give all our customers a place to relax, get to know people and enjoy excellent entertainment and new activities.
10. AIDA Shoreditch

300 likes

133 Shoreditch High Street, London, E1 6JE
We use only premium hand picked beans from a variety of coffee farms all over the world. We have a choice of three special blends of coffee to suit your taste buds, and roast our own coffee using a patented convection technique for a guaranteed smoother flavour. We are passionate about the need for quality coffee beans, and our friendly baristas will be pleased to guide your choice to your own perfect cup of coffee.
11. Paper & Cup 
232 likes

18 Calvert Avenue, London, E2 7JP
We are Paper & Cup, a small, intimate space in the heart of Shoreditch offering you a range of delectable coffee and books. We are here to provide you with a little hideaway to finish that gripping novel, or just a place to catch up with friends. Paper & Cup was created by the spitalfields crypt trust, a locally-based charity organization.
12. Esoteria Espresso Bar
179 likes

276 Hackney Road, London, E2 7SJ
Esoteria is a pocket sized café on Hackney Road packing the punch of something a fair few weight divisions up.Its secret is a partnership with the nearby pub, The Marksman, which enables it to offer a great range of home-made cakes, sandwiches, quiches, pies and salads, in addition to its mainstay of quality coffee.
Find out other top 10's , just click image below