A boring day at work. Listening to my favourite radio show and DJ on Radio 1, Fearne Cotton. She starts talking about her 'Big Thing' of the week that she's going to play everyday. A song by an Irish band called Kodaline and the song is 'All I Want'. She warns everyone that it's a very a sad song and that tears may go down our faces. Well, she was right. I hear the song and I fall in love with it constantly! I can't wait for my break time so that I could watch the video as well which was also suggested by Fearne Cotton. I watch the video and I become numb. I mean for a song like 'All I Want' just a simple video would have been enough but they did this amazing video which has been viewed more than 2,000,000 times only on their VEVO. The song was destined to be big and make Kodaline a bigger band in such a short time span. As if support from likes of Zane Lowe and Fearne Cotton wasn't enough, the song was featured on the second episode of Season 9 of Grey's Anatomy 'Remember The Time'. Most recently they were shortlisted for BBC's Sound of 2013 alongside with the likes of The Weeknd, Haim and Laura Mvula. Moreover, on top of everything Google used 'All I Want' for its 'Zeitgeist 2012: Year In Review' advert! Does it get better than that? I don't think so. They have been also on the road supporting the likes of Lianne La Havas and The Cranberries and also headlining their own shows. I followed them for two days in November 2012 that they spent in East London.

On November 27th 2012 they played at Hoxton Square Bar and Kitchen. The perfect venue for intimate gigs! Before Kodaline takes the stage, Lewis Watson warms up the crowd with his beautiful songs. Watson started his set with 'Once Before' and then played 'Even if', 'Lamplight', 'Windows', 'Sink or Swim' and my favourite 'Into the Wild'. You should pay a visit to his Facebook page to see what he's up to: https://www.facebook.com/lewiswatsonmusic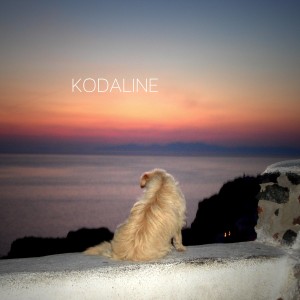 After Watson, it's Kodaline's turn to take the stage! I've heard some of their songs before but didn't know each and every song that they played. However, it did not matter! Somehow, the songs were really easy to connect with and I managed to sing along to everything! They started their set with 'Lose Your Mind'. It was a great choice to start the show with that as everyone was already in the mood! Then they continued with 'Pray' which has the potential of becoming the next big hit from Kodaline! After that they continued with the Colplayesque 'Perfect World' followed by 'High Hopes', 'Mandolin', 'One Day' and 'All Comes Down'. Then the moment that everyone's been waiting arrived! They played 'All I Want'. It was sad as it was the 'last song' that they played. However, every single person in the audience knew the lyrics from the beginning till the end! We had sort of a 'Someone Like You' moment with 'All I Want' and they played it beautifully! Stephen's voice was flawless from the start till the end! It was amazing witnessing how different his voice can be for different songs! Then they left the stage but of course everyone was clapping and hoping for more! They did come back and firstly they performed a Sam Cooke cover, 'Bring It On Home'! I suggest they do this all the time! Then the real ending has come with 'The Answer'. Like 'All I Want', 'Answer' has a heartbroken video but this time it's an animation! It's a very simple song but yet like all their other songs very catchy!
The next day they played at Sebright Arms, Bethnal Green. We agreed on doing the interview there. I went there and ordered a pint of beer as I was really excited before the interview. Luckily they were not on time as they were at MTV!!! However, they did come to the venue and after the sound check we finally managed to start the interview. As they opened the doors for the ticket holders we couldn't do it in the pub so we had to do it in the tour van which was really amazing!!! Now, read the interview below if you still don't know who Kodaline is and learn more about them!
Q: A classic question….Who is Kodaline? How did you guys meet each other?
Stephen: We've been all been mates since we were kids. Me and Mark lived really close to each other! We could throw eggs to each other. We have always played with music with each other!
Q: So did you always play together or you had different bands?
S: We always played together but you know when you pick up the guitar you form a dodgy teenage band! Jay joined the band the latest! He was a friend of a friend and now a friend ? and now we are Kodaline!
Q: About that! What's the origin of the name? I looked up the internet but couldn't find anything!
S: We wanted to pick a different name and it's very difficult to pick a band name! One night we just came up with it but it doesn't actually have a meaning! Kodaline sounds just cool as cliché and as cheesy it is!
Q:I'd like to talk about the support you've been given by Radio 1! 'All I Want' was Fearne Cotton's 'Big Thing' and also Zane Lowe's 'Next Hype'! Why do you think that the song got so much airplay?
A: We can't really answer this question as we don't have anything to do with it ? But it seems like that it got popular online and after that it kind of got viral! It's just great that people really associated with it! I guess everyone has been through a situation like that at some point in their lives!
Q:What about Grey's Anatomy? Did that change anything after they featured 'All I Want' in one of the episodes?
A: We don't actually watch Grey's Anatomy but it was a good way to make people there familiar with us before we embarked on our US tour.
Q: Let's talk about the video of 'All I Want' which went viral and garnered more than two million views! Whose idea was it and you don't appear in it and you don't appear in any of your videos. Is there a specific reason for that?
A: We actually do appear! If you look carefully, we are all in the office scene ?
Q: Okay ? I'll have another look but still no one can point out actually to say 'Hey look this is Kodaline!'
S: We kind of just want to put the music out. That's more important for us so we don't have to appear in the videos! So the video was directed by a friend of a friend and he actually played the monster and he's never acted before! Ohh and the dog is actually is his dog and when they put the make up on him, the dog didn't recognize him so they had to hang out like that for a while until they got used to each other ?
Q: Now tell me who do you like to listen to or who inspires you?
A: Emmm…Gangnam Style is pretty inspirational!
Q: May be for Radio 1 Live Lounge?
S: Yeah! I am working on my Korean at the moment (and he 'sings' for 10 seconds) ?
Q: Great! Now I want names!
A: We all kinda like different music! But to name a few LCD Sound System, Bruce Springsteen, James Cook, Etta James…So lots of old school stuff but there are some great new names as well like Ben Howard and Lianne La Havas! Her voice is just great! There's always cool music so you just need to look for it, you know?!
Q: You've been compared to other bands but especially to Coldplay! What do you have to say about that ?
A: Every new band has to be compared to somebody! If you show your friends something new, they are going to say 'they sound a bit like this!' So we are going to be compared to somebody so we don't mind, Coldplay is cool ?
Q: You talk about honesty quite a lot so can we say that the album is 'Based on a True Story' and who writes the lyrics?
S: Every song is based on a past event…so the songs are very genuine. I write most of the lyrics but then everyone contributes something! It really depends on the song.
Q: The songs that we've hard so far have different sounds so what shall we expect from the album? Is there any
A: When we write songs we don't look for an overall sound! If we are in a happy mood, we make a happy song and if we are in a sad mood, obviously a sad song! We are really happy about the album and basically we tried to be honest with every song!

Kodaline's debut album 'In A Perfect World' is out on 18/03/2013! Make sure you check it out!
http://www.kodaline.com/home
• 'S' stands for Stephen and 'A' stands for collective answers
• Photography by Mustafa Batibeniz: https://www.facebook.com/pages/Mustafa-Batibeniz-Photography/133944539986135?ref=ts&fref=ts