The Office Group, innovative providers of flexible, design-led office spaces, has announced the official opening of their latest property, The Black & White Building, in the heart of Shoreditch.
Designed by award-winning Shoreditch based architecture practice BuckleyGrayYeoman, the building's striking, contrasting styling – black on the outside, white on the inside – was conceived to provide flexible, bright workspaces that act as a 'blank canvas' for local creative SMEs and freelancers, whilst creating a prominent, recognisable landmark on Rivington Street.
The Office Group is well established in Shoreditch with an existing office just across the road from the Black & White Building. This new building was opened due to the huge demand for the company to provide more design-led offices in the area and is a trend which has been shown across the capital with The Office Group planning to open at least four more buildings in 2014.
The Black & White Building has been designed to be sympathetic to its rich history and is very much in-keeping with the character of the surrounding area. The interiors boast exposed original brickwork and timber beams with vault-like high ceilings. Generously sized offices sit over three floors, above ground floor meeting rooms and the drop-in ClubRoom workspaces. All furniture and fittings have been locally sourced and the building will also operate a pop-up market open to local traders and craftsmen.
Charlie Green co-founder and co-CEO of The Office Group explains: "The Black & White Building has been designed with the local area in mind. The style of the drop-in ClubRooms space reflects the character of the building and responds to the profile of the local market.
"The way that people are working is changing and we are adapting to those needs through innovative offerings such as The Black & White Building. Things are rarely black and white and when it comes to people, no two employees are identical with no one person working in the same way every day. The Black & White Building offers workers a choice of areas to work from that best suit their needs in an environment that's been created to reflect the local urban and energetic culture. Our offices are more than just buildings as we put a strong emphasis on creating a real sense of community amongst our members."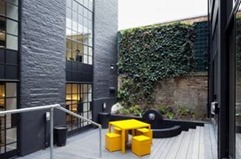 The 11,000 sq. ft. warehouse was originally used for furniture manufacturing and has now been converted into a minimalist, edgy space which is also environmentally friendly, incorporating a green roof terrace, rain water harvesting, sensor lighting and solar panels. The car park has been repurposed to create a two storey eco-cabin hub built from prefabricated timber containers, along with parking spaces for bikes.
Lead architect Amr Assaad, Associate Director at BuckleyGrayYeoman, said: "The Black & White Building provides customisable office spaces with authentic character, akin to that of Shoreditch itself and The Office Group's ethos. The building is a fitting urban addition to Rivington Street, with the container extension providing a visually bold, welcoming entrance and reception space. Our sensitive, light touch approach retains the best of the existing building, with the raw warehouse aesthetic continued throughout the interior design and carefully curated furnishings. Shared facilities and services on each floor, along with ground floor social areas that are residential in feel, encourage interactive working and a campus environment.
"This project builds on BuckleyGrayYeoman's experience in delivering high quality offices catered towards design-conscious SMEs and start-ups within Hackney and other emerging creative hubs across London. It is fantastic to see this project complete in our own back yard."
The Black & White Building is now open at 74 Rivington Street, London EC2A 3AY.
Photos by Matt Clayton