M: Tell us about your business. What is your role?
Deskcamping helps freelancers and startups find desk space to rent. I'm the founder, Deskcamping's Camp Chief.
M: What is so innovative / unique about it?
We want to make it really easy for start ups and small businesses to rent desk space. What's different about us is we focus on the people side of things. It's not really about desks, it's about people working alongside other people. It's more personal. We're the first desk listing site to talk about office personalities, rather than just wi-fi speed and kitchen facilities.
M: Why do you choose Shoreditch to run your business?
We're from the creative and tech startup community in London, New York and Berlin. We're based in Shoreditch as that's the main hub.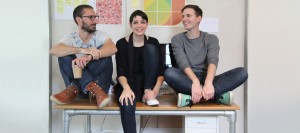 M: What would you say has been your most memorable experience while working there?
It's hearing that people have found cool desk space through the site, made new friends and started collaborating on projects. Every story is different. A film maker from New Zealand said it really helped him meet new people in London when he moved over. That was cool to hear. And a designer from London moved to Berlin through deskcamping. Awesome stuff!
M: What are the main challenges maintaining your business and how are you overcoming them?
Spreading the word! That's where you guys come in!
M: What are your favourite places in Shoreditch?
The Boundary Estate and the Rochelle Canteen.
M: What does the future have in store for your business?
We want to open in new cities. Next stop San Francisco and Melbourne. We want to do it properly, move there, deskcamp somewhere and get to know the city. It's a hard life.