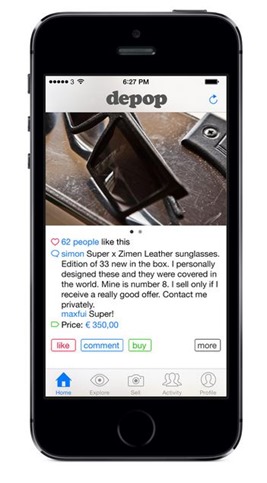 1. Tell us about your business? What do you do? What inspired you to start? 
We've created an app called Depop – it's a new and fun way to buy and sell items – everything from fashion to art. I started this company because I thought that with the amazing smartphone technology we have today, there was a great opportunity to make shopping and selling easier and more social. Businesswise I come from the fashion world, where I previously co-founded a lifestyle magazine and a sunglasses brand, Super Sunglasses – so I thought I could make an interesting product given the experience I have.
2. What is innovative / unique about what you do?
As I said, I try to look at the product from a different angle. Depop is so simple that you cannot believe it, unless you try it. And it's also so much fun to use. The real innovation about it is that it's based on a social principle. You follow your friends and favorite sellers to see what they sell, what they buy and what they like, so you can also stay on top of trends and be part of a community.
3. What would you say has been your most memorable experience while developing your business?
The first time I went to H-Farm, the venture incubator in Venice, Italy who first believed in me and the product. I found myself in a place where everyone was thinking along the same lines, we were all on the same page, instantly. So we built the product together for a year and then we launched it – it was exciting times.
4. Why did you choose Shoreditch as a base for your business?
After our Italian launch, which served as a test bed, we knew we needed to move abroad to do our international launch. We chose London because it has everything we need: from VC's to media agencies, to fashion companies and publishing houses. There's also a big market for vintage, fashion and furniture. Shoreditch is the summary of all of this, concentrated in such a small area that you can literally walk through it from one side to another. It's a bit like being in a giant incubator. I don't think there's anything quite like this elsewhere in the world. London is also home to some of the most talented people in the tech business, so there's a lot of know-how when it comes to developing a tech product.
5. Who/what are your favourite CEOs/Businesses in Shoreditch?
In the tech world I've met many people from different companies. From Mixcloud to Shuttl, to City Mapper. And there's many cool creative agencies too, like Poke and Mother. Moo.com is also a great business and there's also VICE! There's also an amazing company which helps designers from all over the world to get known, which is called Not Just A Label. There's a friend of mine in Redchurch Street who runs an amazing website called Patternity. There's a lovely co working space called Central Working, which operates right next to Google Campus, where we stayed for 6 months. Then there's our amazing PR agency 33Seconds! There's also my friends, musicians 2manydjs and Soulwax who are very well known in the music scene, and they also have a recording studio here.
6. What are your favourite places in Shoreditch?
There are so many! For pubs: the Princess of Shoreditch, The Owl and the Pussycat, the Commercial Tavern or the Vice Pub on Great Eastern St. For a Pizza I go to Amici Miei on Kingsland Road or to Pizza East in the Tea Building. If I want to treat myself, I dine at the Clove Club, or at Brawns. For a Saturday lunch I go and eat an amazing plate of pasta in a new place called Burro e Salvia on Redchurch Street and or for a late night secret drink I go to Lounge Bohemia, or to Happiness Forgets, or sometimes to Night Jar. For shopping, my favorite shop must be Present in Shoreditch High Street. I also love 1948, the secret Nike shop on Bateman's row.
7. What does the future have in store for your business?
I want the whole world to know about Depop, so we will concentrate on expanding into new markets over the next few years. There are also a lot of nice product features in the roadmap too but I can't talk about those for now.