Louise Golbey is a London-based singer, songwriter and musician. Mixing Soul with a twist of Jazz and mellow vocals, she is the one the Soul scene has been waiting for.
It is no surprise to hear that the promising Bournemouth bred singer found herself surrounded by an amazing musical family and got on stage for the first time at the age of 7. Since then, she has kept on performing and delighting her audiences, sometimes singing alongside some well acclaimed names in the industry. She talks to Made in Shoreditch magazine…
How and when did you get into music?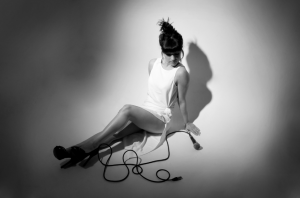 I grew up around a very musical family (my dad plays guitar & piano, my mum sings and my grandpa and uncle both played the violin).
I started learning piano when I was really little and had danced since the age of two! I was in my first musical at the local theatre when I was 7 years old so caught the performing bug at a very early age!
I got into Hip Hop and Soul music from a very young age as my older brother was a big influence in my music taste of what I listened to. And I remember dancing round the living room to my mum's Motown records too!
What do you get your inspiration from?
Musically I guess my inspiration is from the music I listen to and vocalists I admire. My lyrics are inspired by my own life experiences… I always write from the heart.
You've been sharing the stage with some pretty big names in the music industry, tell us about that?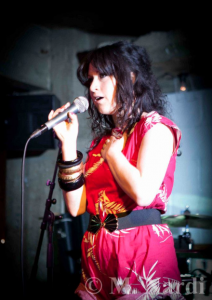 I have been performing in London and beyond for several years now and have been fortunate enough to have shared the stage with loads of established artists over the years.
Either because we were on the same gig circuit (before they were famous) or because I have had the opportunity to be the support act for bigger artists.
I used to do loads of gigs on the same bill as Ed Sheeran (in fact he is one of my music videos as an extra!), I also used to do gigs with Katy B, Jessie J, Paloma Faith, Lianne LaHavas, Mikill Pane, Sway, and Mr Hudson to name a few.
And I have supported artists such as George Benson, Alexander O'Neal, Mitch Winehouse and more recently I was the support act for The Stylistics on their UK tour which included performing at The Indig02 in London!
I have also sung on a track with Example and written and recorded with The Newham Generals (signed to Dizzie Rascal's label Dirtee Stank)
We noticed you sang one of your songs 'C'est juste comme ça' in French – where and when did you learn French? Is there a reason why this specific tune is in French?
I studied French at school and university and spent some time living in France a few years back! I absolutely love speaking French and thought it would be great to record some of my songs in the language… This song seemed to lend itself well to the translation. I am planning on doing more songs in French in the future too. I also have done a few gigs over in France.. and would love to do more.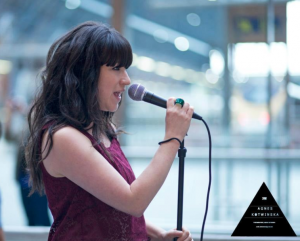 What's your funniest experience while singing?
Well recently on one of the tour dates I forgot the lyrics to one of my own songs! I managed to make a joke of it and fortunately the audience was with me every step of the way! Everyone ended up laughing and then my guitarist and I couldn't stop laughing.
What do you fear the most when you're on stage?
Well actually I do worry about forgetting the lyrics!
However another thing which can make me nervous is when I am the support act for another artist I am conscious that the crowd have not come to the gig for me, they have come for the main act so there is always an element of having to win them over and hope that they like me and my music etc. It's a bit of a challenge but this also makes it really rewarding when you do win them over!
How would you describe yourself in three words?
Small. Soulful. Saucy?
What's your next step? A featuring maybe … ?
That would be good! I am currently working with a producer called Aamir Yaquib on a couple of new tracks (he worked on Rihanna's last album and has worked with the likes of Timberland too.) so maybe he can get me a collab with Ri-Ri?!
I have been approached by a few House DJ's who will be doing remixes of a couple of my tracks which will be out soon fingers crossed..
And I have been writing a track with UK Soul legend Omar and hoping he will feature on the track too. So watch this space!
Find out more > http://www.louisegolbey.com/