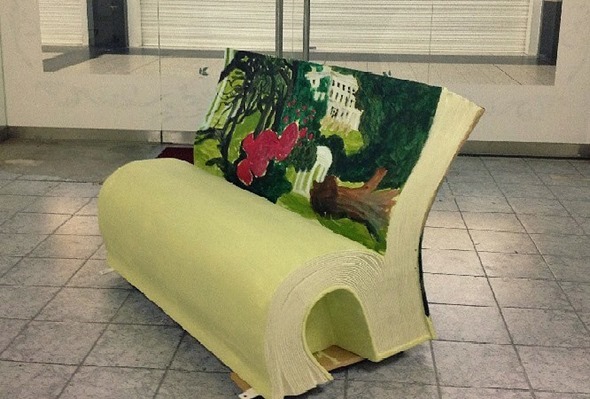 This summer, benches shaped like open books will pop up all over the capital for children, families and visitors to find and enjoy. 'Books about Town' launched by the National Literacy Trust and Wild in Art brings a unique opportunity for the public to view 50 bench sculptures across the city, created by both local artists and famous names, to celebrate London's literary heritage and reading for enjoyment.
The BookBenches feature stories linked to London and are based on a range of books from treasured children's stories such asThe Lion, the Witch and the Wardrobe and Peter Pan to classic adult titles including 1984 and The Day of the Triffids. Well-loved literary heroes such as Sherlock Holmes, James Bond and Hercules Poirot also appear on benches which visitors can discover by following literary trails around London from 4 July until mid-September.
Books about Town builds on the legacy of the Olympic mascots in London in 2012 and is set to become a major tourist attraction for the city over the summer. After the exhibition, the BookBenches will be auctioned to raise valuable funds for the National Literacy Trust to tackle low literacy levels in deprived communities across the UK.
Axel Scheffler has illustrated a bench which celebrates his work with Julia Donaldson and the characters they've created together, including The Gruffalo and characters from their new book The Scarecrow's Wedding. The bench is being sponsored by Scheffler's and Donaldson's publishers: Scholastic Children's Books and Macmillan Children's Publishing.
Among the other top artists involved is Ralph Steadman who illustrated Lewis Caroll's children's classic Alice Through the Looking Glass in 1973 and has reproduced some of these illustrations on a unique BookBench. Children's authors Lauren Child and Cressida Cowell have each designed benches based on their own series Clarice Bean and How To Train Your Dragon.Walker Books are sponsoring their very own We're Going on a Bear Hunt themed BookBench, which will be illustrated by Helen Oxenbury.
Jonathan Douglas, Director of the National Literacy Trust says: "We are very excited to be bringing a collection of BookBenches to London this summer to spread the love of reading across the capital.  From Conan Doyle's Sherlock to Cressida's dragons, there will be plenty in store for visitors to celebrate reading for enjoyment and the UK's rich literary culture."
Website:
http://www.booksabouttown.org.uk/