London Collections: Men gave the kick start to menswear fashion weeks once again and set the strikes high for Milan and Paris Mens fashion weeks.
Arguably we can say that LC:M SS15 was the biggest one ever and it made everyone understand that it will only get better and bigger. Perhaps the biggest two additions to the official show schedule were none other than DKNY and Moschino. We also witnessed British fashion world's latest genius Craig Green's first ever solo show, Fashion East's MAN show's one of the strongest line ups and Sankuaz presented by GQ China which made the SIBLING show look relatively normal.
So what do we know about next year's mens fashion trends? LC:M set many trends for next year but it was impossible not to notice how orange conquered the runway! Not sure whether London Overground has to do anything with this but probably 80% of the collections had an orange item. Agi&Sam and Burberry went for head to toe orange looks. Elsewhere Topman Design and Katie Eary used orange in their 70s inspired collections! Next year Glastonbury will look like Woodstock (In order to get the full Woodstock affect do not forget to pack your lomo camera) Sibling made great use of orange as well in their punk inspired SS15 collection that probably made Jean Paul Gaultier and Vivienne Westwood proud and a little bit jealous. Recently I went to Jean Paul Gaultier's exhibition at Barbican Centre and one whole section is devoted to his punk inspired collections and the inspiration behind those collections were his visits to London where he was introduced to punk culture and went underground clubbing in Camden Town. It's great to see in 2014 that there is a London designer that embraced one of the greatest subcultures that London has been a home to. Long live Sibling.
Although orange (to feel more sophisticated read it with French accent) stole the show there were other trends from LC:M that got us excited for next year such as 70s which I have already mentioned above. Another big trend was warrior uniform inspired outfits. Astrid Andersen and KTZ showcased the finest examples perhaps and we can imagine lots of rappers and hip hop artists already 'fighting' over those looks! Wouldn't be amazing to hear a diss track about this? It would be! Liam Hodges also adopted the warrior look in his Fashion East MAN slot and opted to pair his collection up with Palladium Boots which itself has a direct link to warcraft as the company was established in 1920 to make tires for the aviation industry.
Another designer that used Palladium Boots was Christopher Raeburn whose collection was inspired by aviation where we saw direct and indirect references such as war plane print t-shirts which also made an appearance in Kit Neale SS15.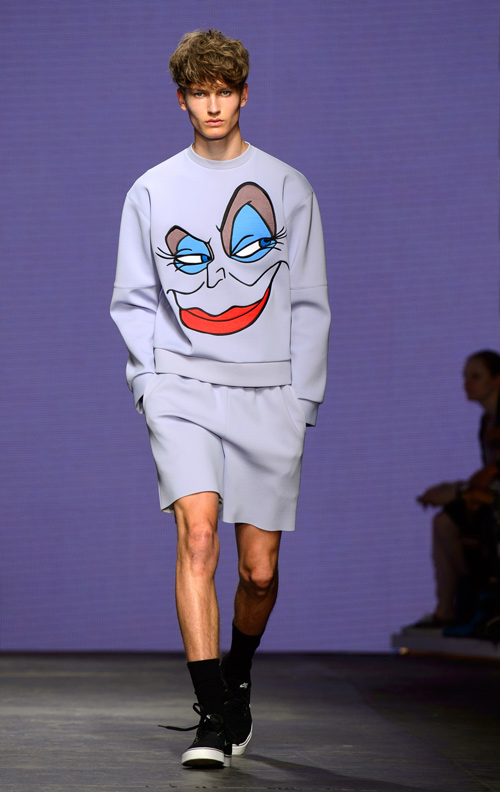 Every season there are a few collections that get everyone talking and start a craze about it on social media sphere and this year it was Bobby Abley. His Fashion East MAN show got everyone talking firstly because the whole collection is amazing and secondly Little Mermaid made an appearance on the runway! It was perhaps Ariel that inspired LC:M SS15 with her hair but purple 'Ursula' sweatshirt was the star of the collection! On top of everything, modern day Ariel walked down the runway as well! What else do you ask for?
There are so many other collections to talk about such as J.W. Anderson, Christopher Kane, all time favourite Christopher Shannon, my obsession James Long, Pringle of Scotland, Xander Zhou, Lou Dalton, Nicomede Talavare, Alexander McQueen and goes on and on. Since we can't scrutinize each and every collection in depth please have a look below to see some of our favourite looks from London Collections: Men SS15.
See you at LC:M AW15/16