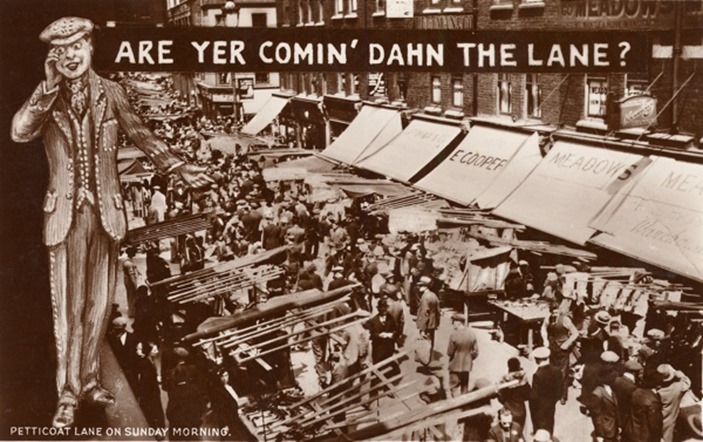 London was once the textile capital of the world, and East London was its beating heart – from the Irish and Huguenot silk weavers of the 17th Century in Spitalfields to 20th century Jewish and Asian immigrants. Despite the availability of cheap imports, the UK textile industry has recently undergone a renaissance as consumers become more conscious of where their clothes are made, by whom and in what conditions.
Hubbub, a new environmental charity that is exploring new ways to interest mainstream consumers in sustainability issues, is hosting Refashion East: a weekend of events on 9/10 May celebrating east London's fashion heritage and the rebirth of the industry in the Aldgate/Spitalfields area.  To encourage Londoners to get creative and help the environment at the same time, Hubbub's Refashion East weekend offers events, walking tours, workshops and a pop-up shop to showcase the area's centuries-old fashion and textiles heritage. It will use the East end's vibrant rag trade roots as an impetus for people to think about where our clothing comes from, and where it ends up once we are done with it.
Highlights include an exclusive walking tour from fashion historians Fox & Squirrel which will explore the area's textile heritage, beginning at the Whitechapel gallery archives and ending at 19 Princelet Street, the famous 18th century Huguenot home. On Sunday the Whitechapel Gallery will host The Empathy Museum's 'Human Library', in which the 'books' are people from across the fashion industry. You chat one-to-one to, empathise with them and understand more about the industry and how it works.
Events will take place at local venues such as the Whitechapel Gallery, Toynbee Hall and Cass School of Art and Design.
'From Huguenots to Hipsters' walking tour of the area from fashion historians Fox and Squirrel, offering quirky insights into the history of the textile trade
Empathy Museum's 'Human Library' – step into the shoes of those who create the fashion industry by 'borrowing' them for a one to one conversation. A Human Library is like any other library, except that all the Books are people with a story to share – Living Books.
Two days of refashioning / upcycling / skills workshops in crafts such as knitting, jewellery making, hat making
Clothes swapping event
Pop-up shop of up-and-coming sustainable fashion designers.
Commenting on the launch of Refashion East, Trewin Restorick, Founder of Hubbub, said: "East London has been a pioneering hub of clothing manufacturing for over 250 years. Refashion East will take participants on a journey through London's fashion heritage – from the historic Rag Trade to the up and coming businesses that are succeeding across the Capital today". Find out more at: https://www.hubbub.org.uk