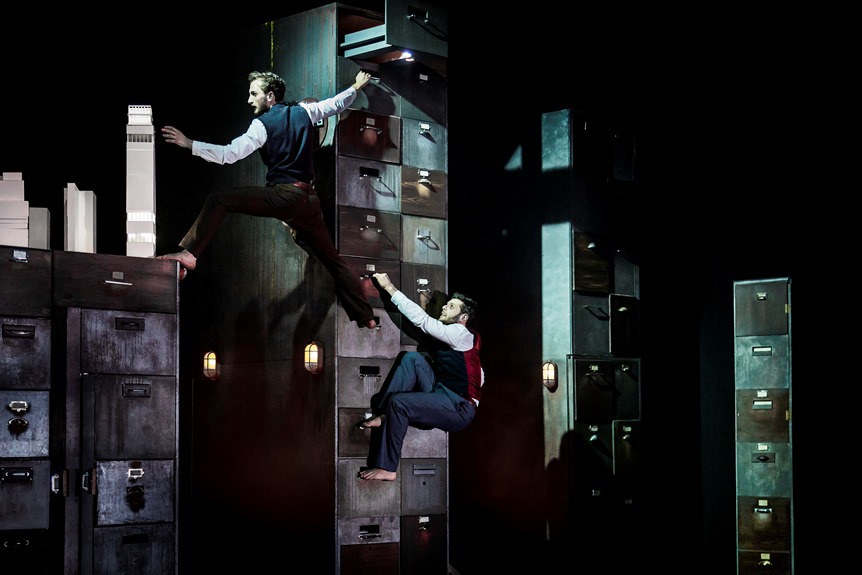 Who are 'Gecko' and what do you do?
We make theatre that is visual, visceral and ambitious, and we always aim to create world class work that inspires, moves and entertains our audiences. Gecko was founded in 2001, and is now an award winning and internationally acclaimed company. With our expanding ensemble of international performers and makers, we create work through collaboration, experimentation and play. We have taken part in theatre and dance festivals all over the world from Bogota to Beijing, and we have performed extensively across the UK on the national touring network.
We perform very physical, epic pieces, which highlight the complexity of human nature. I have now spent 12 years making work, developing a style of exploring and physicality on stage. This style is very athletic and honestly emotional. We use the breath as an anchor for all exploration.
What makes every performance of Institute a unique experience?
The central idea of the show is that the audience will input the narrative of their own lives into the piece, it is by its nature, re-authored every night and by hundreds of authors – this makes it unique and personal. Also I think people have been back to see Institute several times and because of the complexity and richness of the world of show, they find that they see elements they'd previously missed or had interpreted very differently.
How would you define physical theatre?
Physical theatre usually involves more of a focus on movement, imagery and diversity in performance styles. We use very little text to make our work but the piece is 'written' and 'storyboarded' like any other piece – we just use different visual styles to explore our themes and characters in the rehearsal room. For us, it's about using whatever tools we have as performers, designers and writers to bring these powerful moments to life. In the modern industry, movement, puppetry, imagery is incorporated into work across the board. The Royal Shakespeare Company regularly uses 'physical theatre' – perhaps the term is becoming less and less important. Maybe we are all just making theatre to the best of our unique individual ability?
The characters of Institute speak in different languages yet no translation is provided for the audiences. Why is that?
I have never been that interested in a verbally communicated world and by that I mean that I don't want the audience to intellectually discover the show by verbal interaction as the core tool for understanding. I want to bypass this level of interaction and engage the imagination and the emotions. But I do want the performers to speak because I think speaking is very human and the performers/characters should be human. Therefore I try to use as many languages as possible in order to disconnect that relationship with the audience – the speaking then becomes just another layer, another flavour rather than the key ingredient!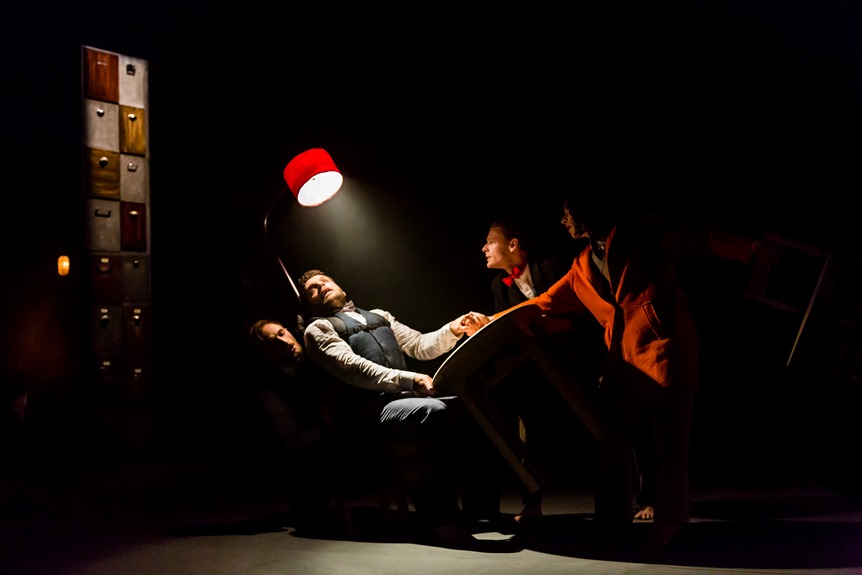 Gecko has been praised for their use of TOTAL THEATRE. Could you explain what this term means to you and why it is central to Gecko's work?
The difference to more traditional types of theatre might be a synthesis of multidisciplinary forms and a collaborative/ensemble process between actors, writers, directors and production team.
Gecko's style is holistic, meaning that all its parts are only explicable as a whole. There are five main devices operating at the same level – choreography, lighting, sound, design and 'performing style' (of each performer). These all have totally equal responsibility in telling the story. I suppose Gecko's most powerful storytelling 'device' is the ability to pull all these elements together in every single moment of a show.
Our style is something that requires the whole of a person's expression. Of physicality, the mental approach, the imaginative approach, spiritual approach, emotional approach and it's the bringing together of all of those things so that all engines are turning the same revs at the same time, altogether.
xxx
Award-winning physical theatre company Gecko brings one of their best-loved shows –Institute – to London's The Place (2-12 March at 7.30pm)