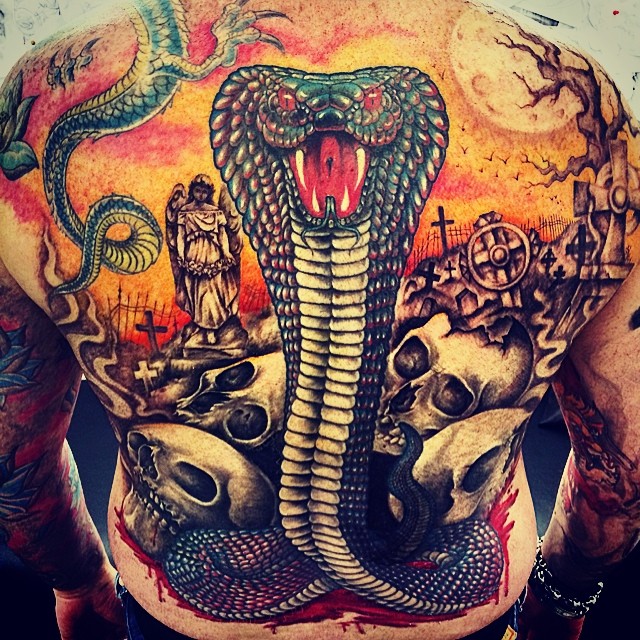 The Great British Tattoo Festival is being held at Alexandra Palace, 28 – 29 May.
Talented tattooists from all over the world will gather, in this celebratory get-together of alternative art and innovation.
2016 marks the fifth festival as it amasses vast creativity and a variety of other talents including, The Tattoo Awards, music and fashion events at the 6,500 sqm venue.
One of these artists, Manda Ashby, of Jester's Tattoo and Piercing in South-East London will be working for the fourth consecutive year at the event. In amongst her busy studio schedule she managed to give some insight about the convention and what it's like being a professional tattooist in London.
"This will be the 4th time I've been at the Great British Tattoo Show – it's exciting! The tattooing talent and the venue make for a beautiful and pretty inspiring place. It gets busy but not over-crowded so you get to see everything, a really brilliant atmosphere."
When asked about how her days will be made up of at the event, she said :
"This year I'm all booked for the Saturday already. I decided to draw flash just for the show and take walk ins on the Sunday. The past years I've booked out all weekends and have had to turn people away so I thought I'd try something different this year."
Have you ever considered a occupation change? Life of a tattooist, Manda explains..
"My day usually starts around 11, I average 2-4 appointments a day generally running back to back, so it's pretty tiring but I really love my job. I feel pretty lucky."
"At the moment pocket watches are what I'm asked for most!" She laughs.
"Lots of people still bring in pictures of David Beckham's tattoos asking for the same, I don't copy other people's work so I use it as reference and create my own designs, I think that's important. As for what I like to tattoo, I would say anything black and grey, particularly portraits and pin-ups, the original 40s-50s style."
"I do enjoy working in London it is very inspiring but I have been lucky enough to travel a lot, Thailand, Asia, America – I've always got my trusty moleskin sketch book! When I am not tattooing I am drawing, honing my skills."
"As for me, I've been a tattoo artist for almost 17 years now! To be honest, I really just fell into tattooing. I was given the opportunity to 'have a go' and I seemed to pick it up really quickly; I started in a studio and within a week I was working on paying customers."
Manda has had numerous other offers to expand her business but she contently says:
"At the moment I'm quite happy working out of my current studio, I'm looking to collaborate with a clothing manufacturer to maybe get my designs on t-shirts and I've been approached by a phone case company."
"Some of my work is also in the new art book by out of step books called Enchanted and in a previous book called Excavate."
To see more of Mandas work visit,
@hunnypiedeadtattoo – Instagram
Images Credits – Manda Ashby