Koby Martin is a new young artist in town that's making waves on social media and in the industry with his bright and bold brand of art.
The 27-year-old, who is the in house designer for Tinie Tempah's record label Disturbing London, is based in their Shoreditch offices and is most famed for creating the artwork for Krept and Konan's album 'The long way home'.
Here he talks to us about his journey into art and discusses his plans for the future.
When I say 'colours' what's the first thing that pops into your head?
Spontaneous. That's the first thing I think of (laughs). I like to think colours are spontaneous.
When did you realise you had a talent for art?
My mum told me recently I've been creating art since the age of three, that's when I started painting.
When I was growing up in Ghana I used to paint something then throw it away if it wasn't good, so I did start keeping an official record of things until I was in High School. I think my mum has kept some of my paintings from those times but I'm not sure.
How did you begin your journey to becoming an artist?
I finished High School and I was meant to go to University but my grades were for the academic classes weren't strong enough, but my art grades were really strong. Because of this I was looked at as a failure and I stayed at home for two years, and then my Dad said you're coming to England.
I ended up going to University here to study and started to take my art seriously.
What tools do you use to create your work? 
I can paint traditionally, but I also create digital art using a graphic tablet.
Who's your biggest inspiration?
I'd say my mum and my dad. In Africa you don't get a lot of support if you want to do anything artistic. If you tell your parents that you want to be an artist or musician they can turn their back on you, they would be like 'how is that going to generate income?'.
They want you to be a doctor or a lawyer. I think I was blessed to have parents who saw that I had art in me and invested in it. For me to come to the UK with their support means I am blessed.
So you've done some artwork for Krept and Konan and Tinie Tempah, how did that come about?
I used to do a lot of paintings of artists and put them on social media and when I did that I'd tag a lot of famous people.
Then one-day Wretch 32 reposted my work and he was actually the first person to give me some kind of recognition. He got in touch and passed me of to Viz who then put me in touch with Adidas, and I had an exhibition with them. Then from there I got involved with Disturbing London and then from that came Krept and Konan.
It was overwhelming working with Krept and Konan. Just seeing how fare they have come is so inspiring. It made me believe if they have made it this far I can as well.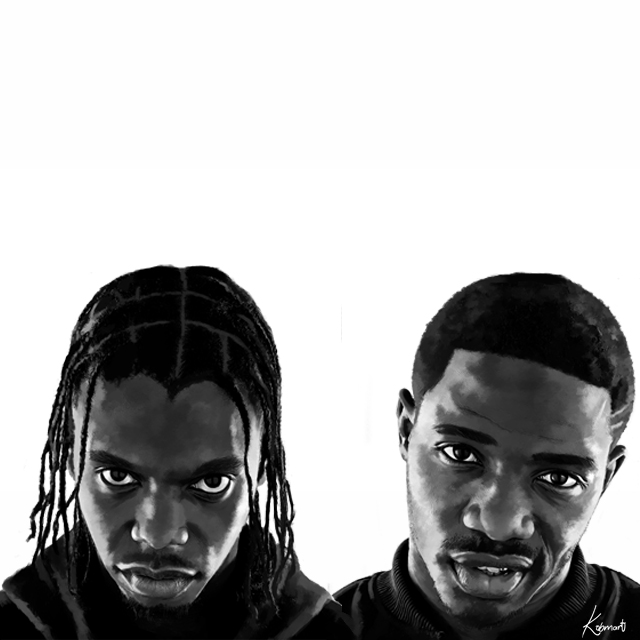 Your art is heavily influenced by music who is your favourite musician at the moment?
So many! (laughs). I'd say Kanye, Kendrick, Tinie, Skepta, Travis Scott, Stormzy and loads more I can't think of everybody on the spot but definitely a lot of Kanye at the moment. His old stuff though.
What's the hardest part about being an artist?
I don't think there's a hard part to it because when you are doing something you love it doesn't feel that way.
What's the best part?
 I think it's just the ability to create. You see things differently from other people that's the beautiful thing about it.
How did you become an in house designer for Disturbing London?
Tinie sent out a tweet asking for a redesign of their logo and I did one. I framed it and sent it to their offices, then I got Dumi's (Tinie's manager) email address and got in touch with him.
We ended up meeting up and during the meeting he said that they are looking for someone like me so I ended up working with them. It wasn't planned, when I went to meet him I had no idea that they would ask me to work with them – it's just a blessing.
Amazing. What have you got coming up next?
I'm actually in the middle of planning my next exhibition 'How it was', which will be held in either March or April. It's a Disturbing London exhibit and each piece will be inspired by the music I listened to whilst creating them.
The way it will be set up is there will be headphones so you listen to the art work and then interpret it in your own way. It's an illustrated autobiography of me coming from Ghana to the UK and my experiences so far.
What's your mantra?
 God's gift to you is your talent, what you do with it is your gift back to him.
Finish this sentence, in ten years time I will be…
The world's next Picasso.