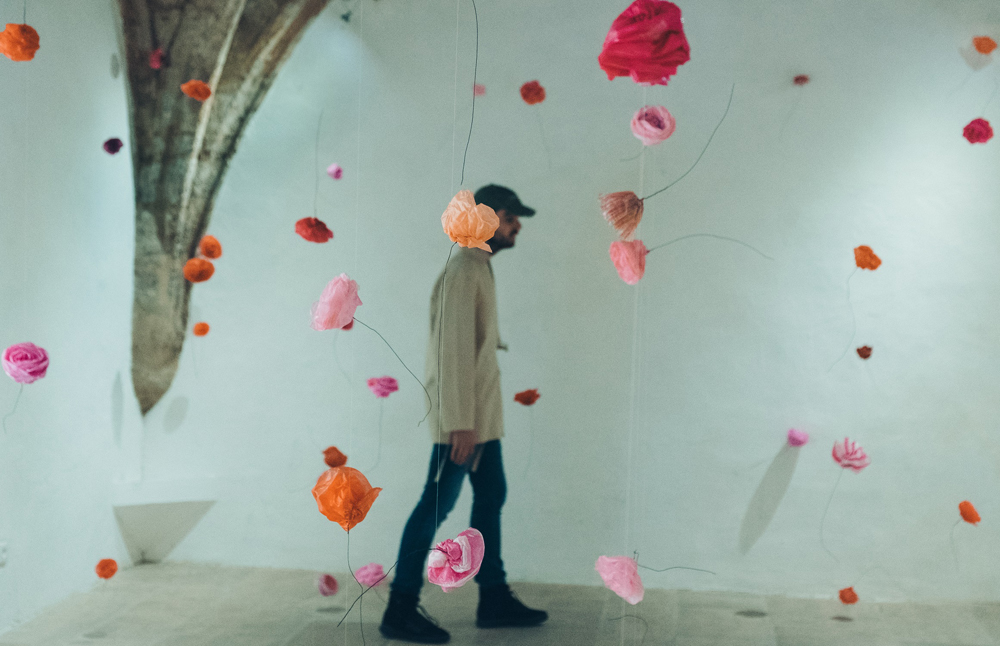 French electronic artist Leon Inc.'s debut single "Microfibre" recently had XLR8R ablaze with its exquisitely crafted beat structures, complex hooks and melodies. Now, with a little more backing from the tastemakers behind him, the space-obsessed disciple of artists such as Com Truise, Etienne De Crecy and Hudson Mohawke has released his follow-up "Kepler-62 ft. JR827". We grab him for a few minutes of Earth time.
Tell us about you, how long have you been producing music? What did inspire you to start?
When I was 8, my uncle introduced me to artists such as Mirwais, William Orbit, and compilations such as "Une Rentrée Electro" and I was truly fascinated. Then in 2001, albums such as "Discovery", "Melody A.M". and "Drukqs" showed me the light. It took me 5 or 6 more years to finally decide that I wanted to produce my own sound. Now I feel like I've got a unique enough sound for a debut.
Music industry is super competitive these days, was there a moment in your life that you wanted to give up on music?  How did you manage to stay focused and achieve what you want?
Never wanted to give up! First, it has never been so exciting producing music in recent years. Technology for producers is accessible to everyone and the way music is recorded was never so minimalist. And it's a very good thing to me especially because I can get bored easily and I constantly need to discover, experiment, listen, continually change. I somehow manage to keep this feeling of being "in the sandbox", learning something new.
But the pitfalls are also very numerous. The biggest, in my opinion, is being to be obsessed by numbers before artistry. That's also why I think the secret is above all to stay focused and honest and think long-term. That kind of thinking drives your decision and raises your standards while doing everything possible to achieve what you want in your lifetime's experience, where quality is the real key. Overall, I see competition as rooted in our nature just as much as joy, mistrust, fear, love, sorrow, wickedness etc. and as soon as you assimilated it, as with a lot of other things in everyday life, you can either lament and be hypocritically indignant in your circle over social networks while achieving nothing, or you can make progress in your plan for success while thinking more optimistic every day especially because it takes ongoing effort to be mindful.
How would you describe your creative processes?  Where the inspiration does come from?
I have a very simple rule: sound must be inspired by sound. I have the distinct impression of losing myself when I experiment from the image or anything else, but this is no longer the case in the opposite direction. In short, the sound must always be the figurehead. It can be from people who are talking because words have a rhythm; or just a micro-sample of the music that I'm listening to (mostly the drums). I also record a lot of ideas in my phone. Not only music. Most of the tracks of my album started with a memo of a few seconds in my phone but most of the time, it's particularly from the harmony of my experimentations in my DAW (with a lot of happy little accidents). From there, I can build everything.
For the rest, I don't hesitate to mix everything and I love that! This is how I came up with the album cover of "Insert Disc" and the creation of my project Leon Resort. The album is a total artwork, merging audio-visual components and 3D. I used an image of a pizza cutter which resembles a vinyl LP for the cover as a sort of surrealist, tongue-in-cheek concept. There's also my microsite at LeonResort.com, which shows off web animations in sync with some tracks taken from the album.
To this day, there are only two musicians in the world with whom I managed to enjoy collaborating: Johnny (JR827) and Gérard (piano bridges of my album). I also took huge pleasure in the creative direction of "Leon Resort", which is my first real transmedia project.  It was created by me and my friends Damien and Guillaume and some other people who inspired some of the animations. There's been some thought about how to go even further and I hope to be surrounded by a solid, top-flight live performance team soon!
What's your favourite track from the upcoming album?
Microfibre is certainly the track which I am most proud and that represents another transition in the change of my vision of music, particularly since it is one of the last tracks that I produced at the time of finishing the album, and this track lies in the middle of this transition. This is the kind of track that will be a part of those moments of looking through the archives.
(What other bands/artists are you listening to right now?)
There have been lots of great releases in recent weeks. The latest albums of Romare, A$AP Mob, Zandvoort & Uilenbal, A Tribe Called Quest, Hudson Mohawke, Gucci Mane (although I prefer the previous), Machinedrum, and quite particularly Danny Brown who released some of the most creative, weirdest and creative beats I've ever heard. The same applies to the latest EPs of CWA, Soul Clap, Marc Romboy and KiNK to name a few.
By the way, I can't wait for the upcoming LPs from Gucci Mane (yes, the third of the year and you cannot imagine how much respect I got for him and his work ethic), the Jeffery follow-up, Sampha, Childish Gambino and Bonobo. I will also buy the #savefabric compilation very soon.
What's next for you?
Apart from my pizza that'll be ready in a few minutes, my sophomore single "Kepler-62" is due out on November 25 and my debut album "Insert Disc" in early 2017. The microsite "Leon Resort" that I mentioned before is already available and my sophomore album will be out on 20XX (same for my debut film which is already written by the way). I also can't wait to spread the wave in gigs. In the meantime, join Leon Inc.!