G: Tell us about jj Media Group.
jj Media Group is the UK's largest production services company.  We operate across ten studios on three sites in Shoreditch, totalling 35,000 sqft, supplying film locations, serviced studios, event spaces as well as stills and moving image equipment rental services. We are lucky to work with some great people, and established brands. We have brought some of the biggest international names to Shoreditch including Asos, Facebook, Google, Vogue, Dior, Nike, Rihanna, Adele, Dove and Alexander McQueen.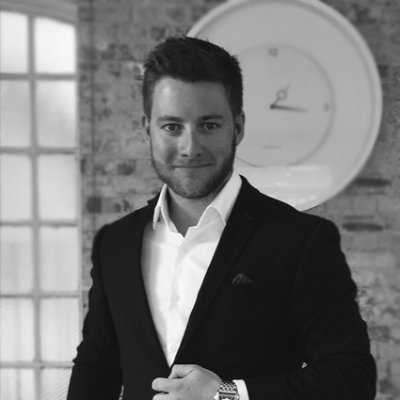 G: What inspired you to start?
I was always fascinated to learn about business when I was younger as I saw how much it excited my family – the growth, the challenges and the satisfaction that comes with reaching goals. In 2007, I quit my job in the local pub and joined the family business, which at the time, was my mum and dad. I was immediately drawn to Shoreditch in the hope of opening a studio complex.  When we opened the first space I lived on site for a year as the commute was a nightmare and I was 18, so a 2000 sqft warehouse in Shoreditch was ideal.  The rest is history so to speak – we are now a team of 45 with an incredible amount of strength and knowledge at our core.
G: What is unique about what you do? 
jj Media Group is the only company that offers locations, studios, venues and equipment under one roof and supported by experts in the field. We currently operate an agency model in the UK market – however come April we will be launching a new peer to peer platform that will allow every property in the UK to be marketed for use as a film or photo shoot location.  The new platform will give clients complete access to a wide network of UK spaces benefiting from jj's search capabilities, and let home owners make some money at the same time.
We're also really engaged in the Shoreditch community. We will soon be launching the jj Foundation where we will be working with the local community and local schools. We are particularly excited when we can support local businesses and are always keen to hear from businesses across East London that wish to use our wonderful spaces.
G: What have been your biggest obstacles and how did you overcome them? 
Being young and having had no real business experience in the past has meant that learning how to grow, run and motivate a company is a challenge in itself.  The company, in many respects, has grown up quicker than I have. I have built an incredible and passionate management team, allowing me to focus on the growth and shape of the group knowing that the day to day mechanics are in hand.
Sudden growth comes with challenges. Last year, we acquired two other businesses and overnight we went from 12 to 40 staff. We increased the number of shareholders from family plus one, to seven individuals too. It's been really hard work – I'm not going to deny that.  I think it's something that's easily forgotten, but I personally believe culture is key.  If our team are happy, feel looked after and part of the journey, they will look after clients well.
G: Why did you choose Shoreditch to launch your business? 
My father knew of Perseverance Works and we stopped by to visit an old colleague of his one day when hunting for a property.  He mentioned that his neighbour was selling a unit next door, so we went along and made an offer. Since then, Shoreditch has been home for jj.  As I mentioned, I lived in the warehouse to oversee the move when I was 18, which was a huge uplift for my friends who wanted a place to party but also made me fall in love with Shoreditch.
Shoreditch is arguably now the heart of London. It is home to some of the most exciting tech and fashion businesses as well as the best brands and talent.  My heart is in Shoreditch. We owe a lot to the area so we are staying where we are for as long as we can, and will continue to support Shoreditch by growing our business here as well as bringing exciting products and employment opportunities to the area.
G: Who/what are your favourite CEOs/Businesses in Shoreditch?
Virgin StartUp at BoxPark – Sir Richard  Branson – To have built a brand that strong, yet still retain such character and energy by supporting young entrepreneurs and looking to invest in exciting new companies with Shoreditch as a base is seriously impressive.
Soho House – Nick Jones – A daily success story, born again from genuine passion which admirable and resonates throughout everything they touch.
Grind – David Abramavich – Strong brand and impressive growth, I have a lot of time for David.
xxx
Find jj Media on: 
Website: https://jjmedia.com/
Facebook: https://www.facebook.com/jjMedia.Locations
Twitter: https://twitter.com/jjlocations?lang=en
Instagram: https://www.instagram.com/jjlocations/?hl=en