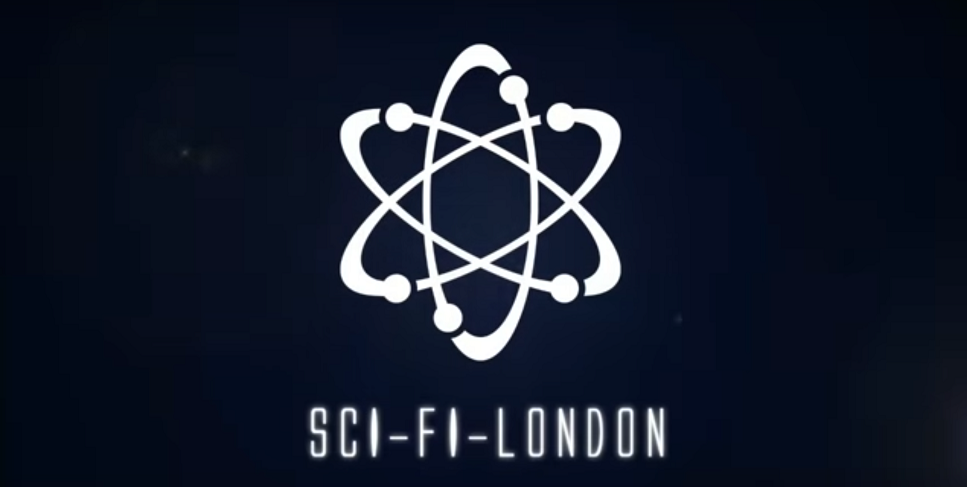 SCI-FI London Film Festival 2017  is coming to Shoreditch with astronomical 17thannual programme which will run from the 27th April until the 6th May 2017 across London with ten days of amazing film, live music, immersive experiences and more. It will showcase a fantastic lineup with 6 world film premieres, 13 UK film premieres, 11 world short premieres and 13 UK short premieres. It will host 25 features, 51 shorts and 4 VR shorts alongside its regular classic cult events such as the 48 HOUR FILM CHALLENGE and SCI-FIDO, the world's only cosplay for dogs!
Opening this year's festival on the 27th April at the Rich Mix is the UK Premiere of CAUGHT– a film that returns us to the great days of British Science fiction, directed by Jamie Patterson (Fractured), written and produced by Alex Francis (Moon) and starring April Pearson, Mickey Sumner and Cian Berry. It's the story of a 'work-from-home' journalist couple who invite a man and woman, called Mr & Mrs Blair, into their idyllic village home. But what begins with an informal interview descends into a nightmarish fight for survival.
The festival's Closing Night on the 6th May at Stratford Picturehouse is the World Premiere of THE RIZEN directed by Matt Mitchell and Taliesyn Mitchell and starring Lee Latchford-Evans, Laura Swift, Tom Goodman-Hill, Adrian Edmondson and Sally Phillips. The year is 1955. NATO and the Allied Forces have been conducting secret, occult experiments in a bid to win the Arms Race. Now, they have finally succeeded but what the Army has unleashed threatens to tear our world apart. One woman must lead the only survivors past horrors that the military has no way to control – and fight to close what should never have been opened.
Special events don't stop there. Screenwriter Darren Rapier and SCI-FI-LONDON's Louis Savy will be hosting a Sci-fi SCREENWRITING WORKSHOP: ROBOTS & ROCKETS at the BFI on Sunday 30th April 10.30am. It will take you through the process of creating a low-budget sci-fi screenplay, and provide a practical guide on how to choose the best ideas, then work them into a pitch, synopsis and script.
The festival will host electronic live music event from the future with KRAUTWERK at London's Moth Club and Ramsgate Music Hall on the 5th and 6th May. SCI-FI-LONDON in association with PsychFI, Bad Vibrations and Snap Crackle & Pop are delighted to bring together one of the most exciting music collaborations in recent years. For the first time, Eberhard Kranemann (Piss Off, Kraftwerk, Neu) and Harald Grosskopf (Synthesist, Ash Ra Tempel, Klaus Shulze) will transmit live their cosmic sonic visions of TODAY, TOMORROW & BEYOND.
SCI-FIDO – THE WORLD'S ONLY COSPLAY FOR DOGS EVENT returns again this year on Sat 29th April at Juju's Bar, The Old Truman Brewery in association with ALL DOGS MATTER for the Crufts of Science fiction! Do you have a four-legged friend who likes to dress up as a sci-fi character? Or a pooch that looks like Princess Leia? Bring them along to our 'dressed-up dog' photo session!
R.I.S.E – A DYSTOPIAN VR EXPERIENCE will play out on Mon 1st May catering for our trumpocalyptic and brexited, post post-modern lives. Maybe the robots should rule?!  But what if the malaise gets to them too? Who wants to work to survive when we have such wonderful technology at our fingertips? SCI-FI-LONDON and PsychFI have produced an immersive experience in VR to give you a taste of how our robot friends cope with their utopia. Developed by leading VR house, beLoudest, the experience will be available on IoS and Android for all good smartphones and will work in your lovely Google Cardboard or headset of choice.
Augmented, virtual, enhanced, trans or multimedia – it's 'mixed up'.  A few brands have led the way – adding a VR thing here, an AR thing there – but does it really make any difference and does this usual corporate approach get to the audience in a way that makes them care? #HACKSTOCK: BEYOND 2017 on the 5th and 6th May at The Trampery in Old St is our answer – bringing creators, makers, disrupters, artists, musicians, hackers, developers and you together in one place to talk it, think it, do it and play with it. And it's Free! We have every flavour of headset – from cardboard to HoloLens and a myriad of other toys to play with. Our discussions are around the Talkaoke table. It's informal, organic and not as arsey as this sounds! Like looking at the ocean, you think you know all about it… but underneath the surface there is a whole ecosystem we have hardly explored.
For the full line up visit the website: sci-fi-london.com #SFL17