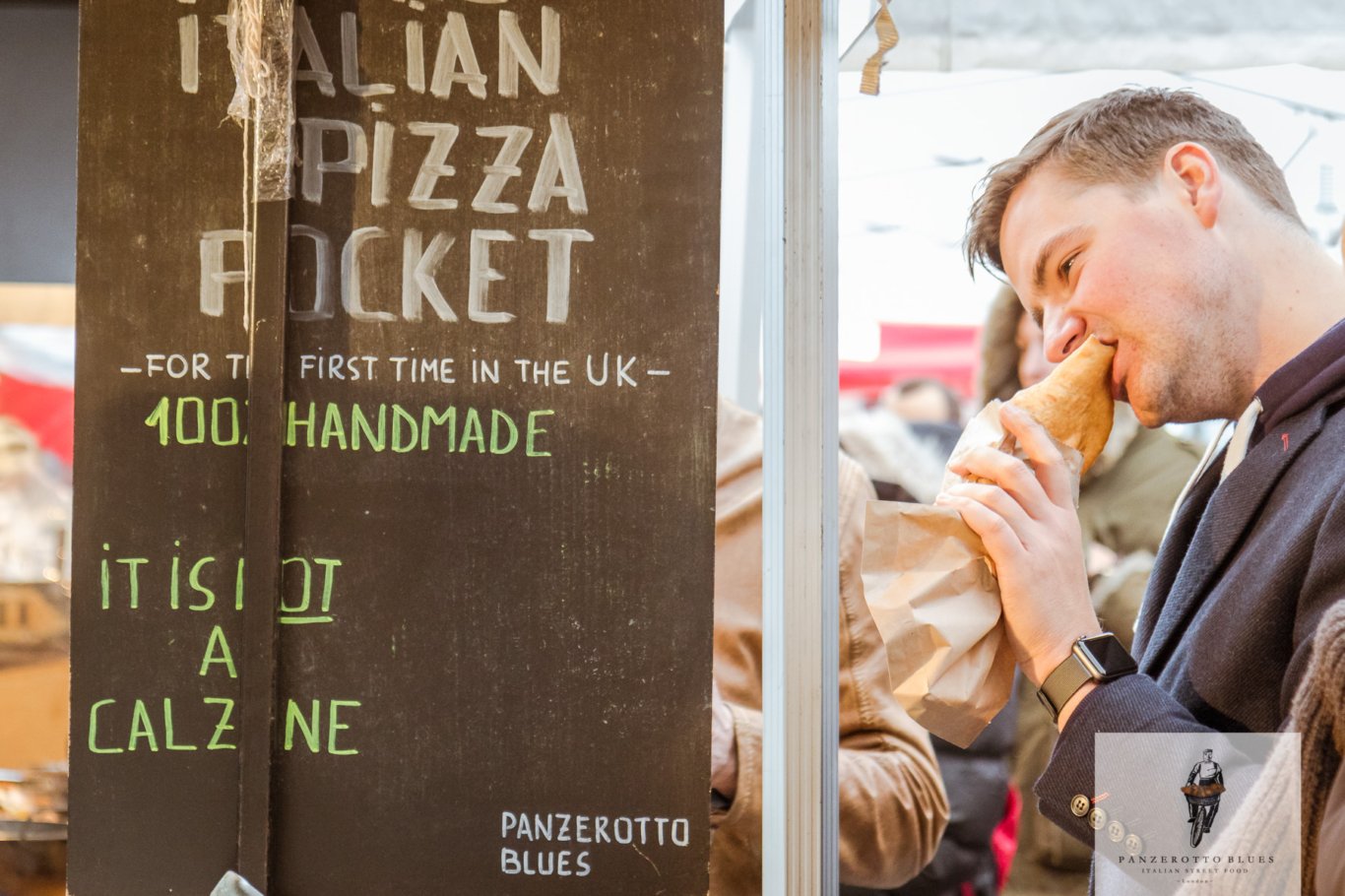 Tell us about Panzerotto Blues, what did inspire you to start it? 
Unemployed with a head full of ideas, I decided to reboot by moving to London. I initially thought of moving to Ibiza, a place I dearly love, but then I realized the place was still not ready for street food. I used to work in a completely different field, nor did I have a particular predisposition towards cooking.
I was inspired by a real story of a baker of Altamura, my town, Puglia, South of Italy, that forced the closure of the McDonald's in 2002. The small "focacceria" that defeated the big fast food, the small business owner who manages to overpower one of the best known symbols of globalization, the traditional Italian cuisine as opposed to the commodification of food and flattening of tastes!
Portable food however could guarantee quick income and it's a smart and popular formula.These considerations compelled me to choose London as his destination, "the capital of street food in Europe". Coming up with the idea of offering Panzerotti was easy: it's a tasty, portable food, plus it's typical of where I'm from.
I moved to London in 2015, leaving my wife and son in Italy and leaving the fear behind (our slogan!!), I learned the language, studied the market and started getting my hands dirty with the help of my cousin, a baker who has inherited the bread-making craft from his grandfather, Nicola Fraccalvieri, who was in turn a prominent baker in bread-capital of Apulia, Altamura. In September 2015 I set up a small stall near Covent Garden, Startisan Market, a place intended for small start-ups but which didn't work well for me! I later came in contact with a Greenwich market manager (open daily 11am to 5.30pm) and made him taste my product: he immediately asked me to take a stall in the market. So at the end of 2015 in the heart of Greenwich, one of London's most historic markets, Panzerotto Blues is born.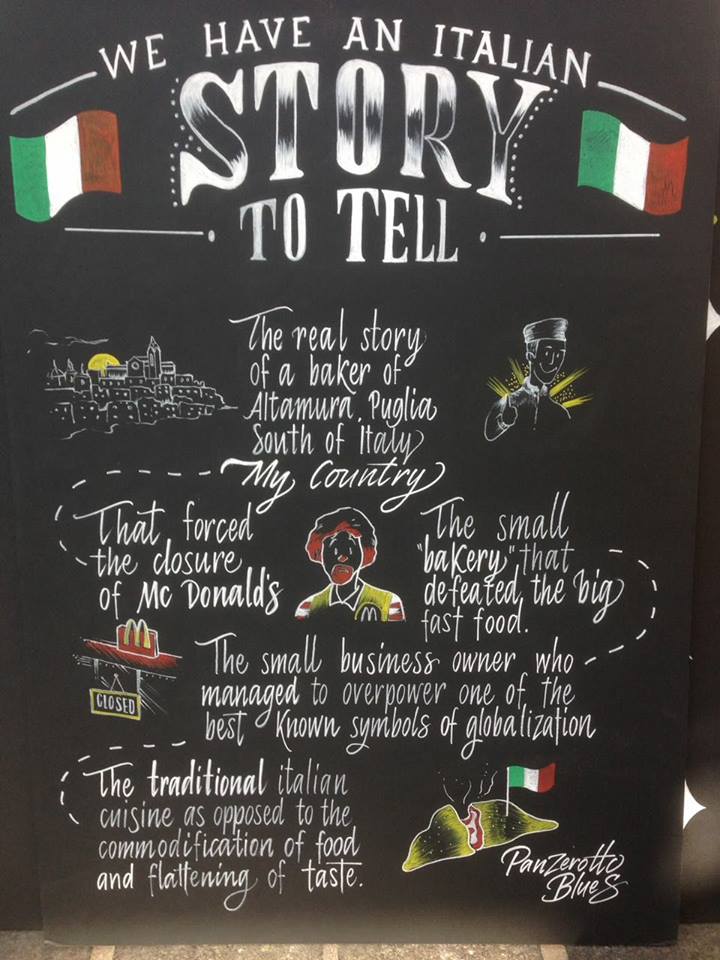 I could start with a known food in the Uk, like Pizza, Pasta, Arancini but I chose the hardest route but that will allow me to stand out from the crowd because I think you want to stand out from the crowd you just must do one thing:
Be Unique, Be Different, Be Special, Be Distinct!!
It is no longer good enough to be the best of the best, we would like to be the only ones who do what we do!!
What is unique about it?
We are not talking about Street Food, but we are talking about "Artisan" Street Food, it's different! Made fresh while you wait, people are impressed by crunchiness,  by freshness of the product and above all by lightness of the product despite being fried; If you're wondering what a Panzerotto is, imagine the results if a Calzone and a Pastie had a dough baby. The pizza pocket that is the Panzerotto is made with pizza dough (as opposed to the Calzone's bread dough) and is the size of a Pastie, often with crimped edges so easier to eat on the go.
So, it's not a Calzone, this is rule #1. The following is the recipe, which must strictly follow the canons of Apulian tradition. The third rule is that "it's mandatory to taste".
Tell us more about Panzerotti and it's story in Italy?
A circle of dough filled, closed in itself to form a crescent and prepared using the same dough to create Pizza, is called Panzerotto, especially in Puglia.
The typical Panzerotto Pugliese is stuffed with tomato and mozzarella, and deep fried!
The product, to be enjoyed fully, should be eaten hot!
It should be noted that we have to distinguish the Calzone from Panzerotto as the type of cooking and mixing (the Calzone is made using the same dough used to make bread, then it leavens and baked, while Panzerotto is fried in abundant seed oil) even for the size, infact a Calzone is 33 cm. in diameter, closed in half, while for Panzerotto (20/25 cm. of extent), we need half of the dose of dough that is necessary to make a Calzone. In Naples, the Calzone is stuffed with tomato and ricotta (the classic recipe). The Panzerotto Pugliese, intended as a bundle of dough stuffed with mozzarella and tomato (or many other variants such as tender minced beef and mozzarella, broccoli, cheese, mortadella and provolone) comes from the land of Bari, capital of Puglia.
Panzerotti in Italy, is the king of street food, many businessmen are opening shops in Milan, Rome, Turin, about Panzerotti. It is so cool above all among young guys because it is genuine, fresh, made of poor ingredients, easy to eat on the go, wonderfully simple and has a twin soul: BEER!!
What would you say has been the most memorable experience while developing this business?
..when People don't believe that it is a deep fried food, they think that it is baked; they open their eyes wide and ask me to see the fryer!!
Where are you trading?
I am trading at Greenwich Market from Monday to Friday and 2 weekends per month, from 11 am. to 5pm.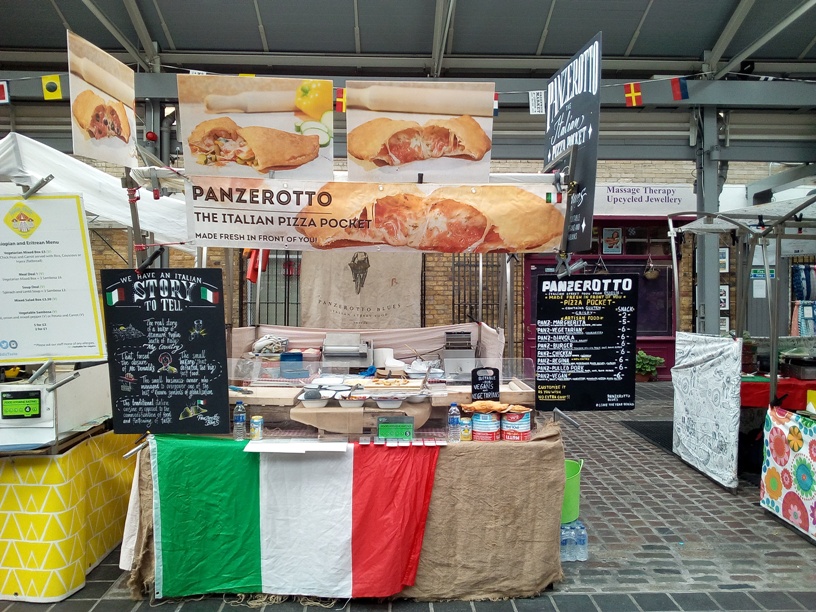 What are your future plans?
I am already planning to open more branches around town, by the end of 2017 I'd like to start a crowd funding project to start a Panzerotto Blues chain around the city's strategic positions and beyond London, too: at the moment I'm in touch with an ex colleague who is in Malaga, Spain – he sounds interested in the format. We have not set anything in stone yet, but the thought of launching in other countries is surely appealing. As well as launching in other, larger London markets, like Street Feast, Camden Town or Borough Market, which represent my final goal.
Social links:
Twitter: @panzerottoblues
Facebook: www.facebook.com/panzerottoblues
Instagram: www.instagram.com/panzerottoblues/