As I turn on the road into a little narrow street under the archway of Bethnal Green train station, I spot a shiny white Vespa parked in front of what looks like a garage door, but big enough to fit three vans through it. I've never thought that winery could look like this.
"So here is where all the great London wine comes to life," says Warwick Smith, the founder and urban winemaker as he invites me to step into his cave, full of old barrels, stainless steel tanks twice my height and long wooden tables decorated with candles. He quickly lights up all of them and creates a cosy, low-lit atmosphere, a one that sets the mood immediately and wakes up the room's, until then, hidden character.
Having worked in finance for several years, Smith didn't always know he wanted to make wine. "I learned about this whole concept about three or four years ago. I always fancied doing something like this but I just couldn't see a way how it could be financially feasible," he says. His idea of opening an urban winery in London came from the U.S.A, predominantly California, Colorado and New York where urban wineries are an established concept.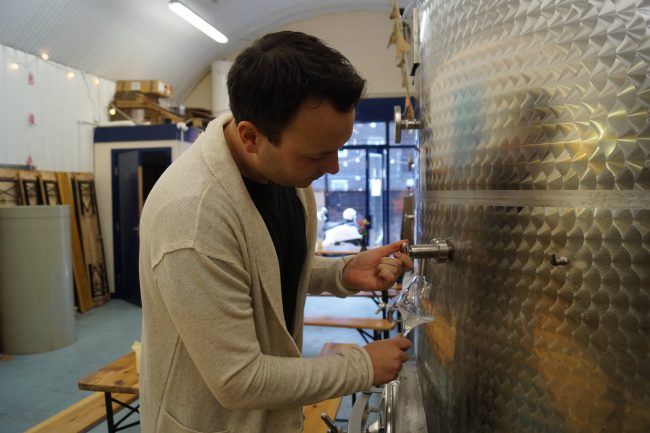 "People genuinely think that wines are only made by people who grow the grapes, however, a lot of wines are made by people who just make the wines and don't grow the grapes. In California this is very much the case when you have winemakers and you have vineyards and sometimes they can be quite separate," he tells me.
England has no doubt fantastic vineyards and it's also really close to France- famous for its fantastic grapes. So Warwick asked himself a question:"Why are we not making wines in London?"
Not wanting to continue to work in finance, he did all he could to bring his idea to life. Warwick started Renegade Wine in March 2016, with only a concept and a bit of money that he saved up and borrowed from friends. "I thought if I can make 5,000 bottles out of this then it can start the project," he says.
Later that year he took Josh Hammond, a technical winemaker on board, just in time for the first harvest.
Wine became Smith's livelihood less than 2 years ago when he was 29, but he always loved to drink it. "I've been drinking wine since I was young, maybe four years old. My parents used to give me a little with lemonade," he says. His favourite is his very own barrel-fermented Chardonnay that is made in a Burgundian style, from Italian grapes.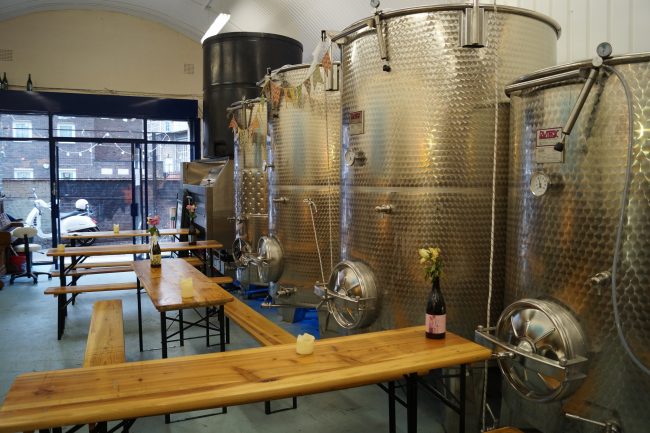 As he tells me, being an urban winemaker is very different from classical winemakers, mainly because the wine is made in a city and not where the grapes are grown but also because Warwick and Hammond don't have to follow any norms and standards.
"In European winemaking countries, you have to play by the rules that the region tells you to do. Otherwise, they wouldn't be able to call it Bordeaux or Burgundy. We don't have to put everything on the bottle," Warwick says.
He and his colleague Josh Hammond produce fifteen different wines, all made solely under this archway in London. Everything from pressing through fermentation to bottling and labeling happens here.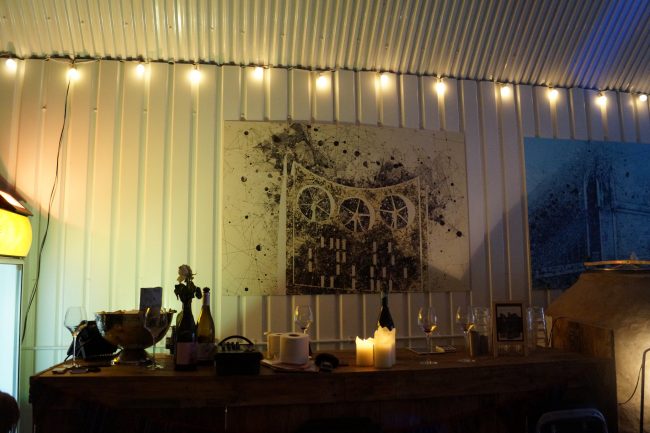 Renegade wine also gained its own unique style, thanks to adding different types of yeast, making completely natural wine and mixing up grapes and countries together.
"So for example for the Sauvignon we use yeast strain called X5 which is predominantly used in New Zealand. Hopefully, it brings out more of that kind of that tropically, fruity taste like in New Zealand Sauvignon," he explains.
"This year we made a rose wine out of Italian and Spanish grapes. Like why can't you mix countries together? Why is the wine only have to be from one specific place you know?"
Being able to do funky things with wines takes both courage and skills. Josh Hammond, who has worked in a huge winemaking company in New Zealand knows everything about wines and therefore together these two make everything possible.
"The wine that's being made here is all about creativity and freedom. Urban wineries don't do enough new stuff. If you're going to be spoiled enough to make wine in the city, like really shake it up," he says.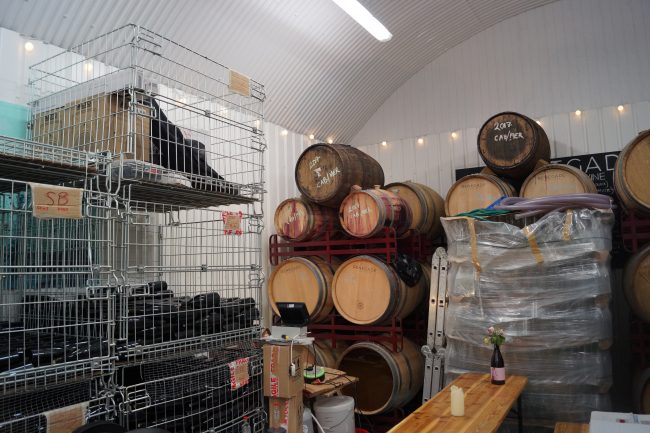 An example of this experimenting can be aging red wine in different old barrels, such as oak, cherry or chestnut and mixing up grapes from different countries together.
One of the reasons for aging red wine in oak French barrels is because "barrel aged wines will become softer thanks to the oxygen penetration through the skin of the oak." As Warwick later explains, sometimes these wines can also gain an unusual taste from the wines that have been in the barrel before.
From Wednesday to Sunday after 2 PM, the winery opens its doors to visitors and large wooden tables fill up with people tasting wines and eating fine cheeses. In summer, the tables stretching out through the narrow street become the perfect place for Londoners to sit back and take a break from their busy lifestyles.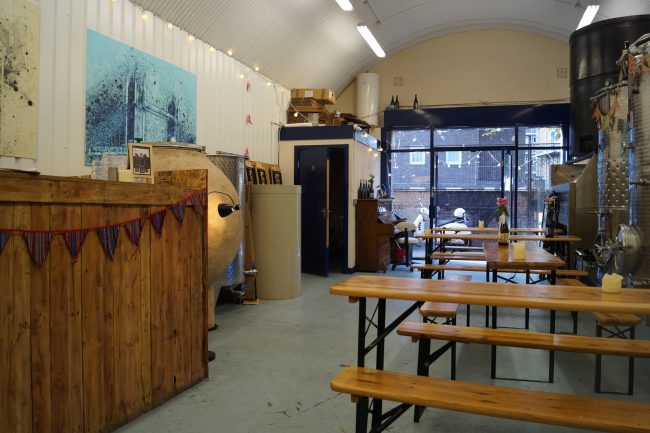 "People come here thinking all these barrels and tanks are decoration for a show. But we do every single thing here from the pressing to the fermentation, to tasting, bottling, waxing and labeling. Every single thing in this archway," he says.
To bring even more London into the wines, Smith came up with an idea for the Renegade art prize. Because the labels change every year, Renegade holds a competition for local art students and artists to sketch London inspired labels. Renegade then pays them to design labels for the whole year. This is a great way to get even more of London into their brand.
Priced at £16, the wines this year feature labels with London landmarks like Tower Bridge and The Shard.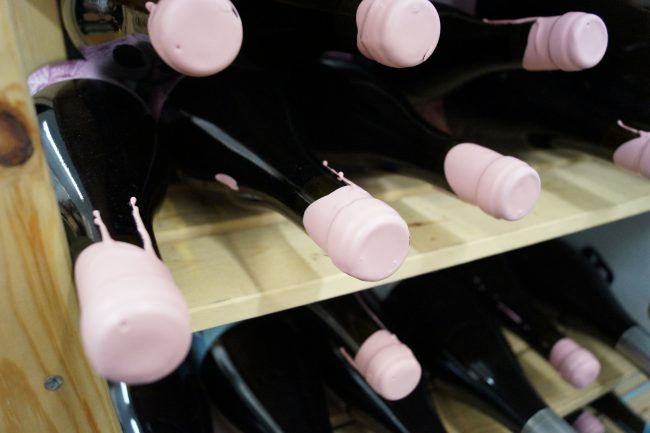 As Warwick tells me, the best part of his job is the freedom: "Freedom to decide how you spend your time. Freedom to decide how you make it and who we sell it to. What styles we make what artists we use whether we use still or sparkling. It's just a complete freedom."
In the future, he hopes to see Renegade Wine expanding into other parts of London too. "A micro-winery or even an aging room with a barrel at the front where you can show people how it's made but they can also buy the wine inside would be nice," he says.
All of these are just visions, as now Warwick's main focus is mostly on making good quality wines and getting his brand established enough.
"I wouldn't want to do anything else. I totally love it," he says as he finishes the last sip of English Bacchus, white wine made from grapes grown in Herefordshire.
Cheers.