We had the opportunity to stay at Villa Padierna on Sunny weekend in June. It was my first time staying in a 6-star hotel and it was certainly an experience I will remember for a while.
The resort is certainly one of the most relaxing hotels I have had the chance to stay in due to peaceful tranquillity of the grounds being located a good distance from the nearest large town, I noticed this especially during my second evening when we dined at La Veranda and we were surrounded by the peaceful noise of crickets.
Departing from the peacefulness of the hotel, on the first evening we ventured to Marbella's Teatro for an energetic evening of stunning performances accompanied by some pan Asian sharing platters. We enjoyed the creative nature of Teatro's shows, ranging from a group of colourfully dressed singers performing on stage to an opera singer winding her way through the audience while they dined. After several appetising dishes, including a truffle risotto and tender soy marinated chicken, they brought us a refreshing dessert of baked banana and ice cream. After a congo around Teatro ending up on the stage the real party starts, where the bar area of Teatro transforms into a vivacious nightclub. Enjoying an ice-cold gin and tonic, we watched as one of the performers set up a spontaneous limbo and really got the party going and it was certainly entertaining watching the guests limbo.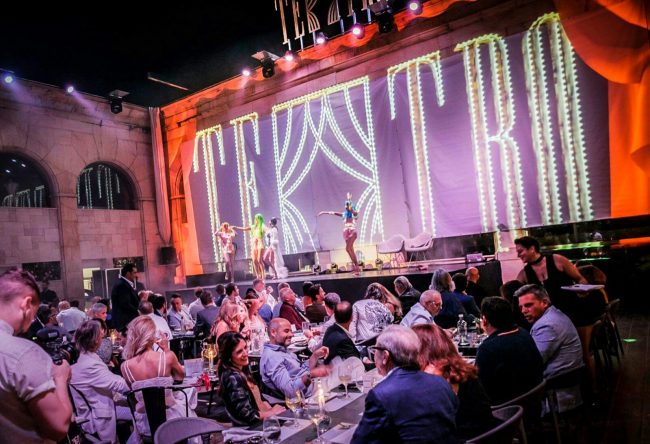 Candypants sure knew how to throw a party with resident DJs Tango Williams and Mick Willow giving us the soundtrack of the Summer. Many of the guests at the Candypants day party were dancing and there were also some lounge areas where guests had their own jacuzzis to chill in. Plaza Beach is located by the sea which means guests looking to break away from the day party can have a relaxing walk down the beach. We were also joined by the charming and well-presented owner of Candypants, Ray. Candypants hosts party events from Ibiza to Dubai and also this year hosted its first ever pop up in Miami. The parties are informal and encourage guests to relax and dance.
Back at the hotel we decided to explore the spa. Thermae is one of the largest hotel spas in Europe being over 21,500 square foot. We explored each room and discovered a large indoor pool, eight Balinese, Indian and Salt steam rooms. I relaxed in the chill out room while my friend had a swim in the pool. There was certainly a feeling of tranquillity while relaxing in the spa and this spread across the hotel grounds, with a variety gardens with classical Greek statues dotted around.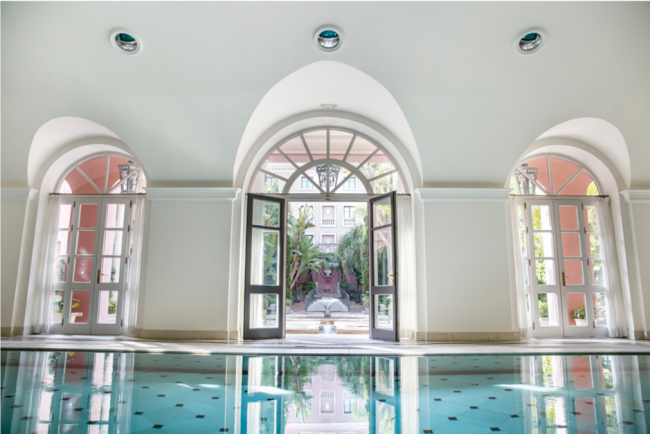 Villa Padierna is also an ideal resort for those looking to golf, I had a chance to explore the hotel grounds and discover the extensive golf course. Villa Padierna plays host to three 18-Hole courses which is great for golfing enthusiasts coming to play for the weekend or a week. Not being a golfer myself I did not partake in a round, however with such an extensive fairway there is plenty to experience here for golfers and there is even a Michael Campbell Golf Academy for those who wish to take lessons.
For those looking to breakout from the hotel, there is a convenient shuttle to the Villa Padierna Beach Club which is a tranquil space to explore and relax during the day under a canopy.
Back at the hotel we were staying in a junior suite overlooking, the sweeping golf grounds and the sea. The room itself was luxurious and had a sofa as well as several renaissance style paintings adorning the walls. The view was definitely the most breath-taking aspect of the room, possibly the best view from a hotel room I have ever stayed in.
Villa Padierna is sometimes referred to as the museum hotel featuring ancient Roman & Greek relics which adorn the interior of the hotel. Some I was told are not replicas but the actual originals and are stored in glass cases. Staying true to the Tuscan Palace theme the hotel also has villas to rent for a holiday, these villas feature larger rooms and rooftop jacuzzies for guests to relax in. One of which played host to Michelle Obama when she visited in 2010, since here visit they have named a Villa after her which I thought was a good touch.
In addition to La Veranda the hotel in an exotic twist has a Japanese restaurant Santoku, named after the sharp knife used to prepare sushi. Almadraba tuna is sourced directly from the Mediterranean for those looking to try fresh seafood.
We greatly enjoyed our stay in Villa Padierna and would recommend visiting as it convenient to get to from Malaga airport a short flight from London and is also located close to Puerto Banus historic old town which make it pleasant for day excursions.