Danny Minnick, the painter, actor and professional skateboarder, is a man of many talents.  Having started off his career as a stunt double for professional snowboarder and skateboarder, Shaun White, a career ending ankle injury forced him to re-evaluate and explore other avenues of self-expression. Minnick was known for customizing his skateboards with unique drawings and doodles but never considered a career in art until an artist friend of his turned him onto painting as a form of therapy.
Now everyone from the likes of actresses, Jessica Alba and Mena Suvari, to musicians, Dave Navarro and Fred Durst, own his artworks.  The energy, movement and vibrancy of his paintings are in stark contrast to his more relaxed and humble nature – which is part of his appeal. A self-proclaimed 'universal artist' Minnick travels the world showing in international galleries, including the renowned Maddox Gallery in London. Minnick is now using his global popularity to get involved with different charitable and women's causes around the world, including most recently working with The BARDOU Foundation and The Prince's Trust to raise awareness for The International Day of the Girl Child.
The United Nations has marked 11 October as The International Day of the Girl Child, a day that aims to highlight and address the challenges that girls face and promote the empowerment of young women around the world.  Now with the force of former first lady Michelle Obama behind the cause, The International Day of the Girl Child is becoming a global movement.
Helping to raise awareness for the day, The BARDOU Foundation in association with The Prince's Trust hosted a star-studded charity event and live auction at the original iconic private member's club Annabel's on 11 October. International film and TV stars, musicians, artists and philanthropists alike came together to help raise awareness and funds for the needs of disadvantaged and vulnerable girls along with a list of remarkable charity partners including BizWorld UK, UN Women NC UK, Wellbeing of Women, Luminary Bakery, Sneha Sagar Orphanage, The Children's Charity and Variety.
Raising the most money on the night for charity was the high-profile auction of a unique artwork generously donated by Minnick aptly named No Woman, No Cry.  Shortly after the charity event, we managed to catch up with Minnick to ask him about his life, inspirations, and what motivated him to become involved with The BARDOU Foundation in raising awareness for The International Day of the Girl Child.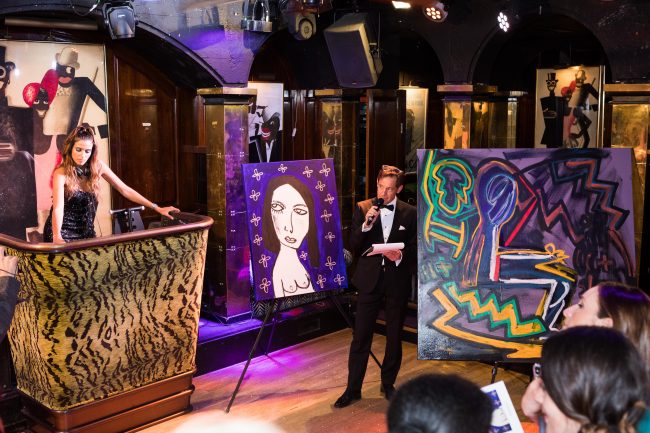 What was it like growing up in Seattle?
It was so much fun… skateboarding in the rain and listening to great music.
Where do you mostly spend your time now – LA or NYC?
I'm equally split these days. Each city has a unique style and energy.  I'm inspired by different things at different times.
 Would you ever move to London?
Yes, if I met and married a princess.
Which artists inspired you growing up?
There have been so many that have inspired me.  If I had to pick off the top of my head Aaron Deeter, Huy Lee, Christian Hosoi, Mark González and Lee Quiñones.
Which artists inspire you now?
Al Diaz, Alphonzo Rawls, Chad Muska, Banksy and Retna.
What excites you?
Meeting positive people.
What are your hobbies?
Playing guitar and walking my dog.
If you weren't an artist, what would you be doing?
I've always been an artist, there's nothing else I could think of that I'd rather be doing.
How does acting play a role in your creativity for making art pieces?
The art of acting is all about your truth and so is painting.
What do you think about the recent "shredding art piece" stunt by Banksy?
Genius.
What do you define art as?
Expressing your liquified troubles.  
How do you think you will inspire the younger generation of upcoming artists?
To believe in yourself and break all the rules. Do the work and the result will come.
What advice do you have for young artists to make it in the art world?
Listen to your heart and soul.
Where is your next solo exhibition and how can we go see it?
9 November 2018, at Geuer & Geuer Art in Düsseldorf, Germany.
What advice do you have for art investors?
Buy things you love that brighten up your home.
How do you rate Miami Art Basel and are you a part of it?
I rate it.
Where can I buy your art?
King Tut's Tomb.
Do you do special commissions?
Yes, I especially enjoyed doing them for Dave Navarro, Jessica Alba and Amy Jackson.
Why did you decide to donate a piece of your artwork to The BARDOU Foundation's International Day of the Girl Child charity event, and why do you think supporting female equality, growth and education is important?
I love my grandma and mom, and women are the greatest creation on earth. I will do anything to support them.
Who is the most important woman in your life and why?
My mother.  She raised me to be respectful and have great morals.
Would you consider yourself a feminist and what do you think the word feminism means?
By definition, I'm a feminist.  I believe men and women are equal.  And when it comes to women's rights I absolutely support them.
If you would like to donate to The BARDOU Foundation and any of their eight charity partners in support of International Day of the Girl Child please visit: