EVE Riot Grrrls of Wrestling is a ground-breaking feminist-punk-rock wrestling live event experience, founded by married couple and activists Emily and Dann Read. Since 2006, Emily and Dann have continually played a major part in the fight for the increased acceptance of women in the professional world-wide wrestling scene, creating a variety of action-packed theatrical women's wrestling events, inspiring women of all ages to support, take part and most importantly, to be entertained.
G: How did it all get started?
Emily: Everything really started when Dann and I met.  Dann was running wrestling events, trying to get more focus on women wrestlers, and I was training to be a wrestler and disheartened by the extremely sexist treatment of women and the amount of sexual harassment I was seeing and experiencing.
I don't know how to explain it without sounding cheesy but when we met we had an instant connection.  We were engaged after a month and we've been together for 13 years.  We found we were able to challenge each other, to help each other become better people, to broaden the others mind and bounce ideas off each other.
Through talking with Dann I realised how much I loved the other side of wrestling – the difference I could make through putting together events rather than performing on them.  Dann got to hear and learn about the many barriers that came up for women in wrestling and in life.  He got to see how much work there was to be done and was ready to meet the challenge.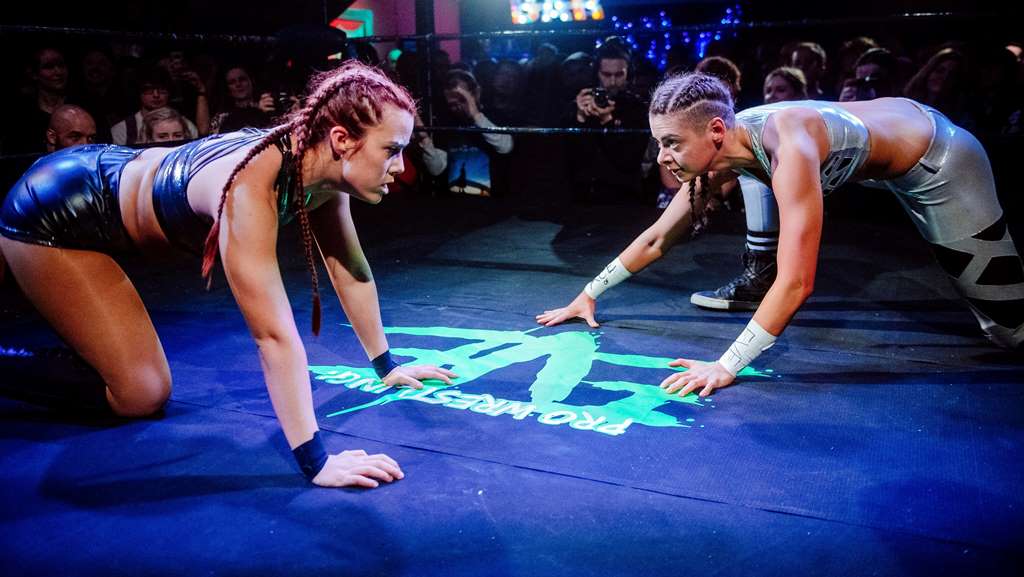 G: What was the moment when you got from thinking about it to actually doing it?
Emily: It's probably quite telling of who we are as people that we decided to start doing EVE events and not just talk about maybe doing them while we were at a restaurant celebrating our anniversary.  We spoke about the issue of sexual harassment in professional wrestling and our anger that it didn't appear to be going away. We spoke about how amazingly talented women wrestlers were and our frustration at them not being given a platform to show this to people or the space to improve and grow as performers.  We spoke about our daughter and the type of women role models she'd see in the world, how we desperately wanted her to see strong women but how unlikely that seemed.
Then our conversation turned – we may not be able to change the entertainment industry but it was in our ability to make a platform for women wrestlers, make a safe place for them to perform and create those role models we so badly wanted our daughter to see in the world.
G: You've been running the show for more than 13 years, what were the toughest moments and how did you get through them?
Dann: We ran the first EVE event in 2010, before then we were running all women's events with an American company but their goals / branding identity didn't fit who Emily and I are as people and what our goals were, but it did well in giving us a foot in the door and some learning experience.
Wrestling has always been somewhat of a boys clubhouse so running a successful all-womens promotion has lead to bitterness and jealousy from a large number of men in the wrestling business and even some male wrestling fans. We've had male wrestlers and promoters try to change out events to more 'cat-fighting' than wrestling and get angry that we won't. We've had male wrestlers tell us that we're making them look bad by having women perform the same moves and stunts as the men. We've had male wrestlers and companies try to shut us down over the years.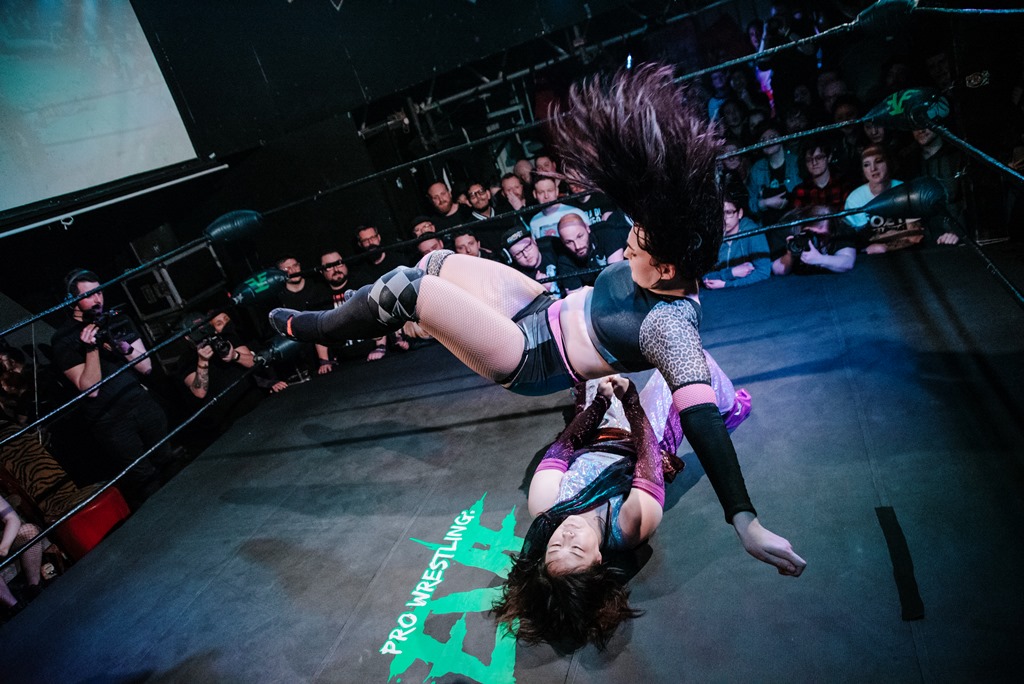 Earlier this year we were scheduled to perform at one of the largest rock music festivals in the world when a very large predominantly male wrestling company also performing at the festival apparently demanded that we be removed citing "a conflict of interests" in us also appearing. This same company also attempted (and thankfully failed) to get a booking we had with one of the largest television networks in the UK cancelled despite not appearing on their network. This doesn't appear to happen to similar sized predominantly male wrestling companies.
Some of the hardest moments include other councils not understanding what we are and attempting to get venues to cancel our events claiming that women's wrestling is degrading or promoting violence against women. We did an interview recently where the journalist just said "You're only doing this for attention and to cash in on buzz words though, aren't you? I don't see how you can claim this is feminist at all." Let us tell you, our life would be a lot easier within the wrestling business if we just acted and behaved like everyone else and didn't use our platform to identify as being feminists or as trying to make the industry a better, more inclusive and safer space for those involved. We're the wrestling show the wrestling business doesn't want but audiences do – especially non-wrestling fans. We don't target wrestling fans even though we use some of the best wrestlers from around the world, our target audience is people wanting an incredible night out, a live event experience unlike any other and where they can feel good about attending too!
You just have to be strong minded and be prepared to fight for what you believe in, to be honest our natural stubborn natures really helped us here! Sometimes it gets very hard but we know we have the best performers, the best talent and we're going to change the world! The rest of the industry can either get with the times or get left behind.
G: How do you reinvent the show to keep your audience and yourself interested in continuing doing it?
Emily: I remember watching an interview with Quentin Tarantino when I was younger where he said that he made his movies for him and just hoped that there would be others like him who would want to see the same thing.  I loved that way of thinking as it allowed me to give myself permission to be completely and authentically myself with my creativity.  I am bipolar which comes with many, many negatives, but it also comes with some positives.  One positive from my bipolar  is that as a person I'm naturally always changing and evolving.  I'm open to listening to others, to look at facts and not be afraid to say that I was wrong, not be afraid to change my mind.  I think that this trait means that EVE naturally changes and evolves with me.
G: What does inspire you and where do you look for inspiration?
Emily: I'm heavily inspired by music; punk is a big part of my life but in particular riot grrrl music.  The sound of these loud, passionate women making themselves heard, refusing to be ignored, shouting out what people encourage them to not even whisper about, leaves me feeling like I can make a difference and wanting to channel that same energy into the art form that I love.
Dann is inspired by story telling and stats from all forms of entertainment. He loves nothing more than searching out what people are reacting to and breaking down why that may be and how he can use that to make our events better, improve our storylines and connect with more people.
We're also both constantly inspired by our children – our daughter is 11 and our son is 9 and seeing their passions in life and the games they make up inspires us to be creative.  Hearing about off hand sexist comments their friends have made (for example saying Doctor Who is only for boys) inspires us to keep pushing to show the world how amazing and strong women are.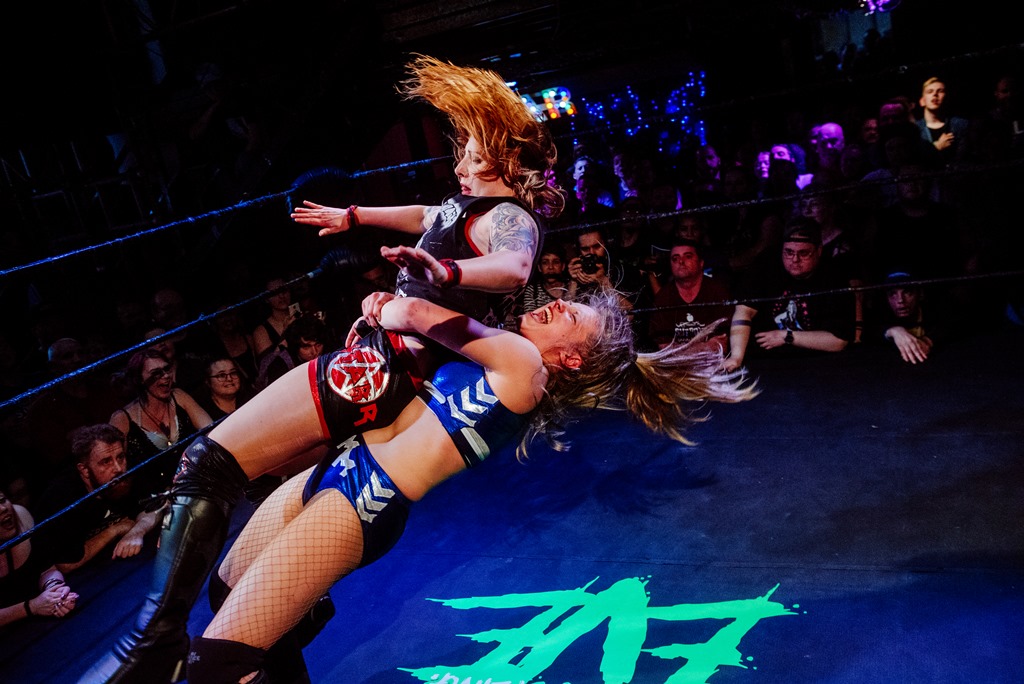 G: You also started The EVE Academy, can you tell us more about it?
Emily:  When I started training to wrestle I was the only woman in the class and I noticed that I struggled with a lot of things that the men didn't seem to have any issues.  I struggled to make noise of any kind when wrestling. I struggled to stand like I was big and strong, I struggled to make myself seem like I could be even remotely aggressive.  Getting more involved in wrestling I noticed that this was a common struggle with women performers and trainees.
I realised that it was very common for women to be taught to be quiet and timid, to hide their bodies, to fade into the background in order to stay safe.  When required to be big, loud and take up space women quite often have to reprogram their entire brain!
With EVE Academy we realised we were not only able to tailor a wrestling class for women where we could focus on subjects women often struggled with but typically wouldn't get covered in a male dominated class, but we would also be able to utilise the unique skill set that wrestling required to help women who were just looking to improve their self esteem and confidence.
At EVE Academy we're able to teach women to be loud and confident and take up space!  They have an area free from the male gaze where they can work on improving their fitness and learning how their body works.  We give them a place to let out their aggression and really let loose and be silly!  EVE Academy has been running for 18 months now and one of the most amazing things for us is when our students tell us of the massive changes training has made to them personally and professionally.
G: What are you future plans?

Emily: – Create a viable, full time alternative to WWE that gives women the chance to make a full time career at the highest of levels in the wrestling entertainment industry.
– Get EVE – Riot Grrrls of Wrestling a weekly TV show.
– Create an EVE themed punk band called "Garlic Muff Stuffers" and beat a Simon Cowell contracted musical act  to Christmas' Number 1.
– Invade a WWE show in a tank.
– Run Wembley Stadium.
xxx
Upcoming shows:
EVE – Riot Grrrls of Wrestling Present: Fights and False Lashes – 10th August, Resistance Gallery
EVE – Riot Grrrls of Wrestling Present: THE 2019 SHE-1 SERIES – 9th – 11th November, Resistance Gallery
EVE – Riot Grrrls of Wrestling Present: Wrestle Queendom – 11th January, York Hall Bethnal Green
Social links:
Website: EVEwrestling.com
Facebook: Facebook.com/EVEwrestling
Instagram: @ProWrestlingEVE
Twitter: @ProWrestlingEVE