Here's to Whip! A cruelty free, vegan, vintage barber and hairdressers in the heart of Hackney.
Situated in Hackney, along with a smaller satellite store in Homerton, Whip is a trendy boutique hairdressers and barbers for all daring hairy McLairy's alike. Using only the best vegan and eco-friendly colouring and styling products on your locks, you get the luxury of enjoying a new-do without the guilt of harming the planet. Plus, they offer complimentary cocktails, mocktails and wines, produced by local businesses that are vegan, eco-friendly and packaged in sustainable wrapping – impressive right?! So, assemble all your fellow eco-warriors, veganites, thrifters, sustainers and even those who are just dabbling into a more conscious arena, and hail the vibes and talent at Whip.
Since environmental concerns amount to an all-time high and we all strive to live more sustainably, Whip has filled in a much necessary gap in the market for an all vegan and eco-friendly hairdressers. With products stored in plastic bottles, the production of harsh chemicals damaging our surroundings (and our scalps – which may I add, should be treated as an extension of the face. They need care too!) and the cruelty of testing on animals and using animal products, all these worries are but a mere nightmare been and gone in the sanctuary dream of Whip. Using "Oway" – a biodynamic brand, employing the notion of lunar cycles to dictate the production of their stock, and the brand "Evo", both are fragranced with light and delicate essential oils, whilst bringing the pizzaz whether it be volumizing, sleek or curl-defining you're after. These products will have you opposing the usual "meh" stereotype, commonly associated with vegan and ethical beauty products.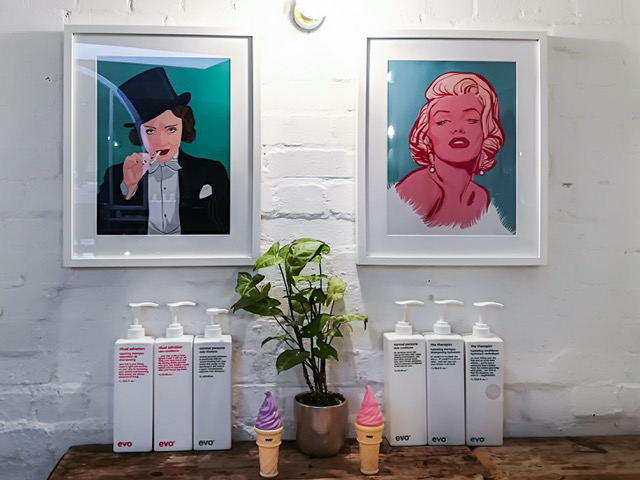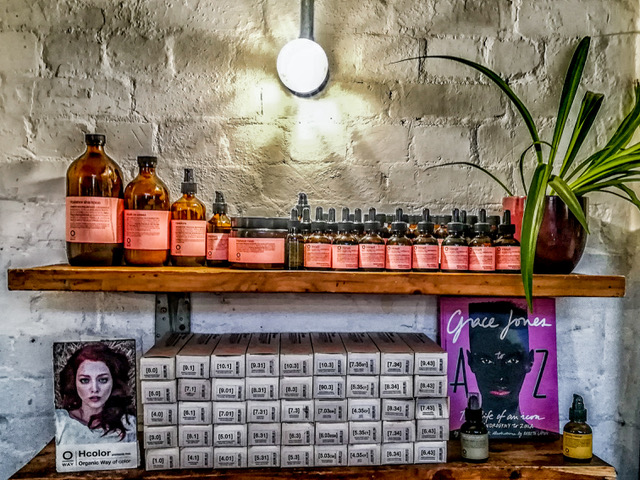 Following the harmony and good karma that oozes from Whip, most of the décor and furnishings are thrifted vintage items, sporting a funky eclectic vibe with whose it's and what's it galore. And of course, what would an establishment like this be without some great tunes? Playing a mix of funk, soul and afro beats, this hairdresser's brings a whole vibe to their Hackney high street branch.
I was lucky enough to be invited to Whip and was welcomed by James, the salon's Creative Director. I spent my hair wash and blow dry in an afternoon haze of essential oils and scalp massages, all whilst being taught about how the salon and ethical ethos came to be. I particularly love the fact that something so harsh as colouring or bleaching your hair, can actually be performed in a wholesome and healthy manner – good job guys!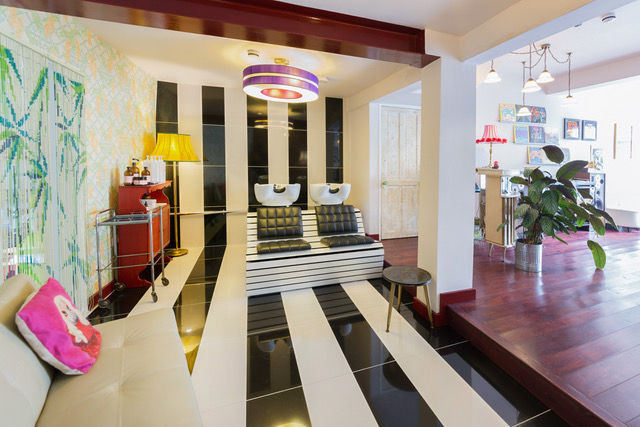 My verdict? A friendly, well talented and trendy place to visit, whether you are vegan or sustainably conscious or not – let Whip do the job for you! So go on, relax, sit back and enjoy the luxury of getting a new Whip, without the guilt of harming the planet!