The How To Club is a community that motivates young men and women to create their goals and ultimately helps transform their lives. Events are held throughout the year for members to attend, giving them the opportunity to listen to different guest speakers who will cover all things to do with business, health and relationships. The main aim is to provide a space for people to get motivated, be inspired, discover their creativity and build their confidence so that they can reach their full potential.
G: What problem did you set out to fix in this world?  
A: The problem I'd say The How To Club 'fixes' is getting people to step out of a closed mindset. I want to help people get out of their comfort zones and reach for more, whether it be in their social, work or love life. The How To Club promotes personal growth and welcomes people to attend affordable events so that they can gain valuable knowledge from expert speakers.
G: How did you find your 'Why'? What did inspire you to do this? Why is it important to you? How did you know that it is an idea worth pursuing?
A: One of the posters I have on my mirror at home is 'start with why' and I think this is such an important question for anyone beginning any type of journey. My 'why' is that I want to help as many people in the world that I can. I was at a time in my life where I felt like I had lost my 'spark.' I hated the job I was in, I was going through a break up, I had put weight on, all aspects of my life were so 'average,' I felt numb.
It wasn't until one day I listened to a podcast with Robin Sharma who spoke about the 5am club that things began to turn around. In a nutshell, you wake up at 5am every day and use the 20/20/20 Formula which is 20 minutes on your health set, your heart set, and mind set. For example, you'd do 20 minutes exercise, 20 minutes of journaling and 20 minutes of meditating. It's all about having the competitive edge before the rest of the world wakes up and your full day begins. When I listened to it, something just clicked, the 'eureka' moment as people know it.
It was after this that I knew I had to make a change in my life and in my mindset. It was time to focus on mending myself. Through the help of books, podcasts and videos, within a month I felt a transformation. However, all I kept thinking was that I wanted to share the experience with other people, that I would love to know a like-minded community for me to bounce ideas around with, to be inspired by, to learn from and feel empowered. I wanted somewhere to go where I could learn from people who had the knowledge that I was looking for whilst being affordable.
And so, The How To Club was born.
G: How did you convert your passion into a business?
A: For the last 4 years I have carried a small notepad with the words "great ideas" on the front that was given to me as a present in my first job out of uni. Every time I have an idea I write it down. There was something about this idea that I felt so passionate about from the offset and I knew I had to bring it to life. I wrote the initial idea down in this notepad, then went out to buy a new A4 notepad that would be the book to make the entire idea come to life!
I found a new job a month after quitting the previous one as I still needed an income but I worked on this project whenever I had the time to. I didn't tell anyone apart from my parents so when I was hardly socialising at the weekends, my friends all thought I was becoming a grandma but it was actually this that I was working on. Sometimes you have to make sacrifices. I had no idea what I was doing, I just had to learn on the spot and ask my parents for advice. I didn't know all of the speakers beforehand, I just searched and found the ones I thought were most appropriate, did some digging to find contact information and then rang them, pitched the idea and crossed all my fingers that they would say yes! Which luckily, they all did.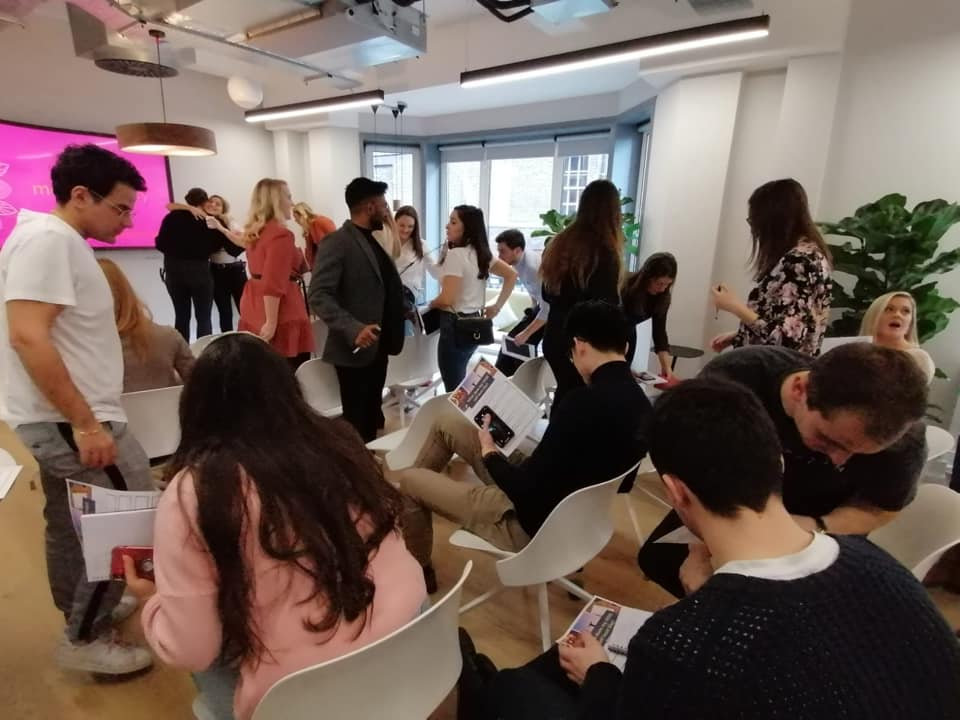 G: How long did it take until you started making a living out of it?  
A: With any business starting out I think you can't expect to make a profit within the first year… unless you have a lot of backing to begin with. However if you are like me, beginning on your own with no experience, then I'd say it is best to keep whatever day job you have until you know your business can stand on its own and give you an income.
G: What were the biggest obstacles launching the company and how did you overcome them?
A: I think the most important thing I learnt was 'If you want something done, then do it yourself." I was late in launching the website due to being completely screwed over by the person who I'd paid to work on it. I had to wash my hands of their services and build it on my own from scratch. I'd say find people who you know you can trust to work with. You are the only person who is going to love and care about making your idea a reality because it's your baby, so it's important to find the people who will share your passion.
G: Why do you think people fell in love with your company?
A: I think people weren't expecting as much as they got from the launch event. The entire day was a success with insightful knowledge, healthy food and drink and a great atmosphere created by the guests who attended. My aim is to make each new event even bigger and better than the last!
G: How do you promote your brand/platform? Have any tactics been especially effective in helping you grow your audience online?
A: Through word of mouth and social media so far. I am hoping once we grow we can partner with bigger brands and companies to reach wider audiences.
G: What 3 pieces of advice would you give to the people who want to create something, but are not sure how or where to start?
1.)  Just get started. Whatever your idea, if you believe it is something worth bringing into the world then just begin and the rest will follow- you will only regret what you didn't do, not what you did.
2.)   Don't be afraid to ask. The worst thing someone can say, is no. If they say anything worse then you shouldn't want to work with them in the first place! Every no will bring you closer to the person who says yes and THAT'S who you want to focus on.
3.)   Take no care in what others think. Become resilient to anyone's doubts- the reason people push you down is because you're reminding them of what they're not doing themselves- if you believe in yourself then that's the main person who matters!
G: Have you had any mentors or role models that have influenced you?
A: Someone I constantly get inspiration from is Tony Robbins. The first book I picked up when beginning my journey to make a change in my life was "Unlimited Power". It opened up a whole new perspective to life I hadn't looked into before. I think I knew I had it in me but something about his words struck a chord and became the catalyst to my transformation. My mentors have been my parents, they both had their own businesses when I was growing up, so having them to bounce my ideas off and get advice from has been really useful.
G: Who/what are your favourite CEOs/Businesses in Shoreditch or East London?
A: One business I have discovered recently is Anatomē. I have become more aware of using products with natural ingredients to treat our bodies with the most TLC. They encourage emotional and physical wellbeing which aligns nicely with The How To Club.
G: Where do you see your company in a few years' time and what are your thoughts on the future of your industry/how is it changing?
A: I think wellbeing, personal development and mental health are all topics that people are becoming more serious about. The How To Club's core values are trust, encouragement and love. I want the club to grow to an extent where we can bring thousands of people together in one room where they feel safe to share their own problems, ideas and aspirations with the strangers around them, knowing we are all there to encourage and love each other for who we are and the lives we want to lead.
Social links:
https://www.instagram.com/thehowtoclub