Ah summer. It's a time for vacationing, lowered inhibitions, reading in the sun, and of course – drinking outside. 
This summer, drinking outside is more important than ever because we can't abide by social distancing principles as well if we drink inside. For the first time since COVID-19 brutally struck the UK, London has started to reopen some of its bars. 
Not only are rooftop bars a great option for drinking and social distancing outside, they also provide an opportunity to beat the heat with the expansive London skyline in the background. Pubs are an integral part of the community in London. So, if you're feeling a little left out now that your local pub scene has been absent for so long, consider a rooftop bar. In the spirit of having a safe, healthy, good time, I have compiled a list of some highly reviewed rooftop bars in London. Drink responsibly. 
Bussey Rooftop Bar
Situated in South London, Bussey Rooftop Bar reopened its doors on 4, July. The bar is known for its bright tropical theme, and for its 360 degree view of the London skyline. Bussey's variety of fun and refreshing drinks are back and better than ever, but new this summer is a selection of fire-oven pizzas. Through Share A Slice, for every pizza bought at the bar one will be donated to feed someone in need.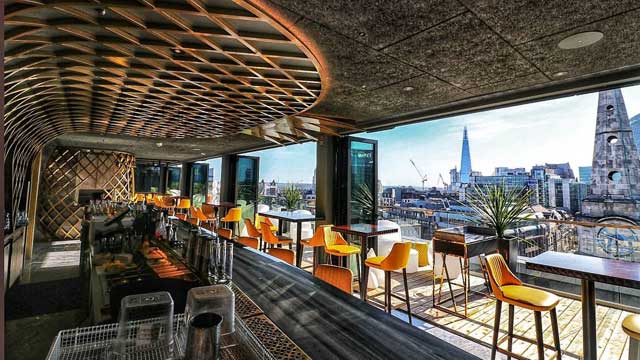 Jin Bo Law
Jin Bo Law sits atop the Dorsett City Hotel in London's financial district. While the bar's terrace is not as big as Bussey's, you can still get a fantastic view of the Tower Bridge, the Shard, the Walkie Talkie, and other iconic structures in London. Jin Bo Law is more upscale, and doesn't accept walk-ins at the moment, so if you want to pay a visit you must make a reservation online.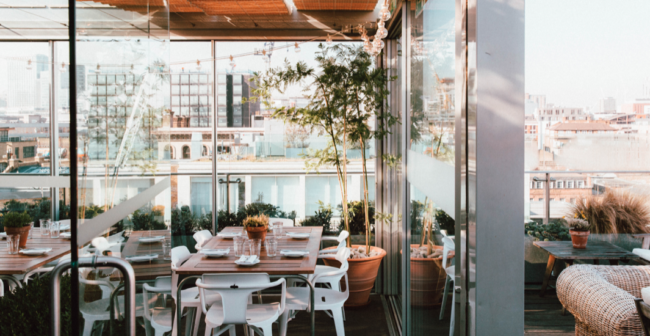 Boundary Rooftop
Located in the heart of Shoreditch, the Boundary Rooftop offers up an aesthetic atmosphere with more amazing views. Unlike Jin Bo Law, the Boundary Rooftop is not accepting any reservations for their rooftop bar and terrace, they are operating on walk-ins only. Their food menu is reminiscent of Mediterranean summer BBQ, and their drink menu flaunts more than a dozen wines by the glass and jugs of sangria. 
Sushisamba 
Sushisamba offers the highest drinking experience in all of Europe. Located on the 38th and 39th floors of the Heron Tower, the bar showcases a 360 degree panoramic view of the skyline. To match the aesthetic of sunset cocktails, the west terrace of Sushisamba is centered around a large orange tree – giving the place a serene rural feel among an urban environment. Because Sushisamba is a popular place operating at only partial capacity, I recommend making a reservation.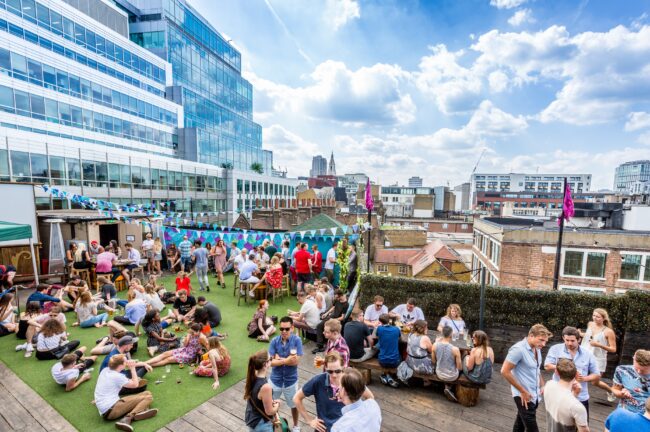 Queen of Hoxton 
The Queen of Hoxton rooftop in Shoreditch opened as of 10, July. This rooftop bar has been known to provide patrons with a unique, wacky drinking experience. Each summer and winter the Queen of Hoxton unveils a new theme. The past couple of years have included "Lost Vegas," and a Wizard of Oz theme. The Queen of Hoxton matches Shoreditch's innovation and creativity in design, and in live music. The wide range of drinks are affordable, and ensure that you and your friends will have a great time.