This month saw singer-songwriter Nana M. Rose release her debut single, 'Love Me Like I Love You'.
Like Nana's personal inspirations in Adele, Amy Winehouse and Jorja Smith, the most noticeable and gripping element of the track is the Dutch singer's powerful voice, one that puts her firmly in the spotlight amongst her contemporaries.
The music video 'Love Me Like I Love You' is an equally elegant offering. Shot in the sand dunes near Rotterdam (as we are told by director Sanne Kortooms), we see Nana M. Rose grappling with the personal issue of remaining authentic, keeping true to one's self.
We caught up with the singer and director Sanne to find out a little more about the track and its accompanying video, discussing the overarching ambition, the challenges and the importance of a musician's visual identity.
Thanks for taking the time to chat with us Nana M. Rose! How does it feel now your single 'Love Me Like I Love You' is out in the world?
Nana: Thank you so much for chatting with me today! I am absolutely thrilled that Love Me Like I Love You is finally out in this world. My team and I have been working so hard on this in secret over the last couple of months so it feels really surreal that people can actually listen to it now! The responses we've had so far have been really heartwarming and overwhelming, I'm really pleased.
We wanted to know a little more about the track's beautiful music video. I guess we should begin at the start. How did the overall concept for the video come about?
Nana: I wrote 'Love Me Like I Love You' when I was feeling like I was slowly losing touch with my authentic self. I was constantly thinking of how my actions and behaviour would affect others, trying to censure my every move in order to be the best possible version of myself for everyone around me, except for myself. This caused me to start feeling uncomfortable and stuck in my own skin and unhappy with my own decisions. This song was a way for me to tell myself that it is okay to be me, and that I have the right to make my own decisions, and be happy about them, even when others disagree.
I sat down with Sanne Kortooms and Ran Govaars (director of photography) to think about ways to express these feelings in imagery. In the video I really wanted to portray this process from feeling awkward within my own skin to freeing myself from these self-imposed duties.
Sanne: After Nana had told me what Love Me Like I Love You was about, I immediately felt that I would love to tell this personal story in an abstract, poetic kind of way. As Nana said, she felt the weight of all these self-imposed duties, which to me felt like a frame within which her moves and actions were limited. This was a frame that she felt others had put up for her, but which she actually created herself. Based on this initial idea we started brainstorming ways to address this frame.
As for the location, I was looking for a location that would represent the emotion of the song. The song being so poetic and tender, yet so strong and empowering, reminded me of Portrait de La Jeune Fille en Feu, an extraordinary film. I was so impressed by the scenes they shot in the dunes. It had such a scenic and dreamy air around it, but at the same time it exuded so much strength. I thought this really resonated with the concept of the whole song, and so we decided to shoot the story in the dunes near Rotterdam (the Netherlands).
What sort of feelings and emotions were you trying to portray and what are the defining moments for this in the video?
Sanne: The end result of these brainstorm sessions was that we wanted dancers to become this frame. The dancers in the video symbolize 'The Others', all the people Nana tried to be perfect for. Together they form this 'frame' of self imposed duties. The scene in which the dancers put all their hands on Nana and try to control her movement is a quite literal translation of this idea. In the beginning, Nana keeps the dancers close and even helps them by putting their hands on her body to embrace her. In this way, she is actually inviting 'the other' to control her. But as the song progresses, there are more dancers, more hands, more places that need attention, and Nana is starting to suffocate. She needs to escape, and that's the point where she's starting to detach herself from the hands and the dancers. Im very happy with how these scenes turned out. I was so happy with this beautiful mixed group of female dancers, the clothes, and Nana's performance, it makes it very magical.
Nana: In all the other scenes we wanted to implement this same process from feeling suffocated to being free. For example, there's this scene where the dancers and I are standing in the high grass. The dancers are looking my way with a controlling gaze, while I am in the middle being all dressed up, awkward, feeling overpowered. As the video progresses, I manage to find my own movements within this group. Another example is one of my favourite scenes, in which I'm surrounded by the dancers and I am standing there in the green dress (I felt like such a queen!). The group eventually falls to the ground, while I keep standing. To me this scene felt so freeing and I loved how strong the image turned out. As if I spoke my magic spell and ended the control of 'the others'.
You had an impressive (and large!) team working with you. How easy or difficult was it to convey your vision to the others, and what aspects were particularly challenging?
Nana: I never shot a music video before so it was one big learning process! I produced the whole thing myself, which was an incredibly huge job with so many people working together, but I loved being able to create something that is so true to me. And of course, I have been extremely lucky to have so many talented people involved, helping me to realize my ideas.
Overall, I think I was really living on a high while producing and envisioning the whole video, haha. I was so excited about doing this, and that made it quite easy to communicate my ideas to everyone. Also, everyone who worked on the video was so professional, that my ideas were easily translated.
Of course, there were enough things to learn along the way. First, I am not really good at telling people I don't like certain ideas, when I had something else in mind. I just hate being bold or rude. I know from the past that this is not a good quality when you are in a creative process with others, so throughout this whole process I really pushed myself to speak my mind. I learned it's really for the better. I also learnt to communicate better. There are so many different aspects to making a music video, and every little change might influence another person's job in the process. This was something I was learning in the process, and made some processes not as effective as they could have been.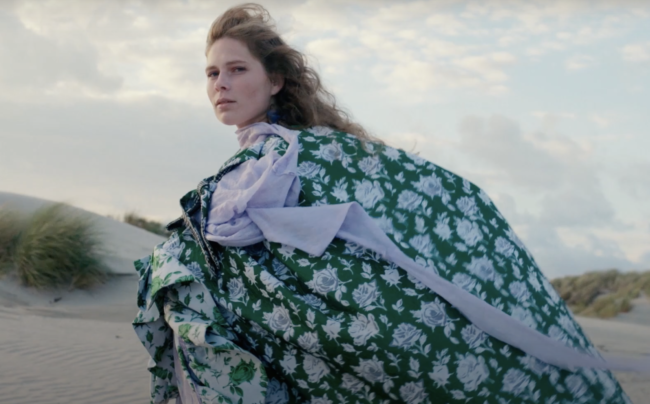 You have some amazing outfits on! Could you tell us a little about the fashion designers involved and how you came to be working together?
Nana: Thank you so much! I was actually very honoured that these young, emerging fashion designers (Florentina Leitner, Teun Seuren, Simone Schampers and Kinga Kasinka) wanted to collaborate with me for this video. I have been a huge fan of fashion ever since I was little. The little money I had as a kid was often spent on fashion and art magazines.
When looking for a stylist to translate my ideas for fashion in the video, I stumbled upon Amber Aste's work on Instagram. Amber is a young fashion stylist from Amsterdam. I fell in love with her elegant, yet flamboyant and expressive style instantly. She is not afraid to dress over the top, and use different fabrics, prints and colors, all in one outfit. This is exactly how I love to dress. I am so happy she agreed to work with me on this video. She was the one reaching out to all these amazing designers and getting them excited about the project.
For the music video, I wanted the fashion pieces to symbolize the different stages of my personal journey. The various costume and styling choices as envisioned by stylist Amber Aste highlight the changes in the process. For example, against the pale lilac clothing of the dancers my extravagant over-the-top outfits stand out, painting the image of a theatrical, put-on persona that I had become. Or, in the beginning of the video, when I'm wearing the same clothes as the dancers, I totally surrender to the expectations that I believe 'the others' have of me. Or, when I'm being almost a bit too dressed up, it represents how much I'm trying (which is too much). At the end, I let go of my dress, and with it, I let go of all these self-imposed duties.
Moments of it reminded us of Solange's iconic video for 'Cranes In The Sky'! What artists / creatives did you look to for inspiration?
Nana: That is such an amazing compliment! I am a big fan of Solange's authentic style and artistic vision. Her video is not a direct inspiration but it could have definitely been an influence on a subconscious level. For me, I was really inspired by the (seemingly simple) music videos by Joy Crookes ('Don't Let Me Down' and 'Since I Left You'). The emotion was key here, and that is what I loved so much about it. I am also a big fan of music videos by The Blaze ('Territory', 'Queens'), because they grab your intention with their strong storylines and really capture the true essence of their song's emotions.
Denise Verschut (choreographer of the video) heard the idea for the video and let herself inspire by 'Kontakthoff' by Pina Bausch. The tension between the dancers in this piece is so thrilling and Sanne and I were immediately convinced that this would be a great reference for the music video.
Sanne: As I said, I was really inspired by Portrait de La Jeune Fille en Feu, but also by certain scenes in Midsommar, and by music videos of Nick Cave and work of Spike Jonze. Ran Govaars (director of photography) was for his part really inspired by Viviane Sassen.
How important is a visual identity to you as a musician?
Nana: Very important! I love working in music because there are so many creative aspects to it. It brings together all the things I love and that inspire me, like art, poetry, literature and fashion. All these things are keys to create this visual identity, so I just love doing this. I have always been inspired by artists that succeed in creating a strong visual identity, like Stromae and Lana del Rey, and recently also Lous and the Yakuza and Joy Crookes. To me these people are not only musicians, but true artists in every way. I am really striving to become an artist like that.
Finally, what else can we expect from Nana M. Rose in 2020?
Nana: We're planning to release one new track every 8 weeks. The next single 'November' is set for release on November 27th, which will be followed by a live video of this track! I can't wait to share it with you.
'Love Me Like I Love You' is out now. For more information head to https://www.instagram.com/nanamrose/