Hang-Up Gallery will open a solo show by British artist and inventor of 'reverspective' Patrick Hughes, celebrating sixty years since his first exhibition and twenty-five years living and working in east London.
Hughes has had a long relationship with the capital, and latterly the east end – an area he once referred to as "Shoxton and Whoreditch" a spoonerism that has stuck in his mind ever since. Hughes ran away from Hull to London aged 17, lived at the Chelsea Arts Club, spent time at the Colony Room Club and took up residence in Hackney long before the rich and stylish even dared to visit. Hughes's studio is in a former varnish factory in Shoreditch, where he has lived and worked for over twenty-five years.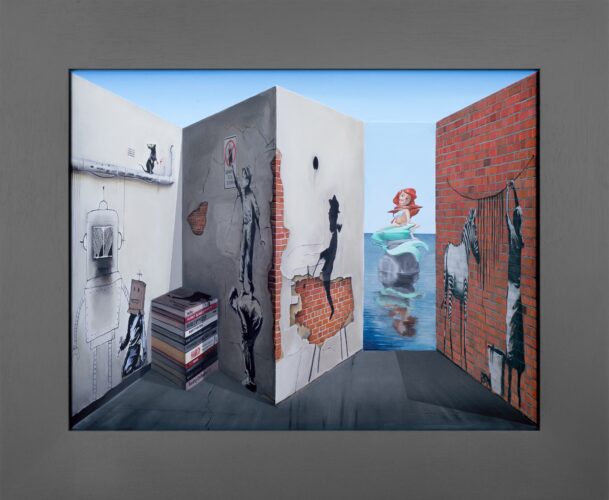 The Perspective Paradox
His iconic reverse perspectives explore the nature of perception by way of optical illusion, he explains: "The illusion is made possible by painting the view in reverse to the relief of the surface, that is, the bits that stick farthest out from the painting are painted with the most distant part of the scene".
Hughes' work is deeply referential, including depictions of iconic artworks by artists through the ages, from Roy Lichtenstein to Keith Haring, Mark Rothko to Paul Klee and Damien Hirst to Banksy. These re-imaginings of famous works play with the viewers sense of recognition, creating fictional galleries in impossible, painted places.
This exhibition at Hang-Up brings together new works by Hughes and continues the conversation around pop-art, perspective and the use of reference in creative production, celebrating Patrick Hughes' illustrious 60-year career.
Patrick Hughes: The Perspective Paradox. 29 October – 16 December
Hang-Up Gallery 10D Branch Place, Hoxton, London N1 5PH
www.hanguppictures.com  @hangupgallery