London Photographer Colin Hutton spent much of lockdown painstakingly creating a unique new portraiture series. Formats depicts figures with elaborate head pieces that are made from celebrated recording formats of the past from audio cassette to VHS, polaroid to vinyl. Opening at the J/M Gallery on 2nd March, this unique project stems from Colin's desire to celebrate the creativity and technology that has collectively recorded and shaped our cultural experiences.
"The original inspiration for the series came from seeing a punk. His multi-coloured Mohican looked like it was made from records, and I was inspired to attempt to make one out of vinyl." Colin Hutton
Visual archetypes and subcultures including punk and disco are revived and celebrated using materials synonymous with certain points in time and the headpieces are constructed with exceptional detail.
UK Subs and Bad Girls
In the image of the punk the Mohican is made exclusively from UK Subs vinyl originally released in the 1970s, the Disco Diva Afro is made from Donna Summer's Bad Girls cassettes sourced online. Drag Race UK superstar Bimini Bon Boulash dons a playful 1960s style bob made from vintage polaroids. Hutton personally sourced all the era specific materials with authenticity in mind, endlessly searching on eBay to find the perfect cultural pieces from these exact moments in time.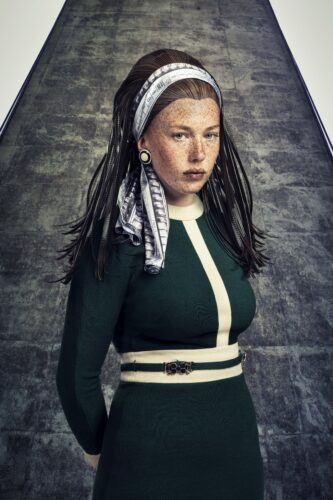 "It was very important to me that original materials were used in the portraits. I sourced nearly all the materials second-hand and developed a great appreciation for the magic of eBay. Who knew there was a thriving international market for vintage polaroids? Where else could you purchase over forty copies of That's What I Call Music CD's or Super 8 Prints of Alfred Hitchcock's Psycho?" Colin Hutton
Formats plays with both form and expectation and draws attention to media formats, such as vinyl, cassette, polaroid, and film. It casts a nostalgic eye on the moments that have shaped our cultural history and the technologies used to record and preserve them. "These formats, such as vinyl records and 35mm Film Photography, have collectively recorded and shaped our creative enjoyment for decades and the series is a visual celebration of their historic importance."
Formats by Colin Hutton, 2-6 March 2022. J?M Gallery, 230 Portobello Road London W10. www.huttonimages.com