Female identifying artists and non-traditional practices such as textiles and floristry take centre-stage at the artist-led fair this month. The Other Art Fair, presented by Saatchi Art, returns to London's Old Truman Brewery next weekend showcasing 150 game-changing artists alongside a vibrant programme of guest features. The line-up features a refreshing 62% female to 38% male ratio of exhibitors,  with 50% London based artists and 10% BIPOC creators.
Championing Women in Art
Celebrating its tenth anniversary this year, the fair continues its mission to reframe art, and how it is experienced; offering an art fair experience that is evocative, inclusive, and inspiring. In celebration of March's International Women's Day, this edition of the leading artist-led fair is focused on championing women in art and alternative practices sometimes excluded from the art world such as textiles and floristry. The diverse programme includes everything from special exhibitions, DJ sets, installations, workshops and even an art vending machine.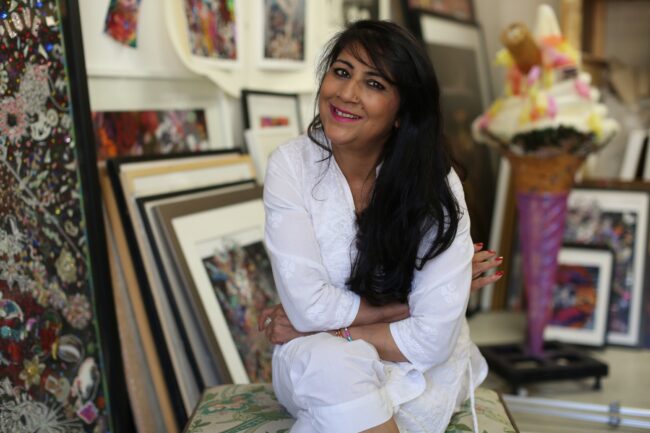 Chila Kumari Singh Burman is the Special Guest Artist
Trailblazing Chila Kumari Singh Burman will feature as the fair's special guest artist. Chila, famed for her vibrant installation on the facade of Tate Britain during lockdown, will bring an exclusive print to the fair for just £250. "I have been continually flying the flag for South Asian artists, investigating representation, gender and cultural identity through my work. My recent installations have really resonated with us all, at a time of radical change post-pandemic. I've served as a trustee on the board of Rich Mix in Bethnal Green for over a decade and have created artworks still on display at the Kobi Nazrul Centre on Brick Lane so my connection to the area surrounding the Truman Brewery is a strong one too. I'm looking forward to returning to the area and displaying a selection of my works for The Other Art Fair." 
Entrance Installation by The Line Girl
Phones at the ready, for the highly Instagramable installation by The Line Girl which will take over the entrance to the fair. The site-specific, engulfing piece will greet visitors as they arrive and reset the mood for a journey of artistic discovery and unexpected creative encounters. The Line Girl is a queer multidisciplinary artist who uses collage, drawing, installation and performance to explore the infinite subject of 'Lines'. Her work leaves no boundaries uncrossed and rejects a preference for a traditional canvas in favour of working on walls, floors and objects. Alongside her entrance installation, remember to stop by her special feature space inside the fair.
DJ Set by Nzinga Sounds
There will be a special DJ set from Nzinga Soundz at the opening night of the fair on 17th March. Established in the early '80s', this iconic duo is one of the UK's longest running all-woman sound systems and will be playing Reggae, Dancehall, Soul/Rare Groove, Soca, African, Latin & Jazz.
Let's Talk About Textiles
There's also a specially curated exhibition within the fair titled 'Let's Talk About Textiles' which includes works by Instagram favourite Daisy Tortuga, chair-tufter Shelby Hurst Inglefield, knitting extraordinaire Sofia Niazi and tapestry makers MH Sarkis and Llinos Owen. Shining a light on incredible emerging, female textile artists, the exhibition highlights wonderful artworks that take textiles out of the space of the domestic and push the boundaries of 'fine art'.
For further information and to book tickets visit www.theotherartfair.com. 17-20 March, The Old Truman Brewery, London E1.