Due to popular demand, the Tate Modern has announced a year-long extension of the exhibit Yayoi Kusama: Infinity Mirror Rooms, which will now be on display until 11 Jun 2023. 
Infinity Mirror Rooms was a part of the wave of art exhibitions opened to the public in summer 2021 as galleries and museums reawakened following the COVID-19 lockdown. But due to social distancing requirements throughout the exhibit, a reduced amount of tickets were available. After nearly a year of exceptional ticket demand, the Tate Modern has announced an extension until 2023, allowing countless more people to experience the joy of Yayoi Kusama's  Infinity Mirror Rooms.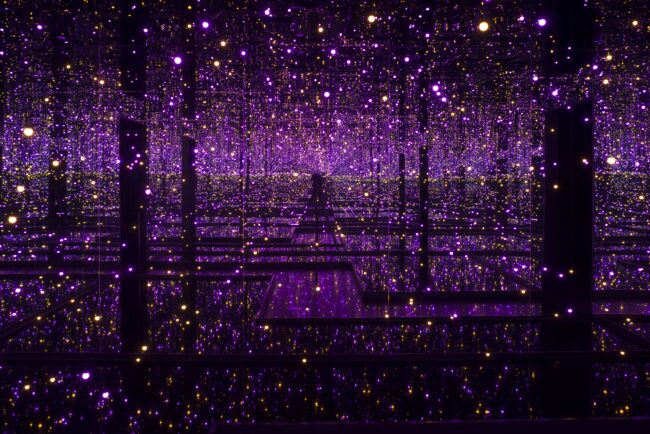 The Infinity Mirror Rooms contain countless mirrors stretching across the walls and ceilings. Hundreds of LED-lights suspended in air change colour in a choreographed sequence. The dazzling lights reflect in the mirrors, echoing throughout the space to create a seemingly infinite appearance of an endless night sky.  In another space, opulent glass chandeliers dangle in a hall of mirrors creating a psychedelic landscape of light, crystal and glass. 
The Tate Modern's version of the exhibit is one of three editions of a work created by Yayoi Kusama in 2011, Infinity Mirrored Room – Filled with the Brilliance of Life. Shown in Madrid, Paris, London and New York, the original piece was a part of a larger retrospective installation called Yayoi Kusama. Aiming to visualize the brilliant experience of life, this piece was Kusama's largest mirror installation she had made at that time. 
Having suffered from anxiety and hallucinations for most of her life, Kusama's work often reflects her hallucinogenic experiences. The spots that dance in her vision are shown through repeated polka dot patterns, a trademark in her work. Infinity Mirrored Rooms showcases this repetition, while exploring her trademark psychedelic motif through imagined space and optical illusions.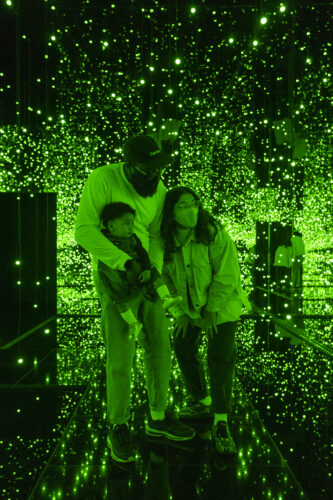 More information about this exhibit can be found at https://www.tate.org.uk/whats-on/tate-modern/yayoi-kusama-infinity-mirror-rooms.