Paid Partnership
As the summer sunshine replaces the chill breeze and cherry blossom branches cascade over the streets, springtime transforms London into a fresh and verdant world. For those looking for a new style to reflect the new season, SHEIN x Klarna have the perfect solution. 
In partnership with Klarna, fashion brand and online retailer SHEIN plans to open its first pop-up shop from Friday April 8 through Sunday April 10 in London's Covent Garden. The SHEIN x Klarna experience showcases the SHEIN Spring Sensation collection with bright colors, fun patterns and a fashion-forward edge. Any person will find the perfect piece to empower a new outlook on spring style.  
Far beyond the typical commercial pop-up shop, the SHEIN x Klarna experience will not only offer visitors the opportunity to discover a new world of style, but to also greet spring with a fresh new head-to-toe look courtesy of complimentary manicures, hairstyling and massages. 
Between a hairstyling station that teaches you how to create the perfect updo and an MUA masterclass with SheGlam, the SHEIN x Klarna  experience is about more than selling a product, but rather equipping guests with the skills to take their style to the next level. 
But if makeup and manicures aren't your thing, the SHEIN x Klarna  experience offers so much more. On Saturday, discuss upcoming beauty trends with Elle Sixsmith, Deputy Beauty Editor of HELLO Fashion & @beautybybelinda from season 1 of BBC Glow Up. On Sunday, participate in a yoga class with Woman's Fitness expert Eve Boggenpoel or discover a new hobby with a calligraphy class by @calligraphy.by.kiki. 
Throughout all three days of the event, there will be a barista, food truck, flower shop and complimentary manicure station. In addition, all workshop attendees will receive a SHEIN x Klarna gift bag. 
The pop-up shop is a partnership between SHEIN and Klarna. Offered by over 250,000 global retail partners, Klarna is an innovative shopping experience that handles shopping, paying and banking on one intuitive platform. 
For more information about the SHEIN x Klarna pop-up shop, visit here.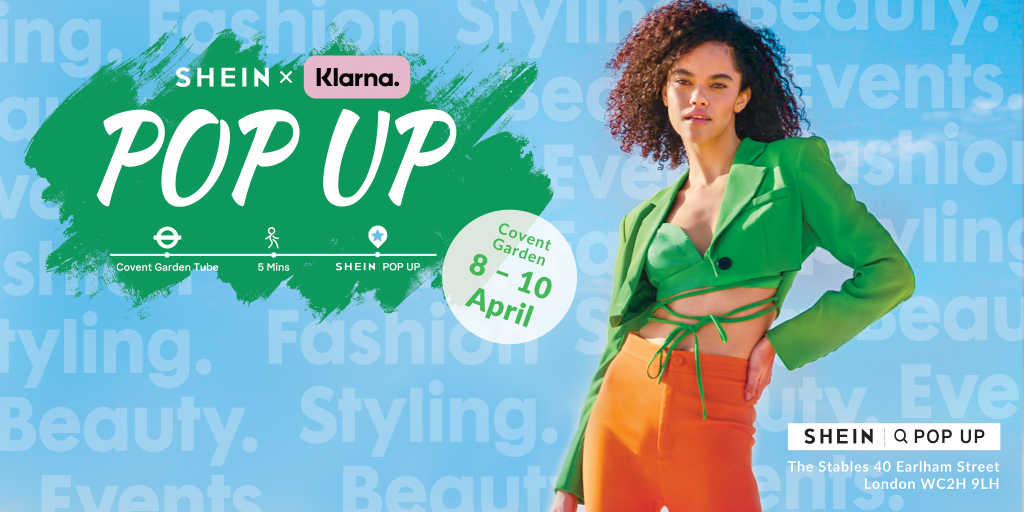 Friday 8th April – 10am-6pm
12pm – 2pm | Hair styling station: Learn how to do the perfect updo
2pm – 4pm | Wear your confidence: MUA masterclass with SheGlam
4pm-6pm | Trend talk with @ling.KT & @wunmibello
Saturday 9th April – 10am-6pm
1pm – 2pm | Beauty Trend Forecasting with Elle Sixsmith, Deputy Beauty Editor of HELLO Fashion & @beautybybelinda from season 1 of BBC Glow Up
2pm – 3pm | SHEIN Style Talk with Jill Wanless, Editor of HELLO Fashion
3pm-6pm | Get ready with SHEIN: Free manicures and hair styling station
Sunday 10th April – 10am-4pm
Free on-site massages all day
12pm – 1pm | Finding Stillness with Women's Fitness yoga expert Eve Boggenpoel
2pm – 3pm | Calligraphy class with @calligraphy.by.kiki
Where:
The Stables – Unit X 40 Earlham Street, London WC2H 9LH
T&C : Klarna's Pay in 3 instalments and Pay in 30 days credit agreements are not regulated by the FCA. Missed payments may affect your ability to use Klarna in the future. 18+, UK residents only. Subject to status. T&C's apply. Klarna.com/uk/ters-and-conditions