We all remember what it was like to visit the fair as children. Bright-eyed and bushy-tailed, we wandered from stall to stall, the dazzling lights and dangling prizes hypnotizing us into a trance. The aroma of street food wafted through the air, twirling through attractions as we dragged our parents from game to game. For most us, there is no memory more classically associated with summer. 
This summer, relive that childhood fun with the return of Roof East, the giant adult playground and rooftop bar. On 14 April, Roof East will once again light up the skyline of Stratford with incredible games, delicious food and 30,000 square feet worth of summer fun.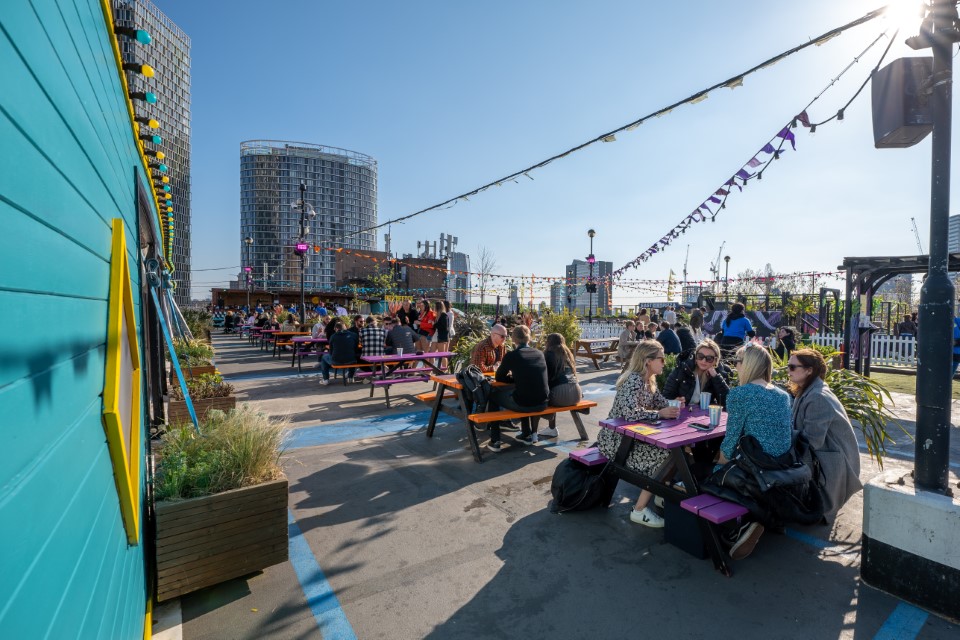 The line-up of games features several Roof East classics like Sluggers batting cages, Birdie's crazy golf and London Bowl's club lawn bowling. New to the roster this year is Arrows, offering attendees the chance to show off their archery skills gained during their Katniss Everdeen phase. 
And for those of you that love karaoke, don't worry- Roof East has you covered. This year Roof East is introducing Carpark Karaoke. Up to six singers will be able to hop into the Carpark Karaoke cab and belt to their heart's content. 
Other games will include ping pong, the classic American cornhole and the endurance challenge, Beat the Bar. Not to mention, the Roof East favorite: Jumbo Topple Blocks, captioned "you can call it Jenga if you like- we're probably not allowed to." 
No summer extravaganza is complete without delicious street food, and Roof East is no exception. Enjoy a taste of Malibu with Naughty Burger, the Californian inspired burger joint with a 50% vegan menu. Raastawala, the family-run Kolkata Kati Roll vendor, will offer a mouthwatering taste of Indian street food, or visit the new vendor, Pidoji, for Turkish flatbread. 
In addition to the new games and new food, Roof East is proud to host its first ever dessert vendor, Treats Club. From white chocolate Kinder and Oreo s'mores donut sundaes to Biscoff cookie dough bites, Treats Club has everything a sweet-tooth can desire. This female-run business is owned by Lungi Mhlanaga who has been featured in Forbs 30 Under 30. 
For more information about Roof East, visit roofeast.com