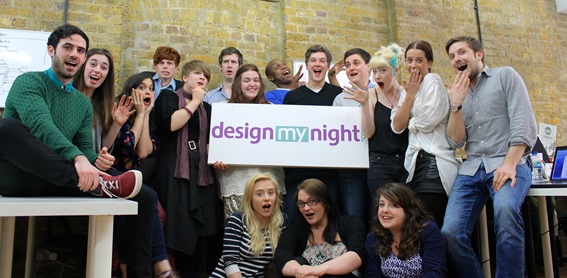 G: Tell us about your business.
In 2009, my best friend, Andrew Webster, and I were on a trip to New York together and were blown away by the amazing nightlife knowledge of our hotel concierge. After extensive chats over a few too many cocktails, an idea was born and two years later we launched DesignMyNight!
DesignMyNight is an innovative website that constructs nights out based on where the user wants to go, what sort of night they want and how much they are willing to spend. Spanning over four cities, London, Glasgow, Birmingham and Manchester, we have hand picked all of the venues catering for every occasion from a romantic drink for two, a night out with the girls to a corporate work party for over 50 people. 2013 saw the launch of the DesignMyNight App which gives users access to thousands of venues and events, with ratings and reviews, right at their fingertips and the opportunity to book tickets through the app and website to their favourite events.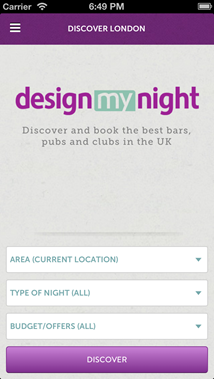 G: What is innovative about what you do?
We are not just another event listings site! What we have created is an easy to use, easy to navigate, one stop shop for all things nightlife. Going online or using our new App on the move, you can discover and book your perfect night out. Search by budgets, location, even type of music to whether you would like to go to a cool new bar, a secret event or just a night out with your friends, we have broken down your choices into every category. Something I am very proud of is that we are the first ever nightlife listings site to create a platform that allows our users to make bookings into our bars, pubs and clubs directly through us. We also offer users the opportunity to buy tickets to their favourite events directly through the site and mobile app. This is exciting for DesignMyNight as it allows the user to create and organise a great night out all in one place, stress free!
G: What would you say has been your most memorable experience while developing your business?
Everyday seems to be a memorable experience! Life certainly isn't dull! We have grown from just the two of us to twenty employees in the last one and a half years which is pretty amazing to witness. We worked extremely hard and were lucky enough to secure investment from some key tech entrepreneurs which was obviously a great milestone for the company and has allowed us to grow like we have. Very recently we created a beer pong campaign for students which was great fun and allowed us to interact with a part of our target market, I really enjoy getting out and meeting already existing and potential new users of DesignMyNight.
G: Why do you choose Shoreditch to run your business?
We came to Shoreditch as it is a real hub for nightlife and a lot of our top clients are in the area….not because it is now the tech hub of London…but that helps of course! Although people do look at me with a disapproving cliché'd eye when I say we are a web company in an exposed brickwork office near Old Street! What can I do, but laugh and say I just love the area!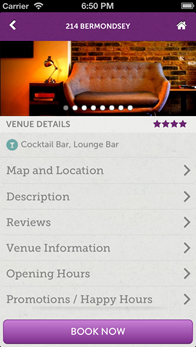 G: Who/what are your favorite CEOs/Businesses in Shoreditch?
We know the team at Quidco really well and it has been amazing to see them grow from a small company with a new innovative idea to a huge enterprise. They are proof that you can start small with a great new idea and grow it massively to create a powerhouse brand.
G: What are your favorite places in Shoreditch?
My favourite bars for a drink are Ruby's, Floripa and Nightjar – all doing what they do with great authenticity and a pang of tongue in cheek fun, which is always important! I like to eat at The Tramshed and my favourite lunch time hidden gem is Banh Mi for an incredible Vietnamese sandwich!
G: What does the future has in store for your business?
I can't say too much but we have big plans both Nationally and Internationally. We are currently present in London, Manchester, Birmingham and Glasgow and won't be stopping there! We aspire to be THE go to site for all things nightlife and become the ultimate business partner to the bars, pubs and clubs Internationally.
Social links:
Website: www.designmynight.com
Facebook: http://www.facebook.com/designmynight
Twitter: @DesignMyNight