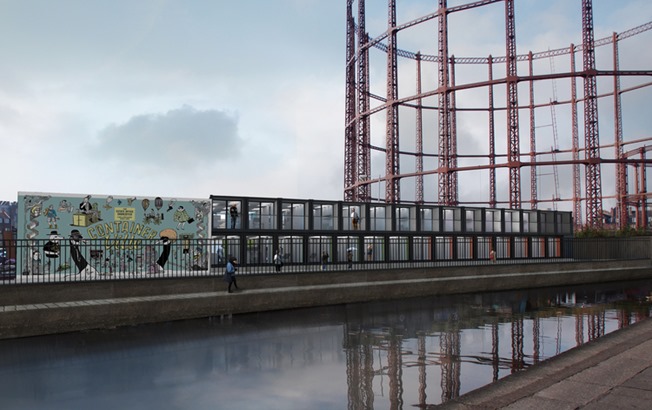 ContainerVille, a new initiative for London's start-ups has been launched yesterday by The Estate Office Shoreditch. The concept aims to attract dynamic young creatives in search of affordable work space in which to grow their entrepreneurial businesses. The unique location of this offering will allow 'New Eastenders' the chance to thrive amongst their peers with close proximity to vibrant Shoreditch and Hackney.
Start-ups looking for a home for their growing business will find no better alternative than ContainerVille, which offers rental of a whole container for £1200 per month. Made up of 30 converted storage containers on the south bank of Regent's Canal, ContainerVille offers affordable work spaces with low rent and minimal overheads so that small businesses will be free to grow more organically. The site will be managed but the containers will offer a great deal of flexibility for their tenants.
Over the past weeks the containers have undergone a total fit out and emerge transformed into fully functioning spaces for up to five people per container. Individual desk spaces can be rented for £320pp per month as the minds behind ContainerVille recognise that together small firms are stronger and businesses may choose to share containers or work in partnership. ContainerVille aims to create a dynamic hub of start-ups and small businesses, increasing opportunity for growth in a community of like-minded creatives working in proximity to one another.  The landscaping around the containers is also geared to promote collaborative working and integration, with shared outdoor areas overlooking the canal.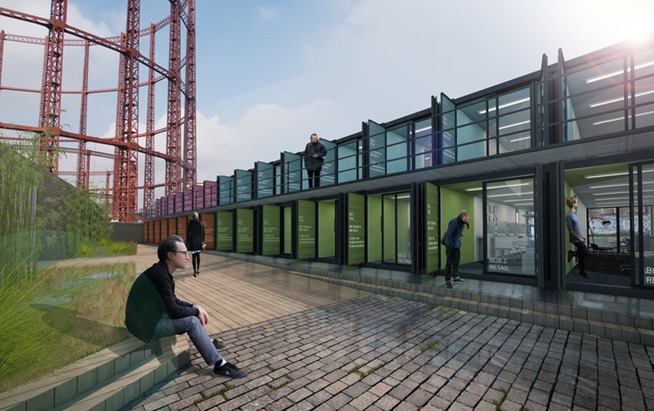 The Estate Office Shoreditch hope to inspire future tenants with their historically rich canal-side location, where the technology of the industrial revolution will stand alongside the technology, design and digital firms likely to occupy the space. Further to the peace and tranquillity inspired by close proximity to the canal, Victoria Park, Broadway Market and London Fields are also within throwing distance, ensuring that tenants are well-connected and within easy reach of The City and West End.
The Estate Office Shoreditch is a family business who have owned and managed much of the land in and around Shoreditch since the mid 60's. Phil Bouette, Development Manager at The Estate Office commented: "We are really excited about this new venture; we take a long-term view of property ownership and believe in offering flexibility to our tenants, whether they are longstanding establishments or fresh fast growth firms. We look forward to welcoming our first tenants in the next few weeks."