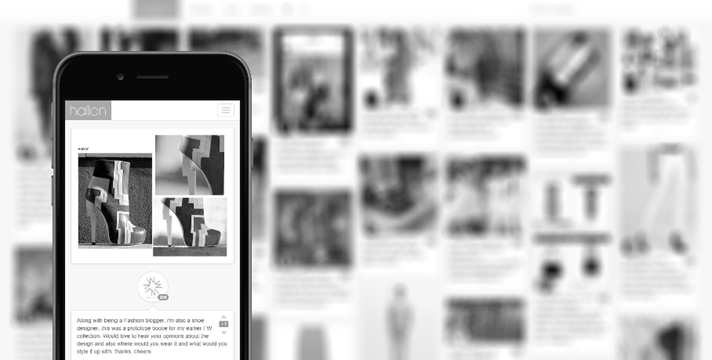 G: Tell us about the project?
Hallon is The place to talk fashion. I came up with the idea after noticing that a lot of people are asking great questions about fashion in apps and social networks, but the content isn't easily available for everyone to benefit from. This is where Hallon comes in. It's an open, visual Q&A platform for fashion. The concept is simple; you have a fashion dilemma and you ask the community for their advice. Likewise, you can share your knowledge with those asking for help. It's basically like an online extension of your network of friends, who you might normally ask "Does this skirt go with that top?"
I think the appeal of Hallon is that it's an open and fun place to have a conversation about fashion. Anyone who is curious about fashion can use it – you don't have to be the editor of Vogue to be part of the community. Equally, it's a great medium for fashion bloggers and the like to build a relationship with their online following and offer them personal fashion advice.
Hallon can also help bring retailers and fashion brands closer to consumers as it works as a forum for customers to ask questions about what they've bought and how to style it. The retailer's advice isn't just limited to the customer who asked the question, but because of the platform being open, anyone can view and benefit from the discussion.
G: What is unique about this project?
Other Q&A platforms such as Quora don't have fashion in mind. They're often text based and not very visual. With Hallon, you can ask theoretical questions, but also easily upload looks, styles and other visuals to express your opinion and contribute to the discussion.
Hallon is a community driven, open knowledge market for fashion, as the content is not hidden in a closed platform. It's very important to us that all the information is easily searchable for everyone to find – this is one of the key ideas behind it.
G: Why do you choose Shoreditch to do this?
Most of our team are researchers from London College of Fashion which has a campus in Shoreditch, and I've also worked with many companies in the area. Shoreditch is London's heart of fashion and technology. It's the place to be as a startup!
G: Who/what are your favorite Artists/Businesses in the area?
I really like Tailor Made London, who I've worked with in the past. It's a great tailoring company using 3D scanning technology to provide the perfect fit.
G: What are you future plans?
We have tonnes of new ideas and features to implement for Hallon. We are always working towards improving the user experience and building a platform the community loves to use.
We are also planning to open our data to developers to help us create apps and great experiences in using Hallon on mobile, tablet and other devices.
We're set on revolutionising how people converse about fashion, bringing them all together in one community.
Social links:
Twitter: https://twitter.com/hallonco
Facebook: https://facebook.com/hallonco
Website: http://hallon.co