The sun is out in the streets, reminding us all that the long-awaiting season of fun and relax is on its way to town. Not only it gives Londoners the opportunity to spend more time outside, on some of the London's best rooftops, terrace bars, gardens and courtyards, but it also releases our inner party spirit. And what's a better way of celebrating summer than hitting some of the hottest locations in Shoreditch? The culturally vibrant, artsy and unique area is full of places to hang out and today, we are bringing you the best of the best spots to kick in and relax with amazing drinks, delicious food and breath-taking views.
Boxpark
Boxpark Shoreditch is a total classic. Made of shipping containers, the place is the first thing you see when you get off at Shoreditch High Street overground.  It boosts with multiple bars and street food on the upper deck as well as an independent clothing, lifestyle and design shops on the lower floor. This alternative setup offers customers great shopping and dining opportunities, as well as it helps local brands to promote themselves and showcase their unique identity. In the evenings and on the weekends, the second floor turns into an open-space party and local DJs spin the mix until the late night, while skilled bartenders serve cocktails according to everyone's taste. Currently under reconstruction, the place is the best way to combine shopping and fun. And when it re-opens in June, we'll be looking at a fresh, newly designed upper deck as well as brand new street food pop ups which will please even the most difficult foodies.
Netil 360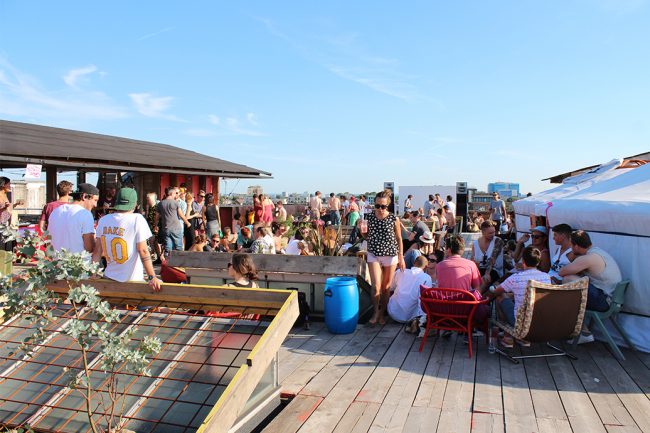 From distance, it looks like another, dark-looking basic building of East London. The purpose of this might be to make the place less mainstream, so casual bystanders cannot find it without actually looking for it. No one wants to hang out in an over-crowded space right? When you come closer, you quickly realise that something is in the air. Literally, the rooftop bar sitting on top of a Hackney's Netil House is the ultimate hang-out space for those looking for something that ain't common. Not only suitable for partying and big crowds of thirsty hipsters, the place also offers bookable work desks within two co-working cabins for all the tech savvy who like to enjoy a panoramic view while finishing off their work duties. Netil 360 often hosts various events such as yoga, workshops and screenings, so come early to catch the best seats!
Old Street Records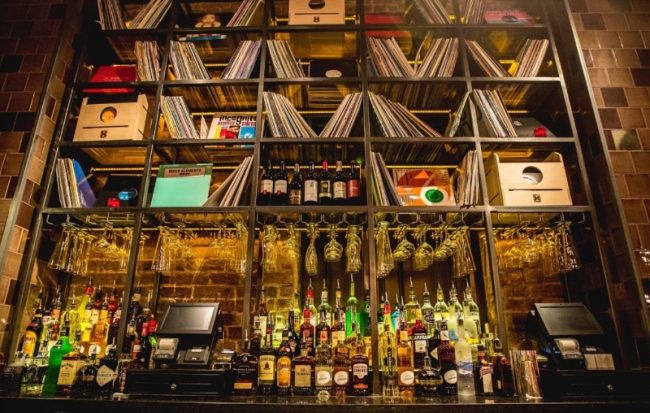 What would the world be without great cocktail bars? Well, not much, we'd say. Old Street Records is the best mixture of fantastic drinks, Italian food and cosy interior, decorated with vinyls and old record players. Music material is however not only used as props but also during live performances of local bands and artists, which take over the ground floor. In the basement, people can test their skills on the open mic, or kick back with a list of craft beers and sourdough pizzas. On weekdays, they offer promotions on food and drinks, such as #cheapdate- 2 pizzas and 2 cocktails for £19. So what are you still waiting for? OSR is open every day except Sunday from 5 pm till late.
Queen of Hoxton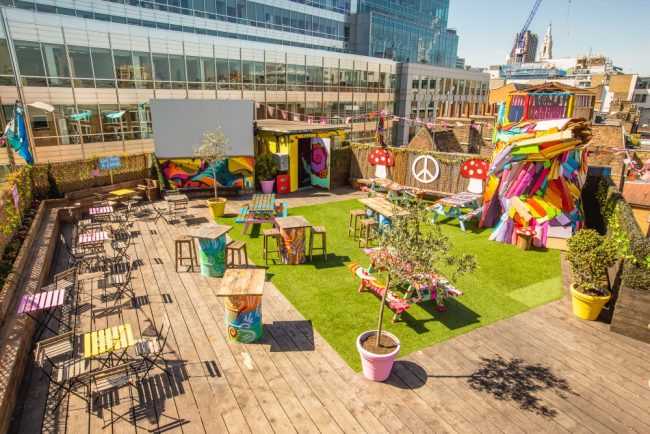 You've all probably heard of Queen of Hoxton. It's the ultimate bar/club and everything in between, situated in the heart of Shoreditch. In summer, it opens its magical terrace on the third floor and offers all the guests dazzling views accompanied with fancy cocktails, which surprisingly, won't ruin your wallet. But that's not all. Queen of Hoxton is a pro at hosting various fun events and parties, with DJs playing funky disco and house tunes on the weekends. Film screenings are also on the list and include some of the world-class movies. Make sure to check their website before the tickets are gone! Their rooftop terrace perfectly matches summer vibes, and it's decorated with palm trees and festoon lights, taking us somewhere far away and tropical. If you want to step into the hottest season of the year right, this is the perfect place to do so.
Boundary Rooftop
"A place to drink and eat for everyone" Boundary is a three in one package- a hotel, restaurant, and a rooftop. Its guest rooms, studios, and lofts are all individually designed with attention to detail and perfect taste, making it impossible to not stay a night. And while the place offers three award-winning restaurants and bars, as well as British food store and a bakery, wait until you see the rooftop! Sitting in the heart of Shoredtich, the panoramic views from above are to die for. Visitors can enjoy cocktails, bottled beers, wine, and bubbles while lounging on summer seats and wicker chairs. The rooftop also boosts with 48 restaurant seating for all the hungry ones, who wish to chew down on some grilled specialties or light snacks. A visit to Boundary is a luxurious journey, making you feel fancy and summery with every breath you take.
Last Day of Shoreditch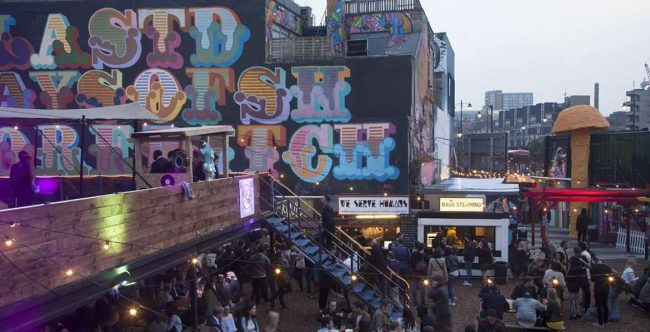 Party like it's the last day! In this new hot spot, you can party all night long, and then do it all again the next day. The result of collaboration between culture veterans RED Gallery (Old Street) and Rob Star (Eastern Electrics / mulletover / Star pubs), is the ultimate party and kick back location in the heart of Shoreditch, open every Thursday, Friday, and Saturday, throughout the whole summer. It includes a massive selection of cocktails, craft beer bars alongside mouthwatering food stalls as well as a mezzanine restaurant and terrace bar from Ben Spalding. DJs will create exceptional line-ups and let you enjoy the night in style, while the place will buzz with young people showcasing their talent, and funky street art will add to the urban vibe.The Shoreditch Riviera will also have its own urban beach overlooked by palm trees and decking, as well as karaoke room and private spaces available for private hire, making it the ideal spot for get-togethers and summer parties.
The book club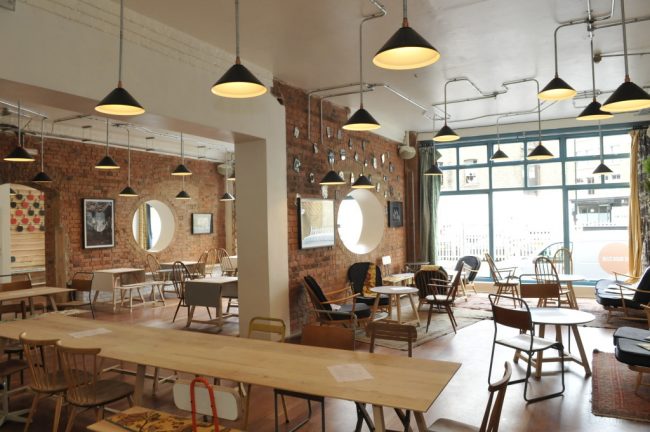 Even though from its name it doesn't sound as the best place for a night out, the place itself proves the opposite. The book club is one of the most creative and hip bars in Shoreditch, offering visitors mesmerizing cocktails, often served in old-school jars and flasks, situated in an overly-artsy basement. During the day, the place stays quiet and is filled with relaxed atmosphere- great for everyone who loves to do some work in a cozy environment. Bookclub's timetable is filled with interesting, artsy events which include live talks, workshops, DJs and bands, video game nights and screenings.So, whether you come to work or study and enjoy a light brunch, or you're looking for a night full of fun in an artwork-dotted place, Bookclub is the right place for any type of hang out.
The Magic Roundabout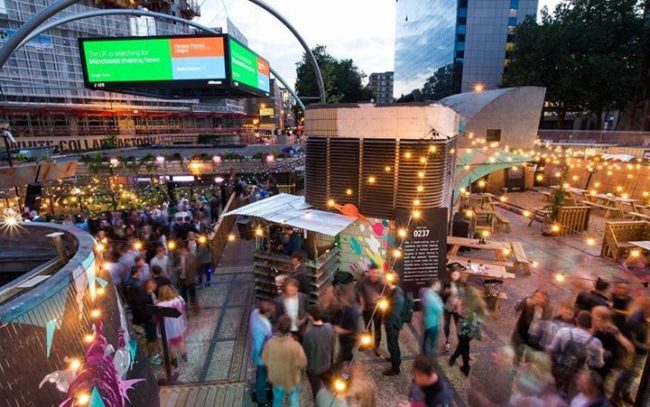 A secret staircase from the tunnel at Old Street station will take you to the magic place, which tagline goes; "eats, beats, booze" The place is well hidden from all the outsiders and lays directly in the middle of Old Street roundabout. The unique space boasts with bars serving ice-cold drinks and one of the best Pimms in Shoreditch, as well as street food stalls with mouth-watering burgers and vegan snacks. As the name suggests, magic happens in the evening, when all the groovy people meet to enjoy some music and DJs from local clubs spin the mix and spread good vibes. An amazing place to lay back in comfy chairs and watch the sun go down.
Pillow cinema
The famous pillow cinema- London's comfiest pillow experience is moving for the summer and is now heading outside into the summer sunshine, on the roof of SNAP Studios. The doors will open on the 20TH of June. The rooftop space overlooking Shoreditch Park will add up to an ultimate outside-cinema experience. You can look forward to huge comfy bean bags and some amazing screenings, such as romantic classics- 10 things I hate about you, 500 days of summer, as well as Oscar-Winners-Whiplash and Birdman. Visitors are encouraged to bring their own drinks and food, which makes it a hell of a lot easier to save some money this summer. Plus, you can choose your snacks and booze according to your personal taste. Prices start at£12,50 for a beanbag for two, or£25 for all the comfort for one person.
Bounce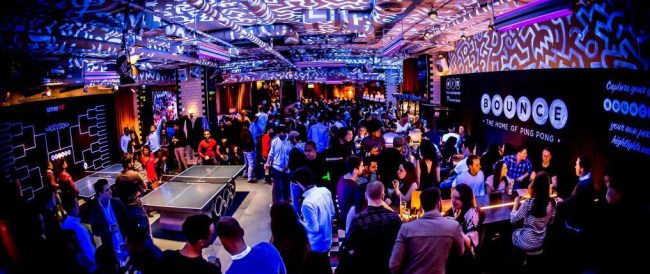 "A real hidden gem of Shoreditch" read some of the place's reviews. And they're right. Taking over an underground space in Shoreditch, Bounce is the perfect mixture of great drinks, atmosphere, and of course Ping-pong. Featuring 17 tables which were used for table tennis Championships in Tokyo last year, there's no better place to play with your friends, and to win, of course. When you add brutal cocktails and yummy food menu, you'll never want to leave this unusual hang-out spot. You can even host your own private ping-pong party, or come during the day for a bottomless brunch. And did we mention music? Yes, every weekend you can bump and grind to some lively tunes, ranging from disco and funk to hip-hop and R'n'B.
These are, however, only some of the unique spots that Shoreditch has to offer. Pack your sunglasses and a good mood and jump into exploring this restless part of town, if you wish to see more.