White sandy beaches, majestic cliffs, breath taking views and comfort of an extravagant hang-out location. You've reached your final destination. Freshly new opened Blanco Beach club in the heart of Algarve is the perfect place for all the luxury holiday goers who believe that vacation doesn't just mean sand and a sun, but it's a combination of all the best things, providing an unforgettable first-class holiday experience.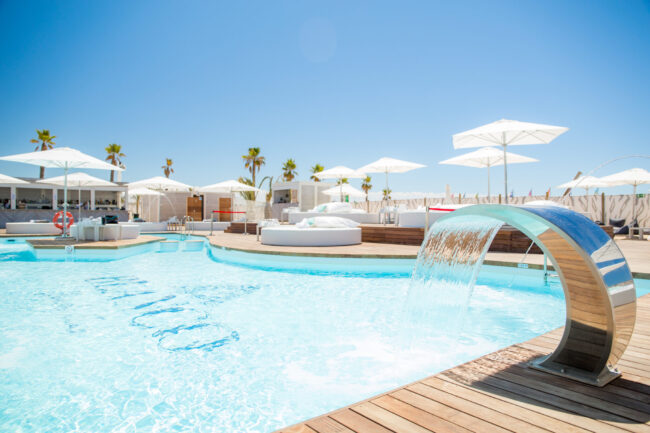 Situated overlooking the coastline of Algarve in Faro, Portugal, Blanco beach club is also the newest and one of the biggest beach clubs in Europe, with international DJs and performers acts happening throughout the whole summer.It reflects an experience driven and entertainment focused concept which fuses European beach party culture and luxury lifestyle with an iconic Portimao backdrop.
The design of Blanco Beach Club was inspired by organic European living, nature and the panoramic ocean view, design details include reclaimed wood and natural fabrics such as leather and crocheted cotton, as well as a pool with number of water springs. Blanco, in Spanish means white and the name and logo of the club are both inspired by the Algarve's white sandy beaches and white tigers; both exotic and unique.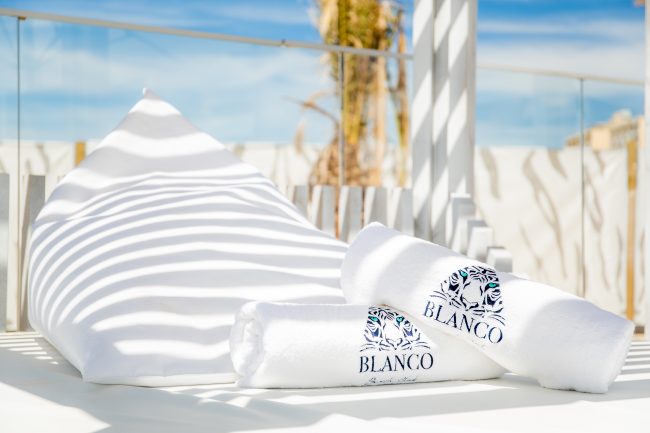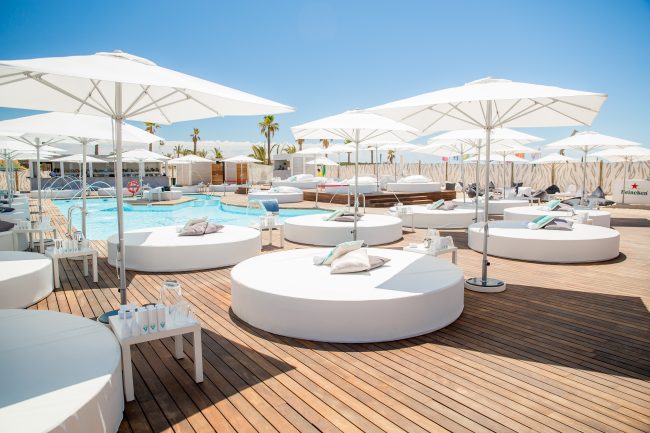 Kick back in one of the huge and comfy, white-leather beds all equipped with cushions and original towels for your comfort and enjoy a cold drink brought to you by the amazing waiters.
And slowly, as the tick-tock sound of people chatting and laughing fades away shortly before sunset, a delicious silence with only chill out music playing quietly in the background spreads as the sun slips below the horizon. When the night approaches, the whole place is covered in dreamy pinkish light from the cotton candy coloured sky. The best time to jump in the jacuzzi and your own private cabana, which offers a great view of the whole exterior and the DJ.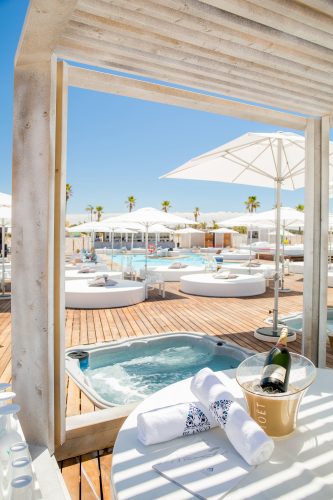 At 9pm, the club is already covered in the smoke and sweet smell of shishas floating around while the pool transforms into an exciting game of lights and colours. If you want a quick snack before the dinner, you can choose from one of the many bar bites such as nachos or quesadillas, or chase down some ice-cold smoothies and fresh juices. Blanco Beach Club will offer the best of casual alfresco dining, combined with a lively atmosphere and great service. The simple menu is curated with sushi and sashimi menu, burgers and salads as well as fresh fruit options and yummy desserts for all the sweet toots. To supplement this pool-side menu which visitors enjoy eating on their own beds, the club is also about to launch a super luxe restaurant to add up to the fine dining experience.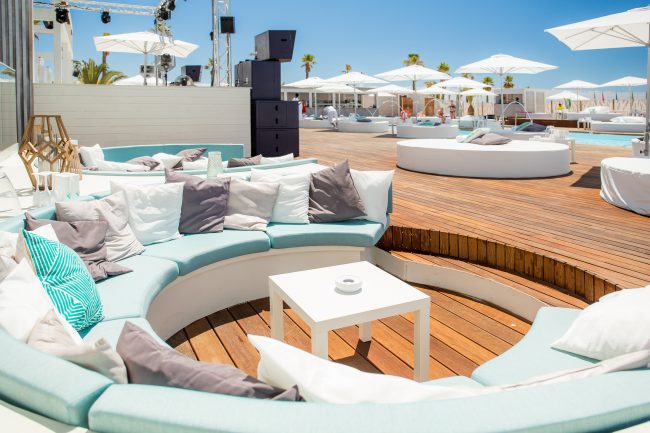 Along with the hot weather and fresh products which are typical for the Portuguese culture, you can also expect a very laid-back nature of the local people. Alias no need to rush, everything will be fine. (This mind set will stick on you like a glue and by the time your holiday is over, you will be taking life with ease too)
Blanco beach club is not only a heaven for luxury holidayers who like to enjoy the top service and comfort, but also for jet set party-goers. The open-air night club is open till late and hosts some of the biggest music stars and DJ's in the entertainment industry, including the famous rapper French Montana, Kid Ink, Tyga and Ace Hood. Visitors can hire their own bed in either an VIP area or in the first row by the stage, as well as cabanas and "fire" pits, which are more like private comfy sofas in a round shape and with table service.Prices for beds start at 300 euros and go up depending on a event and type of your preferred lounge.
A long hot night spent dancing is all part of the standard visitor's programme in Algarve. You'll be able to sleep it off on the sandy beach located just 30 seconds from Blanco by foot, or come back to the poolside for a more extravagant day.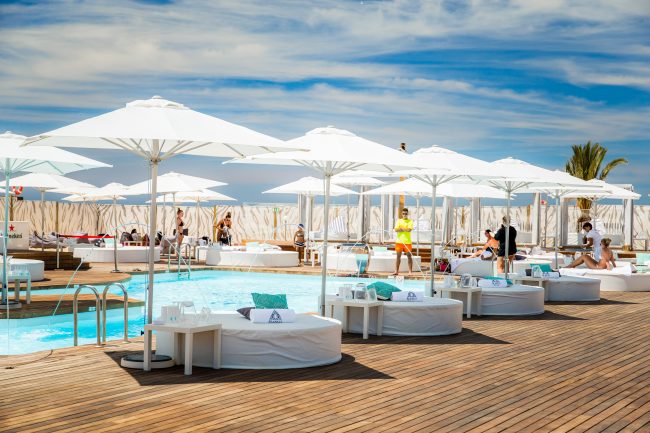 If you fancy a change of atmosphere for a while, you can go on a walk on the promenade on Praia da Rocha beach if tranquillity and idyllic views are more your thing. You can also get moving on one of the beach volleyball courts and literally on/in the water- trying out various water sports. After a bit of exercise, the lovely staff will welcome you back to your pool side lounge and offer you a frozen drink to cool down.The main focus of Blanco Beach club is to give excellent hospitality and customer service, comfort and an unforgettable music entertainment, which together provide a luxury beach side experience for even the most difficult holiday goers.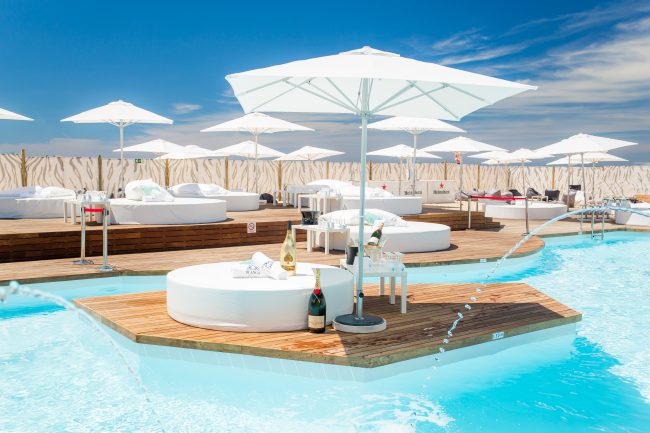 The best and easiest way to start your holiday in Portugal is to fly with Monarch Airlines, which operate flights regularly to Faro in Algarve all year round from Gatwick Airport, starting from £47 one way (£98 return). Gatwick express will take you to the airport in under 20 minutes from London Victoria station, so you can start your holiday at ease, even before boarding the plane. Have a look at the website or download Monarch airlines app. It's not too late to book your own stay at this exceptional place.
For booking enquiries at Blanco Beach club contact:
Mobile: +351 964 364 442
Email: reservations@blancobeach.com
Opens daily at 11:00 am