After a work experience part of their Fashion Contour BA degree at London College of Fashion, Cindy and Faith saw with their own eyes the exploitation that lies behind the fashion industry.
The disillusion Faith felt after witnessing the situation in the Chinese factories, made her wonder whether there was a brand worth working for after she graduates. So, when Cindy visited her in Melbourne, where she was training for a bikini brand, the disappointment they both felt turned into an idea.
"We said, why don't we try doing it ourselves?" explained Faith. "We actually felt it was a ridiculous idea, but it developed so quickly that we became more confident about keeping on going."
In May this year, they raised just under £23,000 thanks to more than 200 backers in Kickstarter and here they are, two years after that first conversation in Melbourne, Cindy and Faith have just launched their own lingerie brand, Lara Intimates, that focus on a sustainable and responsible way of working and material sourcing.
"Every year, factories and large brands have millions of tons of excess textile they don't use anymore because the color is out of season or something didn't sell as expected," Cindy, who is in charge of marketing and communication, exposed. "Our supplier buys that surplus, brings it out to England and we shop from him. All of our products are made of material that would have otherwise gone to landfill."
Nothing go wasted in the process: even the smallest bit of fabric is given new life at Lara Intimates, by being adapted into new parts or garments. Moreover, elastics, bindings, the packaging and even the swing tags are made in England by suppliers interested in sustainability.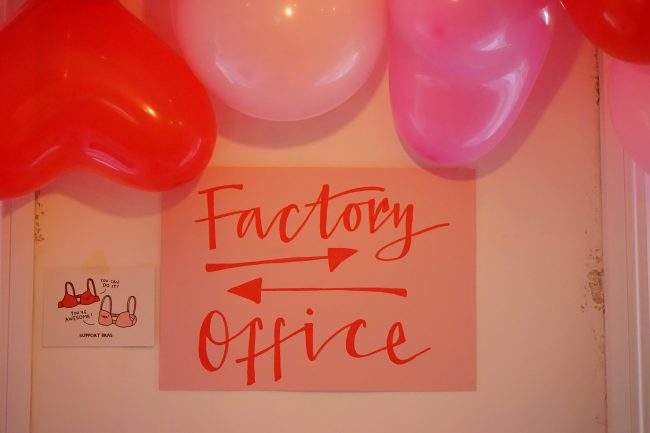 Cindy and Faith converted a space on the top floor of a bar in Soho into their lovely studio where they produce, sell online and organize "Fit Parties" every Tuesday, where shoppers are welcome to visit them and try their products.
At Lara Intimates, in fact, sizes are different from the standard. Cindy explained that conventional bra sizes are always based on the under-bust measure, to which they add some inches, and this cause a lot of confusion. "For example, if you measure 30, you can be a 32 or a 34, while here you simply are a 30!" she said.
They have built an online size calculator so girls can figure out their size very easily.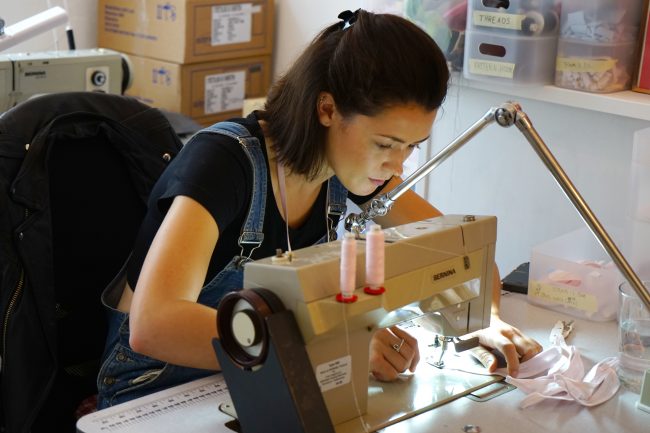 At the studio, there are currently four people working, two of them sewing all day. Faith, who is in charge of the product design, revealed how making is such a physical and concentrating job. "When you make a bra you must be so precise because every single millimeter is crucial, so you have to be trained to do the job properly."
And this is what they are hoping for: once they grow, they are planning to operate a training program for designers and makers and to provide more job opportunities, especially for women.
There are not many brands in the market which offer complete transparency about manufacturing and sourcing, and in a time when people are becoming a bit more aware of social and environmental issues, Lara Intimates deserves the right attention.
After all, it's all made in Soho.
You can buy online here.