Four years ago, Olivier Kugler, a German illustrator based in London, spent the first two weeks of December documenting the lives of Syrian refugees in the Domiz camp in Iraqi- Kurdistan, on the border with Syria and Turkey. Two years later he did the same in Kos Island, Greece, and then in Calais.
Commissioned by Médecins Sans Frontières and later winner of the Arts Council grant, Olivier reported the difficult stories of these refugees through the best skill he has: drawing.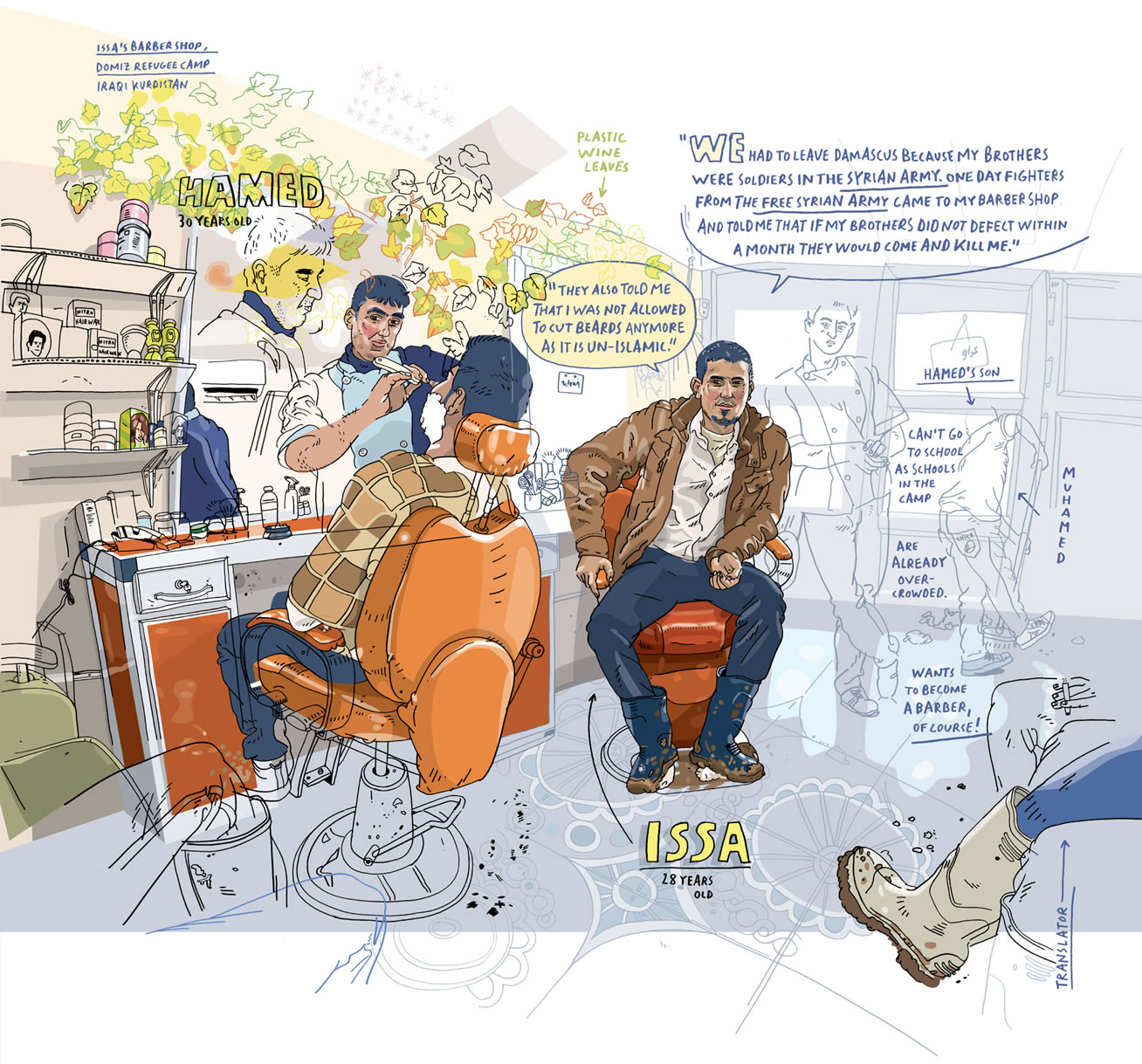 Olivier introduces himself as a Reportage Illustrator, whose drawings serve the journalistic purpose of telling real stories of real people.
When he is on location, he takes hundreds of pictures, which are then the main references to the future drawings.
He approaches people that somehow attract him, and with the help of a translator, he proceeds to the interview, by listening to what they have to say.
When he is back to his studio in Dalston, he starts drawing from his photographic references. The drawing is then scanned, coloured and set up in a composition with other drawings (some of them are massive) which are scaled down to create a kind of collage that helps to understand and complete the story.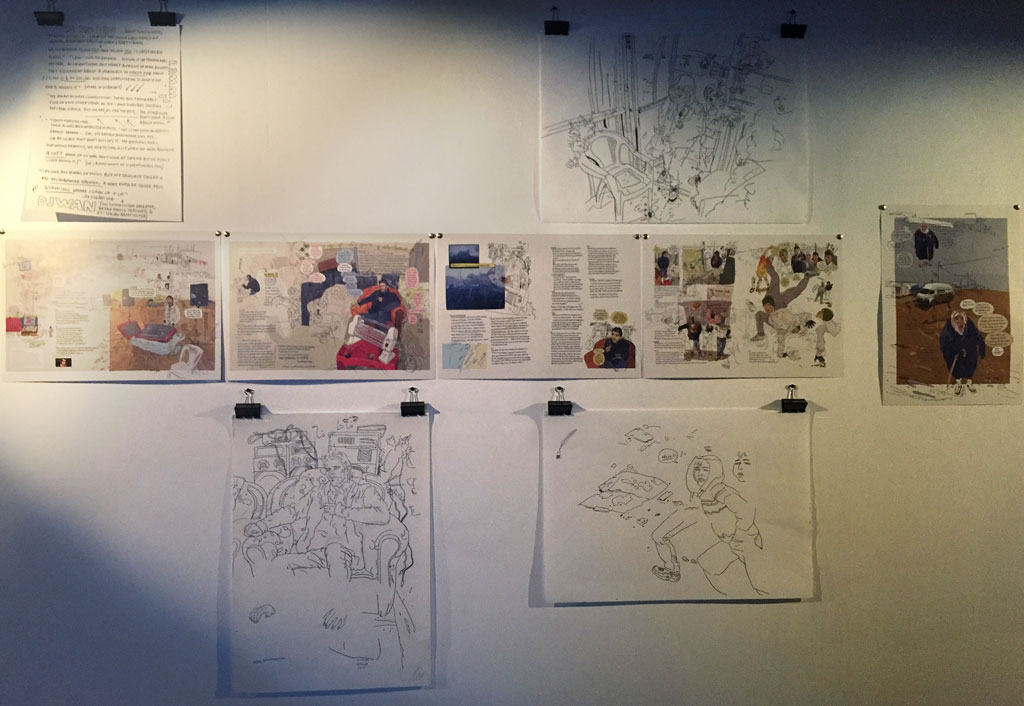 Afterwards, he listens to the interviews again and adds the hand-written text to the layout.
"For me, illustration is more personal than a photograph", he explains. "When you draw, you are maybe more free to add things and leave things out, to add the text or to play with the colours in order to focus on a certain subject or area. I guess you can do that with a photograph too, but this is the way to express myself."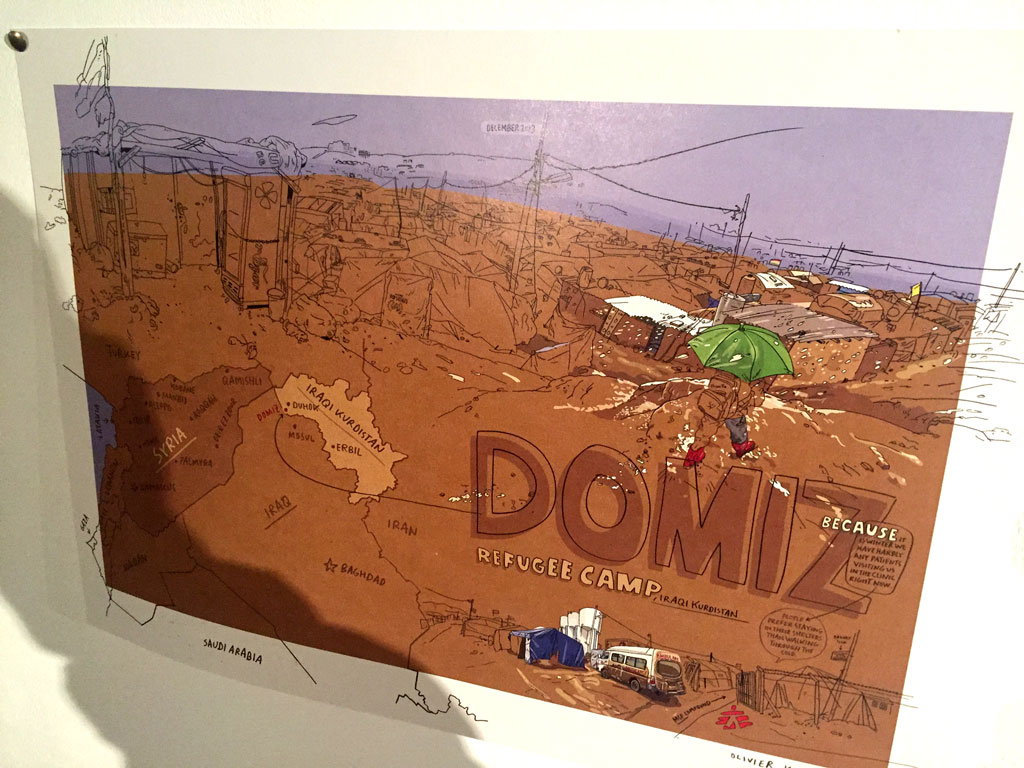 Olivier boasts a great success with his work. Right after the Master degree in Illustration at the School of Visual Arts in New York, he got commissioned by The Guardian, who encouraged him to take a more journalistic approach. He is also been published in The New York Times, Internazionale, Le Monde Diplomatique and Harper's Magazine among others, and in 2015 he won the most prestigious award an illustrator can ever wish for, the AOI – Association of Illustration award, for the work he did in Domiz, the Iraqi-Kurdistan refugee camp.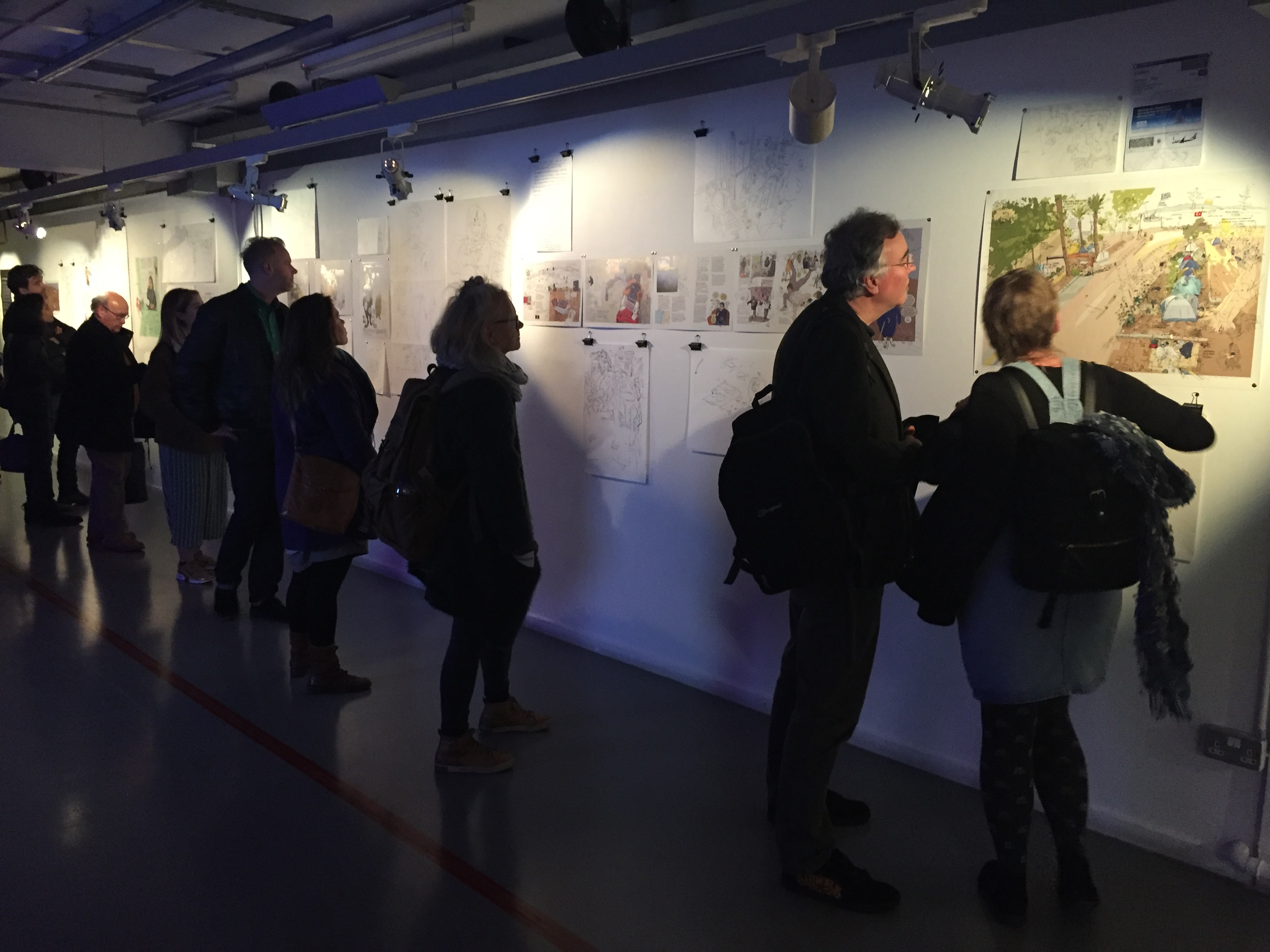 The exhibition at Rich Mix is a collection of portraits of refugees he met during his visits to Domiz, Kos and Calais, but also in the UK and in Simmozheim, his hometown in Germany.
"I don't bring myself into the drawings. I give these people a voice and a platform to tell their stories and raise awareness of the situation."
Olivier manages to show personal stories that go behind the statistics. He brings these people alive, makes them human, thus closer to the viewer.
There is Habib, depicted while repairing televisions and computer sets in the Domiz refugee camp. He told Olivier he can draw, paint, play many instruments and that he even invents stuff. "A kind of Leonardo", says Olivier. He works really hard in the camp to raise money to go to Europe with his family, despite having already paid smugglers who took the cash and never showed up.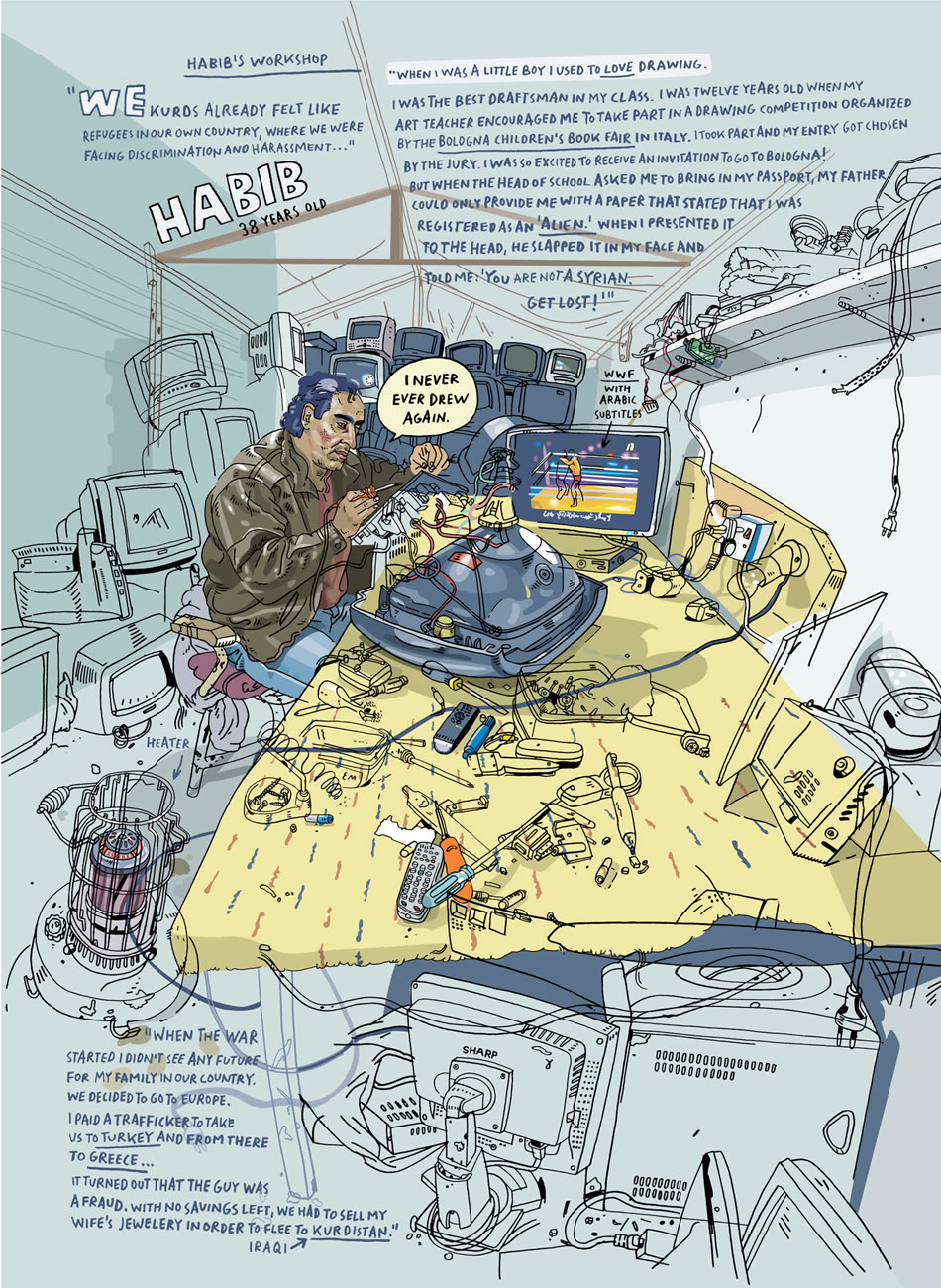 Then there is Omar, a medical student from Douma, who helped to bring wounded people to the hospital after the explosions. He was there during the 2013 chemical attack. There were so many injured people that it was impossible to help all of them. Olivier met him in Kos and said that he finally managed to reach Germany.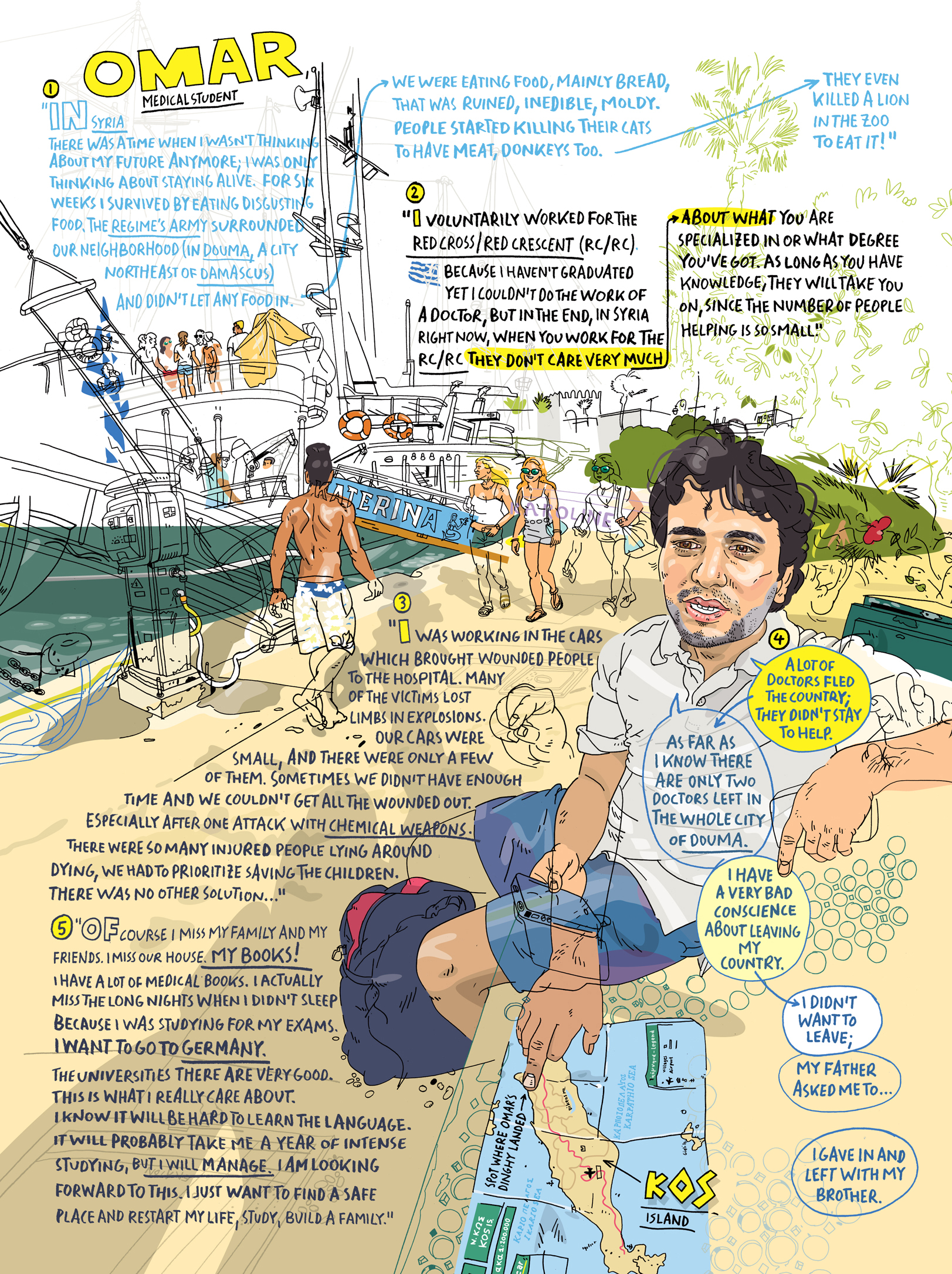 Sherine, a physiotherapist, has arrived in Kos with her exhausted parents four days before meeting Olivier. They left their beloved but destroyed house in Aleppo one year before and hope to reach Germany.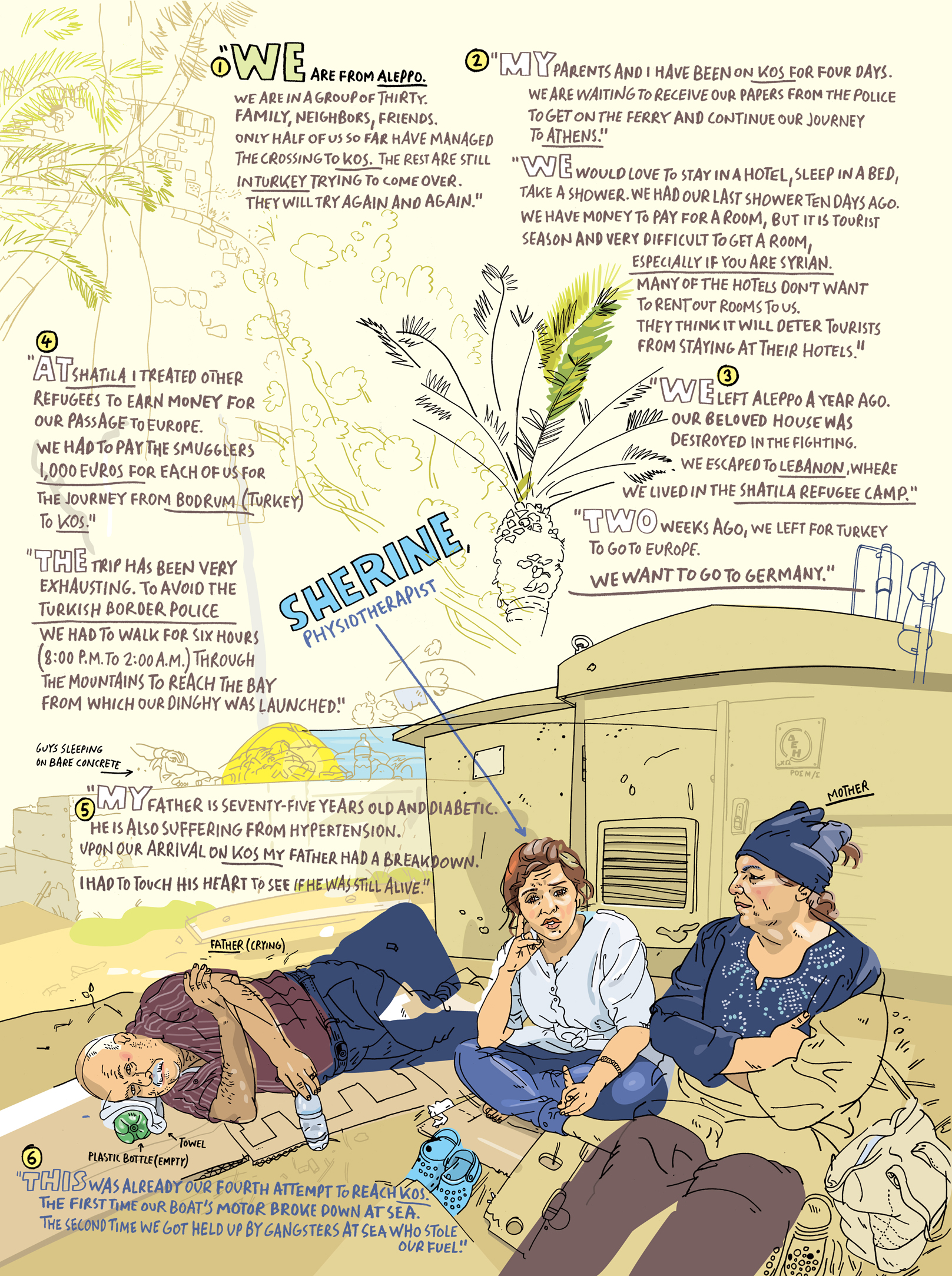 Rezan, a fashion designer from Kobani, who has got watercolours in his backpack and managed to escape ISIS.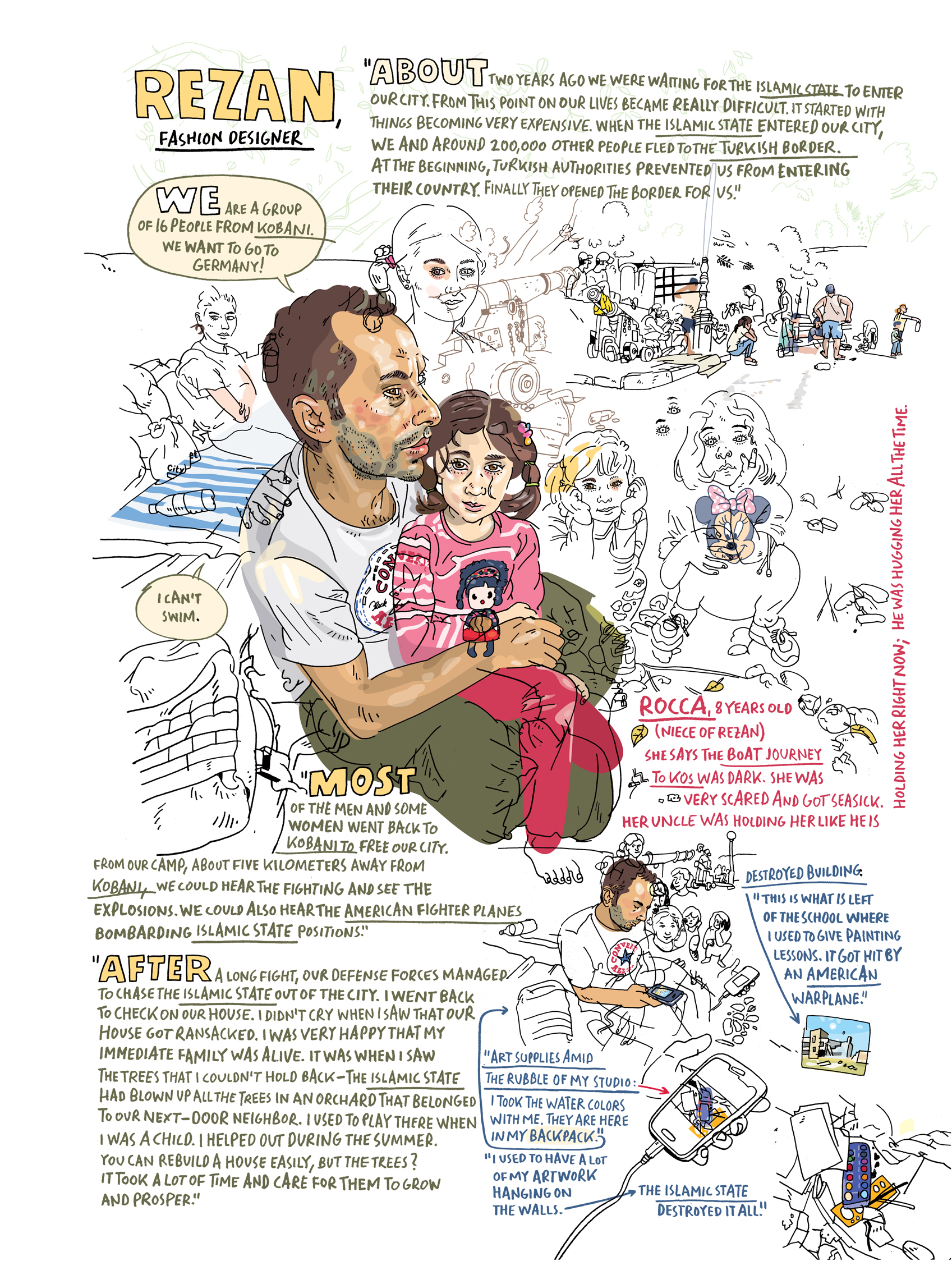 Olivier also portrayed a Syrian family that has settled up in his hometown in Germany, at the border with The Black Forest. They can finally leave in peace, but the fear and the nightmare they survived are still vivid in their mind.
There are 6.6 million people displaced internally in Syria and 5 million have fled the country. Two years ago, David Cameron agreed to welcome only 20.000 Syrian refugees in the UK by 2020.
Olivier, through these stories, is showing us as that behind these numbers there are real people, real families who are torn apart and long to be reunited, strong human beings that hope, fear, struggle and love, like everyone else.
Escaping War and Waves by Olivier Kugler is currently exhibited at Rich Mix – the Mezzanine – until 7th January 2018.
Free entry.