When did you start hosting the Grand Prix Ball and how many years have you run it for?

The Grand Prix Ball hosted at the Hurlingham Club will celebrating its 10 anniversary! So we have lots planned! We've been lucky enough to have such huge support from the teams and F1 since the start and it's an event we are very proud of!
GP Management hosts some amazing experiences all over the world. Do you ever have time to experience these?

I'm very lucky that I get to host many of these events. As well as that my personal passion as an adventurer has lead to many of the experiences we offer. From doing the first tourist trip to the center of Antarctica over 10 years ago, to travelling the 7 wonders of the world. And now Space is the next one, currently I'm astronaut training and have already gone weightless rough our zero gravity aircraft experience.
Now you have announced you are expanding to space, when will we be able to get into orbit?

Very soon! Well, what does that mean? It's all dependant on budget! Right now you can go to the space station as an astronaut it would cost you around £35million.
Of course that's a little expensive. So where are we really at. Virgin Galactic! That will be in space before the end of the year! Yes that right! It's been a long wait, be we are just months away from commercial space flight! So 2019 will be the year of commercial space flights, so get planning your holidays in space it really is coming no longer get science fiction!
Jonny, what would be your best business advice be to your younger self?

Where do I start. Firstly mentors are key, take support and advice where you can. From the age of 25 having Billionaire business partners who inspired me I've been very lucky.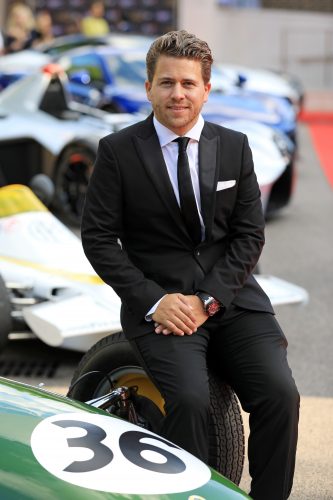 So the next peice of advice would be dream big! As you can do it! Even when people tell you you are mad!
If you don't ask you don't get! As you get older maybe being wiser you feel like taking less risks. But without my younger self picking up the phone and chasing Bernie Eccleston until he called me back I wouldn't be where I am. So keep asking and keep taking risks.
Having met various royals and A listers such as Richard Branson, what have you learnt from speaking to them?

Wow, well I've been so privileged here, to spend time at Richard Branson home on Necker with some of the worlds greatest minds, the chance to brainstorm together about the worlds greatest problems.
Sat on Necker with a room full of billionaires, scientists and global leaders in their field. We really can come up with ideas that change the world, and seeing people integrating this into their business has been inspiring.
Meeting people like the King of Bhutan was also an incredible experience in a room full of people who look to change how people perceive wealth. Bhutan govern their country based on the happiness of their people which they call Gross National Happiness GNH rather than GDP.
This means that a country views the importance of its people's happiness above its wealth. And this is true that once your basis needs of food, water and shelter are secure then more money doesn't make you happier. We at GP Management are focusing on how to make people happier in their work place and their personal lives and understanding the value of experience rather than material things.
What are your business goals?

To create a global brand that helps people experience a happier life.
Where do you see GP Management in 10 years time or even further in the future?

Well, space tourism is key for the future as we plan adventures off our home planet. On 10 years holidays in space is a realistic option, and we'll be delivering them.
We'll also be more integrated I to people's daily life, offering everyday inspiring experiences whether that's going on holiday in VR or making sure everyday you experience something new.
Would you ever set up another company and if so would it be in the same industry?

Every company I've set up or invested into has been based around the power and value of experience. From nightclubs, to airlines, so keep your eyes open for our next experience!
What key tips would you give to aspiring business leaders?

Follow your passion, offer your time for free to get into the career you want. My internships help make me and I'm very lucky for them.
Take as much advice as you can get and have fun, it's about the journey, as who know where we're heading!
The Dodgeball Rally is a great deal of fun, would you pursue any other projects such as this?
We have so many experiences that we operate around d the globe this has been one that's stuck with us for many years, and we'll always be adding adventure and driving rallies to this, it's a great way to explore!
Once of best experiences is driving giant 4×4 over volcanos and glaciers in Iceland, and also driving across the Sahara desert and Atlas mountains, so yes we'll keep coming up with more ideas!