OSH Restaurant in Knightsbridge, is one of the few authentic Uzbek restaurants in London. It launched this year in 2018 it is already creating a stir on the high end restaurant scene with its luxurious interior and atmosphere.
The open kitchen is led by head chef Sergey Batukov from London and Dubai whom has an extensive career working for Novikov restaurants; most notably Valenok in Moscow. The traditional dishes of OSH London are a cacophony of exotic flavours with Butternet Squash Manti, coriander & cumin dumplings to an Uzbek speciality, the Chebureki minced lamb, Uzbek spiced dumpling in dough. Another exceptional dish is the Uzbek Osh, Slow cooked lamb served with carrots, peppers, chickpeas, lamb, pilau rice, Uzbek spices, Achichuk & Spicy 'cha' salad. "Osh" means dish in traditional Uzbek culture.
For pescatarian's there are some fresh offering from la mer including an impressive 'Whole Butterfly Sea Bass coriander, lemon grass and chilli served with pomegranate, ponzu and Thai pepper sauce' and a particular delicacy Black Cod cumin, paprika marinade & pickle fennel.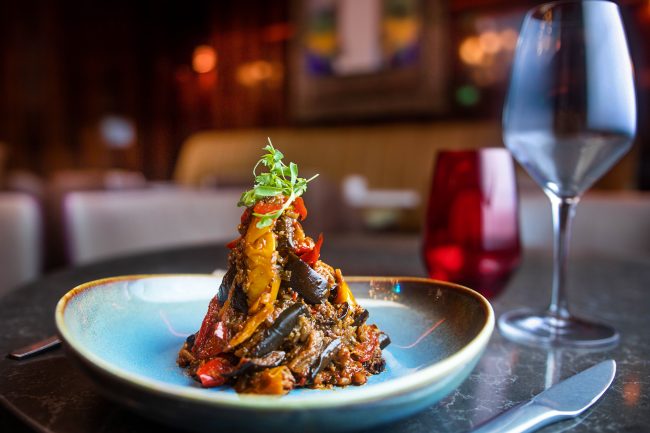 Osh offers an ambient blend of modern and traditional Uzbek cuisine in a quirky airy surrounding with light streaming through the two large floors designed like Morocco's Yves Saint Laurent museum. The first floor is reminiscent of a vintage Hermes advert with original artworks and hues of dusty Saharan orange and royal blue. The gorgeous exotic interior designed teamed with a menu full of eastern Asian flavours gives diners a feeling they are transported to a far off place.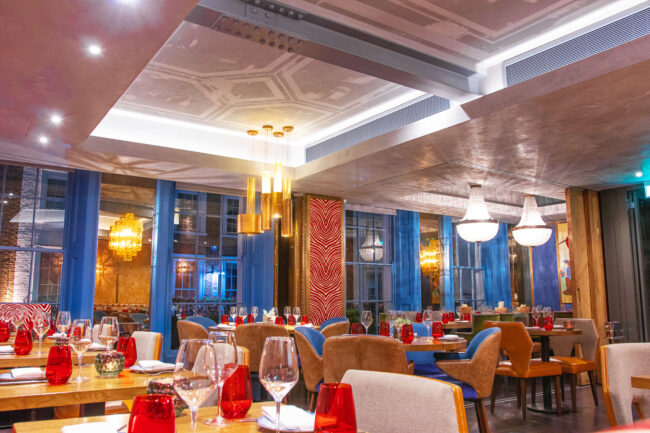 One of OSH's delightful features that make it stand out among the restaurants of Knightsbridge is the fresh market which offers diners a gargantuan selection of traditional Uzbek vegetables and fruit. Incredibly, these are delivered from the heart of Central Asia on a daily basis. OSH's market is also entirely organic produce, giving clients the peace of mind that they are not only enjoying quality dishes that are also extremely well sourced. You can almost imagine the produce travelling down the old Silk Road which is certainly a theme drawn upon by OSH.
One of my favourite parts of visiting OSH, was the stunning interior and superior dining quality. The service was also great, I would highly recommend visiting in a group as the dishes they serve are great for sharing. My personal favourite was the lamb which was incredibly tender.
OSH is certainly the top Uzbek restaurant in London, an exotic must try for Londoners looking to try some new Eastern dishes. A true culinary journey across the Silk Road.