Whether its date night, a family outing or a day of self-love, the cinema is always a great first choice. Having spent hours deliberating and arguing over which film to watch, once you have all collectively decided, surely the next decision is where to watch it? Yes, big corporate cinema chains are brilliant for a last minute cheap option, however independent cinemas are the way forward, offering various unusual snacks, authentic packaging, and cool décor allowing you to feel like you're in a Wes Anderson film or in a 1920s underground club. Therefore, we have gathered a number of what we think are the best unique independent cinemas in London. All you have to ask next is, 'But which cinema?'
Gourmet Cinema Club
Ever wanted to feel like a Queen or King at the cinema? Then this is just for you! Sit back and relax whilst sipping on a glass of wine, whilst waiting for your choice of three tapas dishes, and immerse yourself into the wonders of film. Situated on Shaftesbury Avenue, this cinema is a more expensive option, however you are wined and dined, and have the luxury of sitting on plush armchairs.
Electric Cinema
Having the choice of either their Notting Hill or Shoreditch branch, this cinema will leave you feeling 'wowed'. The interior is designed to look and feel like an old picture house, with white walls, a red curtain and chairs, and side tables with small antique lamps. In a nutshell, it wouldn't be out of the ordinary if you saw Wes Anderson's Mr Moustafa from The Grand Budapest Hotel here!
Cine Lumiere
Feeling like the inside of a futuristic space shuttle, Cine Lumiere prides itself on focusing on French, European and World cinema. Found in Kensington, this culturally diverse cinema also operates as a French language school, a children's library and a café, so be sure to make a day of it.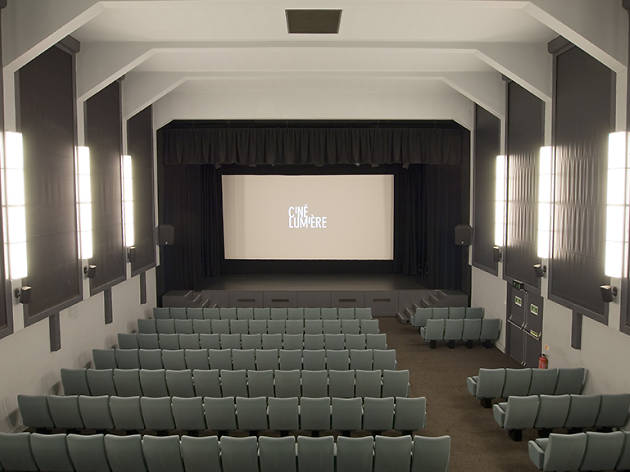 Whirled Cinema
Think 1920s underground speakeasy, meets cosy and trendy bar and cinema. Whirled Cinema provides customers with a number of independent film options that are intriguing and unique, compared to the usual Hollywood blockbusters that are frequently played in the usual cinema options. If you're wanting to try something a little different and meet new people – this is the place to be.
Rooftop Cinema Club London
Rooftop Cinema Club London provides the most sought after cinematic evenings. Showcasing a number of cult classic films from all genres, on rooftops that overlook London, whilst sat in a deckchair on a balmy summers evening. These events take place over the course of the summer, so have unfortunately ended for this year, but be sure to keep a listen out for next years dates. Events take place at their venues in Peckham, Shoreditch & Stratford.
Genesis Cinema
Operating 5 screens, this cinema caters for both the independent and blockbuster film lovers. A home away from home, Genesis cinema allows you to relax on their luxurious sofas and armchairs whilst you escape into an alternate universe.