The Other Art Fair presented by Saatchi Art will present UNMISSABLE, an exhibition of poignant new portraits by emerging and established artists that depict the faces of missing persons. The series will be unveiled at the March London edition of the fair to mark the 25th anniversary of the Missing People charity.
Participating artists include Samira Addo, Charming Baker, Tony Barnes, Paul Benney, Ricardo Cinalli, Richard Colson, Amy Florence, Rebecca Fontaine Wolf, Nina Mae Fowler, Tim Gatenby, Carne Griffiths, Anna Kenneally, Ru Knox, Thomas Lumley, Mark Metcalfe, Chris Moon, David Partner, Amy Shuckburgh, Will Teather and Nicholas Todhunter.
The exhibition is curated by Ben Moore, whose brother Tom has been missing since 2003 and whose portrait features in Unmissable. Ben comments, "The high level of artistic talent and the raw, deeply emotional subject matter at the core of 'Unmissable' makes this one of the most powerful art exhibitions I have ever worked on."
Exhibition highlights include:
Charles Horvath-Allan, who vanished on a gap year trip to Canada 30 years ago. Artist Ian Bruce has placed Horvath-Allan's portrait within a clock to emphasise the passing of time felt when someone is missing. Ian Bruce is an award-winning London based artist and animator and lead singer of The Correspondents.
Metropolitan Police artist Tony Barnes is collaborating with photographer David Partner who will produce a glass ambrotype reconstruction of Barnes' e-fit image of Tom Moore. Barnes calls himself the most published artist in the Evening Standard as most of the e-fit's he creates end up featuring in its pages. Tom Moore disappeared in Italy in 2003, aged 31.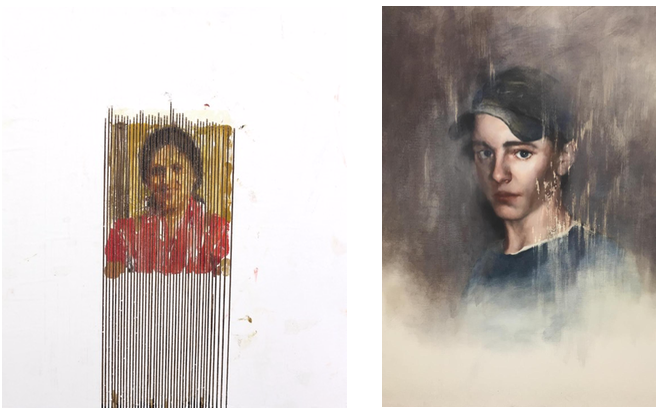 A portrait of Fatima Mohamed-Ali, by Charming Baker. Fatima Mohamed-Ali has been missing from her Newhaven home since 2016. Her family said it was out of character for the then 52-year old grandmother and mother of three to go missing. She was last seen by her husband, Mohamed, who she made breakfast for on the morning of February 12, 2016. She then left the house and has not been seen by her family since.
27-year old Matthew Bone, missing since 2018, painted by Sky Arts Portrait Artist of the Year Samira Addo. Samira has worked from a picture supplied by Matthew Bone's mother, Karen, that "illustrates Matt's passion for the natural environment and the guardianship role he has assumed to protect our fragile world. It was taken on a spring afternoon in April 2015 in Eartham, West Sussex." Matthew was last seen at the Stanbrook Abbey Hotel in the Malvern area of Worcestershire on March 9.
Carne Griffiths portrait of Darren Tunstall. Darren was 20 when he was last seen by his family on December 3, 1992. He was living with his parents and sister in Walthamstow when he went missing after saying he was visiting friends over the weekend. Despite numerous appeals, Darren remains missing to this day.
Simon Hodgson Greaves has been painted by London based artist Chris Moon. Simon was reported missing in December 2013 after his camper van was found in a car park in RSBP Bempton, North Yorkshire.
A portrait of Manic Street Preachers former guitarist and lyricist Richard Edwards portrayed by British artist Will Teather. Edwards was last seen on the 31 January 1995, when he checked out of the Embassy Hotel, Bayswater, London. On the 17 February his car was discovered in the car park of the Old Severn Bridge.
Finn Layland-Stratfield, who has been missing since he was 17, has been painted by London based artist and writer Mark Metcalfe. The teenager was last seen in Tintagel, Cornwall in July 2017.
Unmissable will be exhibited for the first time at The Other Art Fair, 14-17 March 2019 at The Old Truman Brewery. The works will also be available via the Paddle8 auction site from 14-28 March, with all proceeds of artwork sales going to the Missing People charity. Prices for the original works start at £2000 with framed limited edition prints available at £250. The portraits are displayed across billboard space in the London Underground in collaboration with Art Below. Unmissable is generously supported by Art Below, The Other Art Fair, JBi Digital and Jealous Printing.
L-R Fatima Mohamed-Ali by Charming Baker, Luke Durbin by Ru Knox
The Other Art Fair UK Fair Manager Jessica Chow comments, "We're proud to support Missing People as our Charity Partner. The Unmissable Exhibition will be a highlight of the London fair, which I hope will help raise awareness for the charity, not only in the search of those missing, but in the invaluable support they provide for their families and loved ones."